The HDFC Millennia Credit Card is ideal for millennials who shop online regularly and want to get significant value back on their purchases.
The credit card provides perks on popular brands like Zomato, Uber, Amazon, Flipkart, and others, making it an excellent choice for online shopping.
Although this credit card does not provide direct cashback, you will collect CashPoints for your purchases, which could be utilized for a range of rewards. 
If you purchase with the brands with whom HDFC Bank has partnered and wish to earn good rewards on your transactions, this could be your favored option.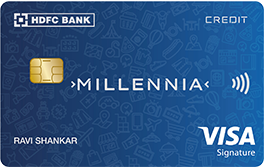 Image Source: HDFC Official website
How to Apply
HDFC Bank credit cards can be applied online at the bank's official website. You should-
Step 1: From the bank's official website, go to the HDFC credit cards page.
Step 2: Click or hit the "Sign Up" button next to the Millennia Credit Card.
Step 3: You will be forwarded to HDFC's credit card application page, where you must complete a form in order for your application to be submitted.