For its target market, HDFC Bank has launched a variety of credit card options as well as other specially-made products. These cards were created to accommodate various customer demographics' lifestyle requirements.
A very premium credit card from HDFC Bank is the HDFC Diners Black Credit Card. Access to special offers and memberships is made possible by the card. Customers receive free annual memberships to elite clubs as well as reward points that may be used to book flights, hotels, or AirMiles with particular partners. Fee per year: 10,000 rupees.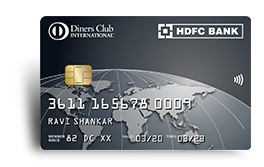 Image Source: HDFC Official website
Annual Rewards
Through this card, you can get a complimentary annual membership of Club Marriott, Prime, and MMT Black once you have spent Rs. 8 lakhs in 12 months from the date that the card was issued.
From the 1st of Feb, 2023, Swiggy One for three membership would be offered as an annual reward instead of a Dineout Passport.