If you frequently travel and book through IndiGo, the HDFC Indigo Credit Card is an excellent choice.
This is a co-branded credit card that provides travel perks such as flight booking points and complimentary vouchers for priority check-in, seat selection, rapid baggage claim, free lunch, and so on.
Aside from vacation bookings, you can also earn points for shopping, supermarket, and entertainment purchases. If you want to earn more points on your IndiGo flights, you can apply for this credit card.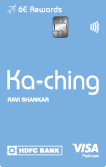 Image Source: HDFC Official website