ICICI HPCL Super Saver credit card is a co-branded fuel credit card that provides excellent fuel advantages as well as discounts at supermarkets and department stores.
This credit card can be a super saver as it can help optimise recurring fuel expenses. Here is all the major information about the ICICI Bank HPCL Super Saver Credit Card, along with the benefits of how it can be useful to reduce fuel costs.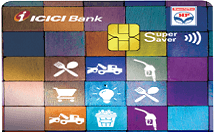 Image Source: ICICI Official website
How to Apply for the ICICI HPCL Super Saver Credit Card
You could apply for this credit card by going to the card's page on the ICICI website, completing the online application form, and submitting the relevant documentation. KYC requires verification of identity/address as well as proof of income such as pay stubs or ITR acknowledgement. 
In addition, you can apply offline by going to your nearest ICICI Bank branch and filling out the offline application form. Just make sure to bring all of the necessary documentation.