The ICICI Coral Credit Card, issued by ICICI Bank, provides its clients with exceptional incentives and offers related to food, entertainment, and travel.
Coral credit cards are available in three varieties: Visa, Mastercard, and American Express, from which you can select one. With this card, you could earn up to 2 reward points for every Rs. 100 transaction, which are redeemable against a variety of categories and items. 
The Coral credit card also allows you to earn up to 10,000 additional Points every year through its milestone program.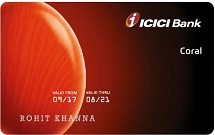 Image Source: ICICI Official website
How to Apply for the ICICI Coral Credit Card?
The following are the processes to apply for an ICICI Bank Coral Credit Card:
Step 1: Go to ICICI Bank's official website.
Step 2: On the homepage, click the 'Cards' tab.
Step 3: Select the 'Credit Cards' tab.
Step 4: Select the ICICI Bank Coral Credit Card from the list of available cards.
Step 5: Select the 'Apply Now' button.
Step 6: Fill out the application form with your information.