The HDFC Diners Club Miles Credit Card is one of the bank's most premium offerings.
This credit card offers some of the best features and advantages in the travel area. Even though it is a travel credit card, the Diners ClubMiles card also provides a variety of dining rewards.
This credit card has an Rs.1,000 annual fee and a 3.49% interest rate.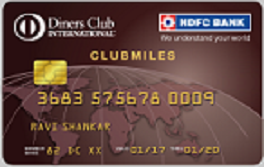 Image Source: HDFC Official website