The MakeMyTrip ICICI Bank Signature credit card, issued by ICICI Bank, is a co-branded card that offers exceptional travel advantages in conjunction with MakeMyTrip. The card is provided for a membership fee of Rs. 2,500 and comes with attractive welcome gifts such as Rs. 1,500 in My Cash and a Rs. 2,500 MakeMyTrip trip voucher.
The ICICI MakeMyTrip Signature Credit Card gives you My Cash (rewards) on practically all of your transactions and extra My Cash on MakeMyTrip purchases. These rewards (My Cash) can be used to buy flights, hotels, and vacations on MakeMyTrip.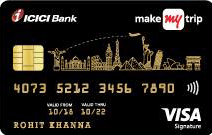 Image Source: ICICI Official website
ICICI MakeMyTrip Signature Credit Card Benefits and Features
Customers who travel frequently can benefit from the MMT or MakeMyTrip Signature credit card. If you use this credit card, you will receive rewards and savings on vacations, movies, and hotel reservations, among other things.
The following are the ICICI MMT Signature credit card advantages.
You can get My Cash points, MMT BLACK Exclusive tier membership, and other perks on this card. There are other incentives, such as a 2,500 MakeMyTrip trip certificate.

This credit card entitles you to airport lounge access as well as gratis entry to the train lounge.

Every anniversary, you can earn Rs. 5100 with the ICICI Bank MMT Signature credit card program.

Not only can you travel, but you can also view films on BookMyShow and Inox using your ICICI Bank MMT Signature credit card.

To earn travel rewards points, use the ICICI Bank MMT Signature credit card. This will assist you in planning a low-cost international and domestic trip. 
How to Apply for the MakeMyTrip ICICI Bank Signature Credit Card?
You can apply for the card both online and in person. To apply, you can go to the official ICICI Bank website or your nearest bank branch. In either case, the bank expects you to provide accurate personal and professional information.
Following that, the bank verifies whether or not the information entered is correct. 
The bank will only approve the application if the details have been successfully validated.