The HDFC Times Platinum Credit Card is one that all you moviegoers and foodies should consider getting.
The joining cost (which is also the charge for the first year) is Rs.1,000, and the annual fee for each following year is Rs.1,000. With a minimum annual spend of Rs.2.5 lakh, the fee is eliminated.
This card has an annual interest rate of 40.8%.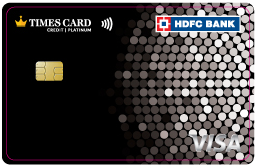 Image Source: HDFC Official website
How to Apply for the Times Card Credit Platinum?
You can apply for a credit card either physically or online.
If you don't have access to the internet or net banking, you can apply for the card in an HDFC bank branch by filling out an application form. While applying for the card, you must provide all of your documents to the bank.