The HDFC Business Regalia First Card is a credit card designed exclusively for business owners that offers significant savings and additional benefits.
This card is appealing due to its complimentary access to airport lounges, special reward point benefits, privileges in dining and hotel discounts, shopping rewards, complimentary insurance coverage, and other financial benefits.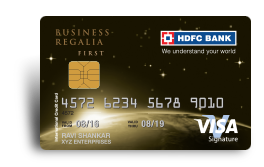 Image Source: HDFC Official website
How to Apply for the HDFC Business Regalia First Credit Card
You can follow the process mentioned below to apply-
Step 1: Visit www.hdfcbank.com/personal/credit card/business-regalia for more information about the Business Regalia Credit Card.
Step 2: Choose the 'Apply Online' option.
Step 3: Fill out the 'Credit Card Application Form' with the necessary information.
Step 4: Hit the 'Submit' button.