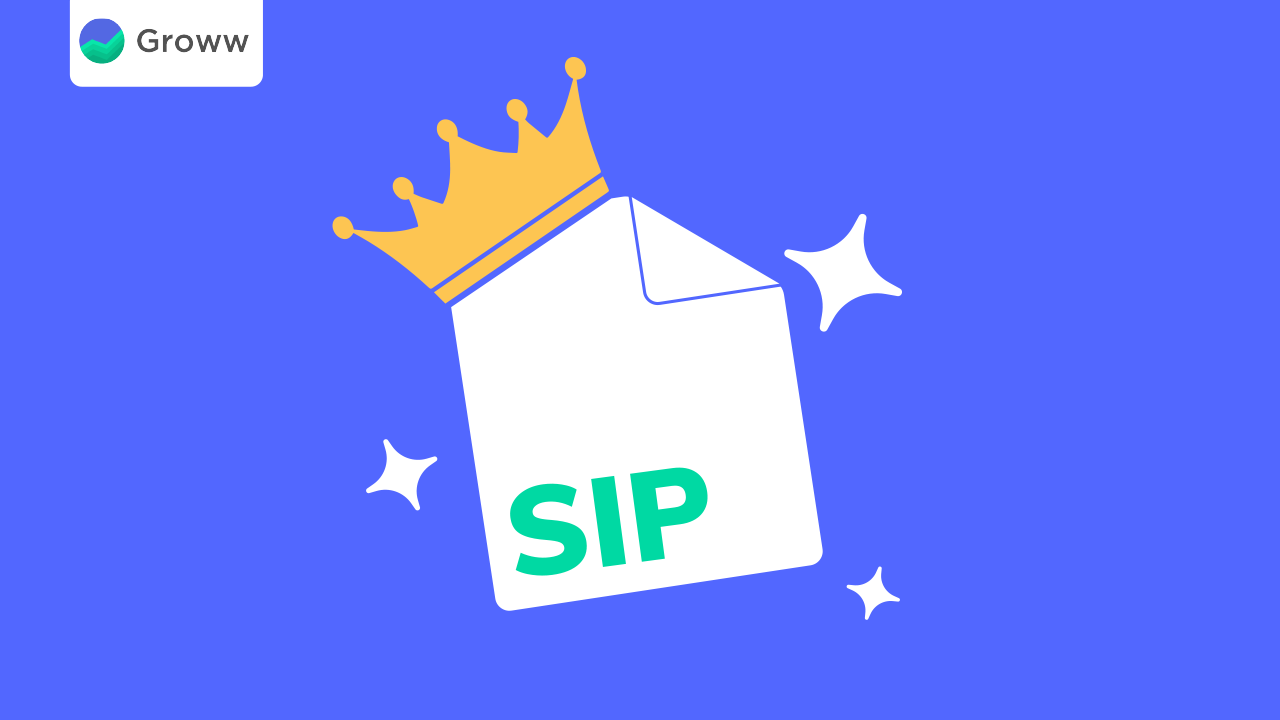 One of the exciting things about mutual funds is that they enable you to invest with very small amounts via SIP ( Systematic Investment Plan). You can invest as low as Rs 500 per month too.
When you set up an SIP with any mutual fund, your account is debited a fixed amount every month. This amount is invested in a mutual fund of your choice.
Over a period of time, your investments accumulate and they keep growing.
How to Choose the Best SIP in India
There cannot be a 'best SIP plan' as SIPs are a mode of investment and not an investment product. Different subcategories under equity: large-cap, mid-cap, small-cap, ELSS etc. have the SIP option. Sub-categories under debt funds too, liquid funds, ultra short term funds and more have SIP options.
Hence it is logically difficult to single out the Best SIP in India. The right way to go about this is to find out which asset class suits you best according to your financial status and goals. You can apportion your funds accordingly once you know how much should you invest in equity and how much in debt.
Within equity and debt, there are more sub-categories. Pick the right category and use the SIP path for periodic investments. The best SIP plan for five years or more could get you healthy compounded returns if you hold your investment that long. This is especially important for SIP in equity funds as they are long term investments.
You will get the best SIP plan when you know which is the best mutual fund plan for you.
Best SIP Plans
Disclaimer: We have sorted the best SIP Plans in India for 2021 of various mutual fund categories on the basis of three-year returns. We have picked only a few categories here. This is not a recommendation for you that you should consider only the following subcategories. Conduct the necessary due diligence before selecting a fund to invest in. We have used returns as a parameter just for information purposes. The list was last updated on February 4.
Equity Mutual Funds
Equity mutual funds are funds that invest in stocks of different companies. Different sub-categories of equity funds derive their names depending on the kind of companies they are investing in.
ELSS
ELSS or equity-linked savings schemes are funds that have 80 C tax deductions.
Large Cap
Large-cap funds are funds that invest in large-cap stocks. Large-cap stocks are the top 100 listed companies.
Mid Cap
Mid-cap funds are funds that invest in mid-cap stocks. Mid-cap stocks are the top 101-250 listed companies.
Small-Cap
Small-cap funds are funds that invest in small-cap stocks. Small-cap stocks are ranked 251 and above on the basis of market capitalisation.
Multi-Cap Fund
Debt Funds
Debt funds are funds that invest in bonds and money market securities of companies and government. There are more than 10 subcategories in debt mutual funds with SIP facility. Here are a few examples of SIPs from a few categories of debt funds:
Gilt
Gilt funds invest in government securities.
Banking and PSU Fund
Banking and PSU funds lend to banks and public sector undertakings.
Corporate Bond Fund
Corporate bond mutual funds invest in bonds issued by private sector companies.
Ultra Short Term Fund
The fund's portfolio has debt securities that have a maturity of 3 to 6 months.
Liquid Funds
The fund's portfolio has debt securities that have a maturity of up to 91 days.
Hybrid Funds
Hybrid funds' portfolios have a mix of equity and debt securities.
Aggressive 
Aggressive funds have higher equity exposure than debt.
Balanced Advantage
These funds invest across equity and debt without any caps restrictions.
Multi-Asset
These funds invest in at least three asset classes with a minimum allocation
of at least 10% each in all three asset classes.
Arbitrage Fund
This follows an arbitrage strategy. A minimum 65% investment is required in equities.
Things to Remember
There are a lot of factors you should look into before selecting a mutual fund scheme that will match your investment goals.
These are the few important things one must always remember before investing in mutual funds :
1.Higher rates: don't blindly invest in the fund with the highest returns. Invest based on the duration you want to invest for.
Every person's financial condition is different. Evaluate the funds you invest in yourself – don't invest in a fund because of its popularity.
Direct plan for mutual fund gives you higher returns as compared to a regular plan of mutual fund schemes because of the absence of third parties but that also means that in the absence of advisory, you may have to do some research on your own.
Review your investment from time to time but not too often. Once in a few weeks is good enough.
Also, there are various myths and false beliefs about mutual funds which circulate the market. The most successful investors are the ones that ignore the myths and pay attention to only what needs their attention.
The best thing about mutual funds is that they enable you to invest in very small amounts. Do many people ask what is the minimum amount to invest in mutual funds?
There is no other way you can invest with reasonable diversification with an amount as low as Rs 100 and even Rs50. SIP ( Systematic Investment Plans) of a lot of mutual funds allow min investment with just Rs 100 and Rs 500.
A systematic Investment Plan (SIP) is an instrument that helps you avoid the risk of timing the markets and facilitate wealth creation in a disciplined manner by averaging the cost of Investments. Small savings create a big corpus for the future.
Investment in securities market are subject to market risks, read all the related documents carefully before investing. Please read the Risk Disclosure documents carefully before investing in Equity Shares, Derivatives, Mutual fund, and/or other instruments traded on the Stock Exchanges. As investments are subject to market risks and price fluctuation risk, there is no assurance or guarantee that the investment objectives shall be achieved. NBT do not guarantee any assured returns on any investments. Past performance of securities/instruments is not indicative of their future performance.