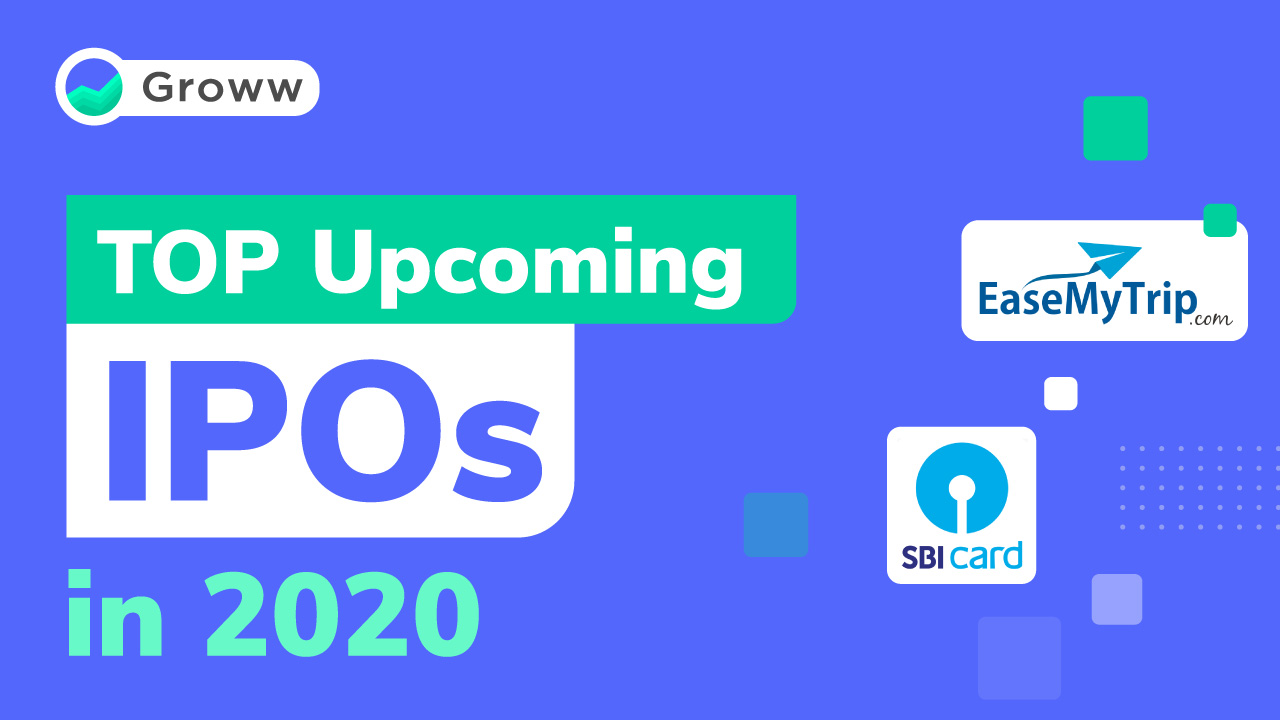 The latter half of 2020 seems to be an exciting time for IPOs. With several IPOs like Happiest Minds, Route Mobile making a blockbuster debut, here are some of the other major IPOs lined up in 2020. Check them out!
UTI Asset Management Company 
UTI Mutual Fund was the first mutual fund to be operational in India. It will be the third AMC to list on Indian stock exchanges, after Nippon India AMC (erstwhile RNAM) and HDFC AMC. The issue includes an offer for Sale by various shareholders, like State Bank of India, Bank of Baroda, LIC, Punjab National Bank and T Rowe Price. The size of the IPO is estimated to be around INR 3800 – 4800 crores. UTI AMC is the seventh-largest AMC by Assets under Management (AUM)
UTI AMC is launching its IPO on September 29. The price band for the IPO is Rs 552-554 per share and the market lot is 27.
Find rest of the details on the IPO here: UTI Asset Management IPO
Likhita Infrastructure
Likhita Infrastructure IPO is opening between September 29 and October 1. The price band for the IPO is Rs 117-120 per share with a market lot size of 125 shares. Likhitha Infrastructure Ltd. is an Oil and Gas pipeline infrastructure provider.
Read more on Groww: Likhita Infrastructure IPO
Mazagon Dock Shipbuilders
The IPO is opening up for subscriptions between September 29 and October 1, 2020. The price band for the IPO issue is Rs.135 to Rs.145 per share and the lot size is 103 shares. 
Mazagon Dock Shipbuilders Ltd. is a defense public sector undertaking and falls under the Department of Defence Production, Ministry of Defense. It was conferred with the Miniratna status in 2006.
Read more on Groww: Mazagon Dock IPO
Other Upcoming IPOs
There are also a few IPOs that are on the cards but have not released their dates or bidding details. Below is a list of such companies, the IPOs of which are expected in the future.
Life Insurance Corporation ( LIC)
Touted to be one of the biggest IPOs in India and another highly anticipated one is the LIC IPO. LIC is a 100% government-owned company. The decision to privatize LIC, which was announced in the Union Budget 2020 has created quite a buzz in the investor community. 
If reports by different analysts are to be believed, the estimate of LIC's valuation will be between 8 -10 Lakh Crores and the government has announced the selling 10% of its stake in the company.
This means the size of the IPO would be between 80,000 Crores To 1 Lakh Crores, making it the biggest IPO in India's history. 
As a name, LIC is not unknown to us. Until 2000, if you wanted to buy any life insurance, LIC was the only option, ergo it has a monopoly over the insurance market. In fact, even today, the brand LIC is synonymous with buying a life insurance policy from any other insurer.
Till 2000, all LIC application processes were also done offline. So if you ever had to buy a policy, the only way to do so was through an LIC agent. 
LIC's agent network was pretty extensive, pan India. This number was around 10 Lakh in 2000. However, after 2000, many private players entered the insurance space. 
They started selling different kinds of insurance policies aided by banking networks. Now at this point, LIC had a golden opportunity to push their insurance policies through public sector banks and leverage the network,  however, the company didn't pay much heed to it to the shifts taking place. 
Despite all this, if we look at the numbers, LIC still has a strong foothold in the insurance space. In India right now, if we assume 100 policies are sold every day, then out of these 76 are sold by LIC. LIC still holds the first preference with first-time insurance buyers. 
LIC is a huge company that has made several investments in other companies as well. Some of these include marquee names like IDBI Bank, ITC, Yes Bank, among others. 
This means, if these companies perform well, LIC will reap good profits as a large chunk of the company's profits come from these investments. Consequently, if you want to invest in LIC IPO, it is also important to pay attention to the companies LIC has invested in, and their future potential.
Apart from all this, there is another reason why LIC's IPO is important. If we talk about the budget this year, the government announced its revenue targets for the year as 2.1 Lakh Crores. Out of this Rs 70,000 crores amount, that is 1/3rd of the amount will be raised by the IPO. The dates for the LIC IPO subscription are yet to be declared. 
Bajaj Energy 
Bajaj Energy is India's third-largest private sector company for thermal generation. Not only is Bajaj Energy involved in power generation, but it also does the work of financing other companies. The parent company of Bajaj Energy is Bajaj Power. 
Bajaj Energy has filed for its Red Herring Papers ( the starting process to file for an IPO). The issue date of the IPO is yet to be announced but the company received a Sebi nod for the same in 2019 itself. The issue size, reportedly, will be around Rs 5,150 crore.
When it comes to the company's financial data for the year 2017 and 2018, the revenue generated by the company in 2017 was Rs 6500 Crore. In 2018 the revenue was recorded as Rs 7200 Cr, which was a marked increase.
In the year 2017, the company made a loss of approx. Rs 1,100 Crores. Bajaj Energy, however, managed to turn the situation around in 2018, reporting a profit of Rs 42.12 Crores. 
Burger King India
Burger King is set to raise Rs 400 crores this year, as it continues with its aggressive expansion plans. It is the Indian arm of US-based Burger King. The chain started operations in India in the year 2014 and is a direct competitor of McDonald's, which has approximately 42 percent market share in the burgers and sandwich category. 
Home First Finance Company
The company is engaged in mortgage financing, especially in the affordable housing segment. The IPO size is expected to be in the range of INR 1500 crores. 
The issue includes capital raising efforts as well as an offer for sale in which existing investors like True North Fund, Aether from Mauritius, GIC and Bessemer India Capital Holdings will participate.
The company was formed by Citibank veterans Mr. Jerry Rao and Mr. P S Jayakumar, in the year 2010.
Equitas Small Finance Bank 
The size of this IPO will be INR 1000 crores, out of which INR 800 crores will be a fresh issue and balance would be an OFS. Equitas Small Finance Bank, through Equitas Housing Finance, limited has been offering housing finance and also has been into vehicle financing and Micro and small enterprise financing ( MSME ).
It started as a microfinance company in 2007, was granted a small bank license in 2015 and formed as a bank in 2016 after merging the housing and microfinance divisions.  
Park hotels
The hospitality company which has a chain of luxury, boutique hotels under 'The Park' brand is part of the Apeejay Surrendra group. It has several properties in major cities across India.
The size of the IPO will be Rs 1000 crores, which shall have a fresh issue of approximately Rs 400 crores and an Offer of Sale of INR 600 crores, being offered by Apeejay's group companies.
The amount raised shall be utilized towards settling existing debt and for other operations as well
Also Read: What is the Difference Between IPO and NFO 
National Stock Exchange ( NSE )
The IPO would comprise an offer for sale by multiple shareholders, including the State Bank of India, which has a 5.19 percent stake in the exchange. NSE had earlier tried to raise funds through IPO in 2016 as well. In 2019, SEBI had barred it for six months from approaching the markets.
The IPO is expected in the third quarter of the current year.
Some other IPOs slated for this year are:
SAMHI Hotels, Integrated Renewable Energy Development Agency (IREDA), Emami cement, Easytrip Planners ( operators of easemytrip.com ). 
Happy Investing!
Investment in securities market are subject to market risks, read all the related documents carefully before investing. Please read the Risk Disclosure documents carefully before investing in Equity Shares, Derivatives, Mutual fund, and/or other instruments traded on the Stock Exchanges. As investments are subject to market risks and price fluctuation risk, there is no assurance or guarantee that the investment objectives shall be achieved. NBT do not guarantee any assured returns on any investments. Past performance of securities/instruments is not indicative of their future performance.