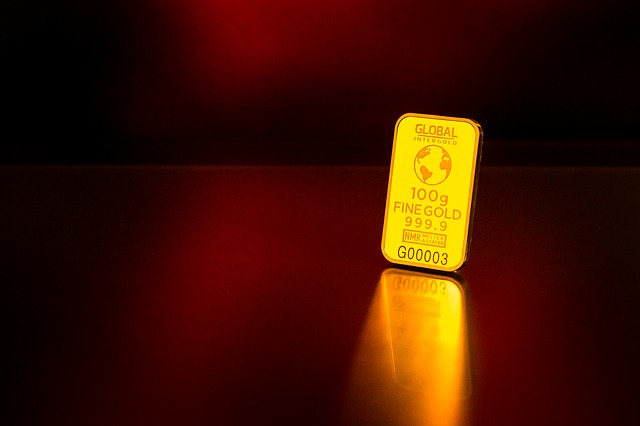 The yellow metal that was dead as an investment for almost a decade in India is back.
With an annual demand equivalent to about 25% of the total physical demand worldwide, India is the second-largest consumer of gold.
In New Delhi, gold prices of 99.9% and 99.5% purity on 16th August rallied by Rs. 475 each to Rs. 38,420 and Rs. 38,250 per 10 grams, respectively.
These high gold prices have hit demand in India, Gold imports into India slumped 42% to USD 1.71 billion in the month of July. Also, Indian jewelers have reported a higher supply of scrap gold as consumers are selling their old jewelry for profits. 
But what is contributing to the increase in the price of gold in India? We believe a confluence of factors is behind it. Let's take a look at the current gold rate situation in India and then the factors contributing to the price surge. Read On:-
Gold Prices In 2019: The Current Trend
In India, the gold prices have seen a sharp rise since the beginning of 2019, with the price of 10 grams of gold going up to Rs. 32,905 at the beginning of the year to Rs. 35,000 in February.
Though the gold prices slipped again to Rs. 32,000 in May 2019, they have been on a rise ever since, turning gold into one of the safest investment options.
On 10th August, the gold prices in India rose to a new high with 10 grams of 24-carat gold costing Rs. 38,470 in New Delhi. This sharp rise marks an increase of nearly 25% from Rs. 30,560 in 2018
Silver prices have also rallied in tandem with gold.
While the demand for gold has a role to play in its current price, there are several other factors that have a bearing on it as well.
The global trade war, weakening of international currency such as dollar and yuan and rise in global gold demand have been some of the major reasons for the sharp rise in gold prices. Here are the top 8 factors that influence the price of gold.
8 Factors Driving The Increase In Gold Prices In India 
Let us look into some of the most important factors that determine the price of gold in India.
1. Consumption Demand In The Indian Market
In India, one of the key reasons for the rise in gold prices is the rise in gold demand. Demand for gold in India is totally linked with tradition, culture, and the desire for financial protection.
The total demand for both gold jewelry and gold investment went by 13% in the 2nd quarter of 2019. While the gold demand in India in the 2nd quarter of 2019 was 213.2 tonnes, the total gold investment demand was 44.5 tonnes.
As compared to this, in the 2nd quarter of 2018, the total gold demand was 189.2 tonnes and total gold investment demand was 39.3 tonnes only.
In value terms, demand in the 2nd quarter was quoted at Rs. 62,422 crores, up 17% compared to Rs. 53,260 crore in, as per World Gold Council's (WGC) data.
The sharp rise in demand can be attributed to a higher number of auspicious days and comparatively favorable pricing in the month of April and May where the prices hovered around Rs. 32,000.
2. Protection Against Volatility
People want to invest in or buy gold to protect themselves from volatility and uncertainty in the financial markets.
The preference for physical assets makes Indian households view gold as a safe haven, an asset to buy when other assets are losing value.
Underlining gold's attraction as an asset for good times and bad, most Indian investors would buy gold whether the domestic economy was growing or in recession.
In the current scenario, the unpredictability of the market triggered by the US-China trade war, Trump's foreign policies, Brexit and other rising political tensions in the Middle East and fears of a global economic slowdown have led investors to fall back upon the traditional investment safe haven, gold thus, pushing its prices up.
In short, Indian investors tend to focus more on gold when other assets are losing value.
3. The Weakening Of The Domestic Currency
Currency is reported to be another major influencer of gold prices in India.
Gold is generally denominated in US dollars and weakening of the Indian rupee against dollar results in an increase in the gold price in rupee terms.
In India, Gold is mainly imported. So, if the rupee weakens against the dollar, gold prices will likely appreciate in rupee terms.
The weakening of rupee though does not have an impact on global gold prices. The weakening of the dollar will push up gold prices globally.
Recently, China devalued Yuan by 2% against the US dollar, which led investors to scramble for a safe haven to invest their money.
So, a depreciating rupee may dent the demand for gold in the country. However, remember the change in rupee-dollar rates has no impact on gold rates denominated in dollars.
4. Increased Central Bank Purchases
According to the World Gold Council (WGC), the global gold demand increased in the second quarter of 2019 due to record-breaking purchases by the central banks of many economies.
In 2019, Central banks reportedly bought 224.4 tonnes of gold in the second quarter, taking their gold purchase in the first half to 374 tonnes, which is most for any first half since 2000.
The latest report by WGC showed that some central banks in Asia including China, India and Kazakhstan and from Europe such as Russia, Poland, and Hungary have begun accumulating gold, although in minimal quantity, and that is starting to reflect on prices.
This increase in central bank buying is one of the key drivers in the rise in gold demand.
Over the years, most central banks bought gold as a precaution against a volatile market scenario and the dollar.
In 2018, the central banks had added 651 tonnes to their reserves, while the RBI added 42 tonnes. The RBI added more in 2019 and the country's gold reserves now stand at a record high of almost 618 tonnes.
5. Interest Rates
Recently the US Federal Reserve decided to lower interest rates, which benefitted the gold prices.
Lower interest rates in the US decreased the opportunity cost of holding non-yielding bullion and weigh on the dollar, making gold cheaper for investors holding other currencies.
As per financial pundits, the US Federal Reserve is expected to announce further cuts in interest. This comes amidst fear of a full-blown currency war between the US dollar and the Chinese Yuan, especially after the imposition of increasing trade tariffs by the Donald Trump administration on China.
The gold prices and interest rates have an inverse relationship. A rise in interest rates leads investors to fall back upon fixed-income investments that have a fixed return unlike gold, which does not offer a fixed return.
Hence, the demand for gold in this case falls and the price remains low.
6. Geopolitical Factors
Gold usually does well during geopolitical turmoil and the current crisis over Korea's nuclear capability has boosted the prospects of the yellow metal.
Crises such as Trade wars between US-China, which have a negative impact on prices of most asset classes, have a positive impact on gold prices since the demand for gold goes up as a safe haven for parking funds.
7. Good monsoon
Rural demand for gold plays an important role in the overall demand in the country which depends primarily on monsoons. India annually consumes 800-850 tonnes of gold and rural India accounts for almost 60% of the country's gold consumption.
Hence, monsoon in India plays a big part in gold consumption.
If the crop yield is good, then farmers buy gold from their earnings to create assets. On the contrary, if there is deficient monsoon, farmers tend to sell gold to generate funds.
8. Gold Smuggling On The Rise
As per the report by Directorate of Revenue Intelligence (DRI), Smuggling in India, the total quantity of gold seized by Indian Customs in 2019 is way more than corresponding numbers in 2018.
This is probably due to a national level election this year.
In Budget speech 2019, Finance Minister Nirmala Sitharaman proposed to increase customs duty on gold and other precious metals from 10% to 12.5%.
The industry had been demanding the duty to come down by 2-4% for the past few years to curb the smuggling of the yellow metal.
In July itself, the DRI had seized 6.58 kilograms of gold of foreign origin valued at Rs. 2.33 crore in Kolkata, 5 kg of gold valued at Rs 1.75 crore at Courier Terminal Delhi and 6.46 kg of smuggled gold valued at Rs. 2.17 crore at Hyderabad airport, etc.
It was estimated that about 100 tonnes of gold had been smuggled in India every year for the past few years.
Following the hike in customs duty, smuggling has peaked, say experts. Organized jewelry chains say only an un-organized sector consumes such gold. Sources say the imported gold is sold at 2-3% less than the market price.
Should You Invest In Gold?
If you have read up till here, you may be wondering if gold is a good investment.
It is natural and even prudent for an investor to wonder if a particular asset is a good investment or not. That's especially true for gold since it's an inert metal and doesn't earn any interest.
Let me tell you that gold continues to be a popular investment for ages. It has been respected all over the world for its value and rich history.
People have wanted to hold gold for various reasons. With various innovations, gold trading has evolved from physical gold to virtual trading. However, all forms of gold are equally attractive for investments.
There are various reasons why people, especially Indians, invest in gold to meet their financial goals.
Gold prices are likely to see an all-time high around  Diwali. According to analysts, gold prices might cross Rs. 40,000 mark, per 10 grams around the festival.
Currently, the October contract of gold was priced at Rs. 37,995 per 10 grams on the Multi-Commodity Exchange (MCX).
Financial pundits globally are suggesting investments in gold and other precious metals amid these uncertain times as insurance against economic uncertainty.
The Bottom Line
Other factors, which are not mentioned above, are on similar lines like the production of gold and its subsequent production cost that influence the price of this metal.
However, the important thing to keep in mind is that no matter how varied the factors affecting the gold rate may appear, ultimately it all boils down to the demand-supply game in the market.
The basic demand-supply mismatch is one of the primary reasons that drive the price of the yellow metal. This mismatch may, however, be created by several situations, some of which are have been discussed in the points above.
Disclaimer: The views expressed here are of the author and do not reflect those of Groww.