Yes, you got it right, lump sum investment is yet another way to purchase units in the mutual funds. Instead of creating SIP (Systematic Investment Plans), lump sum investments allow you to use a part or the entire chunk of your cash savings into buying units from mutual funds. Most investors choose to go with this method for creating extra wealth on the liquid which otherwise would not have made any returns in a regular savings account.
How does lump sum investment work?
Consider a situation where you have accumulated some money in the bank account and now you are willing to make some purchases in the market. The lump sum is exactly that, you go out and buy units of whichever fund you like and let it sit there for as long as you want to. There's no upper limit to the amount as it is all dependent on the risk appetite and purchase power limit.
How to make Lump Sum investments?
Among all the things, doing investments nowadays is also all about making few clicks. If you know where to invest and how much to spend, making investments through online platforms like Groww is very easy and unit allocation is done in just a few working days. All the investments are done through the BSE India and there's no chance of fraud or wrong transactions.
Consider you want to invest a certain amount of money in mutual funds. Then all you have to do is sign up on Groww.in, create your profile and do the KYC verification as a part of the mandatory documentation. Next, you will need to attach a bank account for making the purchases and redemption of units. However, in case you have entered the wrong bank details, there's a support option in the bottom right corner to sweep away such woes.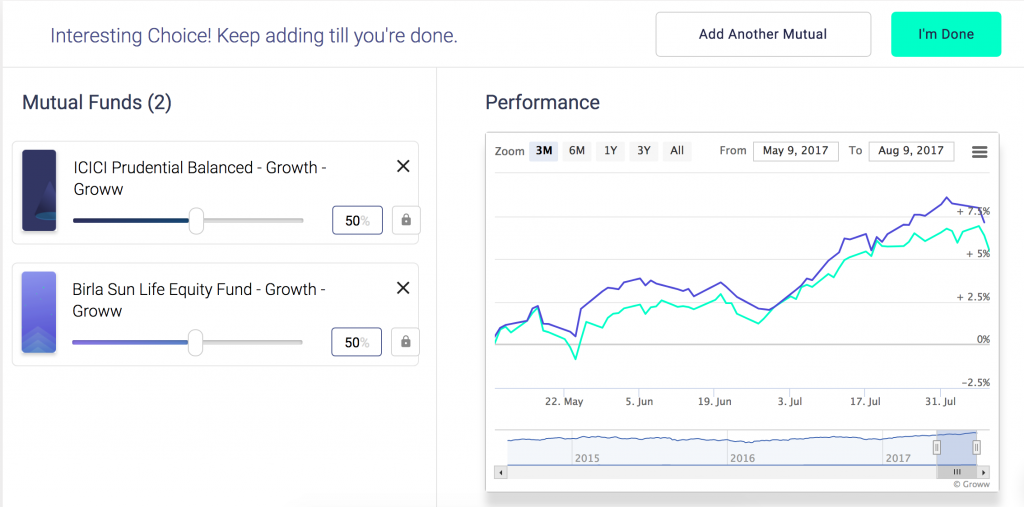 Once this stage is cleared, you should be able to see portfolios under the Explore section of your dashboard. Over there you can choose goal oriented collections or create your portfolio under My Portfolio section and click on Create Portfolio.
Just to add a quick note here, not all securities on the platform are lump sum friendly. In such cases, you can start a SIP, which I will explain a little later with other few crucial terms.
If you find a portfolio good enough to suit your needs and risk appetite, you can go ahead and click on Invest Now. However, before you make that move, it would be good to understand the other things you can do on this page.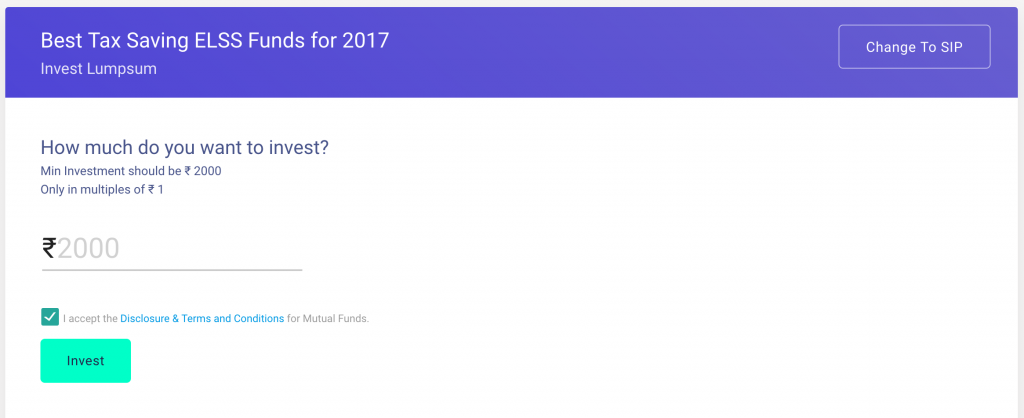 Groww has all the necessary insights on how much you can earn in one to three years along with few sliders which can help you personalise the portfolio as per the needs.
Lump Sum Investment page walkthrough:
Extending the above-mentioned points, next you will see an option to create SIP which can be changed to Lump Sum with just a click on the top right corner. Moving further, you can enter the desired amount up to seven or eight figures.
After this, you will be asked to confirm the payment on BSE Star page which will direct you to the bank account, and as soon as BSE confirms the order, we will list down your purchase on your dashboard along with the status.
Lump Sum vs. SIP?
SIP or systematic investment plans are worth it when you want to save some money month on month based on salary and revenue. Once confirmed, SIPs are created, and on a fixed date every month an amount is deducted based on your initial transaction.
SIP amounts are automatically deducted from your bank accounts as per the mentioned dates and do not require much attention. The only time you need to look at them is when you want to make a switch or redeem the units.
In one way, we can say lump sum is similar to the SIP, but the vice versa isn't true. Since it is possible to cancel SIP payments at any point, and there's no commitment, it would be safe to say that SIP is similar to a fixed yet periodic lump sum investments.
Returns:
It's all about the simple mathematical calculations when it comes to calculating returns for SIP and lump sum investments. Apparently, lump sum investment gives you more performance for the duration similar to that of an SIP. In SIP, we invest every month or every year for a tenure, whereas, in the case of lump sum, the entire money is deposited at once to earn the returns.
Lump Sum with STP?
Let's first explore what this new term STP means. STP is known as Systematic Transfer Plan where an investor allows mutual fund managers to redeem few units as directed and invest in the resources suggested by the investor. This way you can ensure that your money is safe under the volatile market conditions as most of it is stored in the debt funds.
It all starts with a lump sum or SIP investment in the dividend funds which then is managed by the fund managers as per the suggestions. It is also known SSP, Systematic Switch Plan.
Lump Sum with SWP?
SWP means Systematic Withdrawal Plan where the investor gets to redeem small amount at different intervals. This again ensures that there is no direct impact on the investments due to volatile market conditions. An investor can choose to invest back in the market or treat it as a regular income source. Such plans are best suitable for people who are very near their retirement age.
Lump Sum with Triggers?
It is well known among investors for automatically redeeming the units at particular time or value. Triggers can be associated with any mutual funds investment where an individual can allow the managers to set triggers based on value, time and event. This can help you attain good returns at a particular time frame, value or condition.
Do share it with your friends on Facebook, WhatsApp and other places.
Disclaimer: The views expressed in this article are that of the author and may not be same as that of Groww.