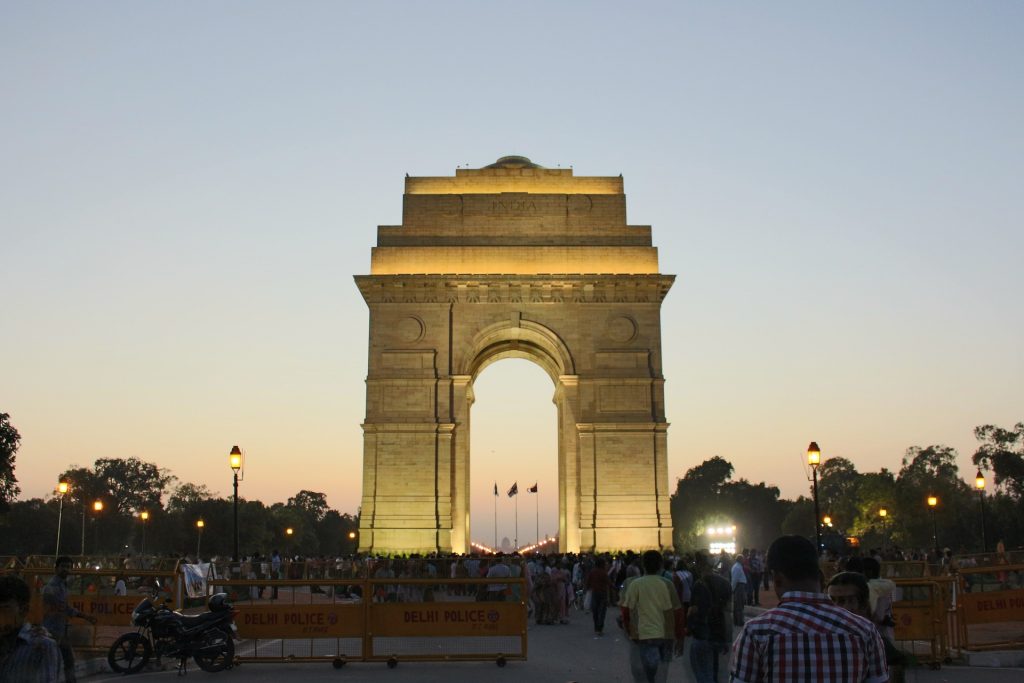 The world economy isn't doing particularly well. The USA, after suffering from the dot com bubble of 2000 and the real estate disaster of 2008 is still reeling from the effects of those storms.
The Eurozone, hit by the Greek crisis, Brexit, and the refugees from the middle-east is struggling too. Japan, with its aging population stagnating economy, paints a similar sad picture. Things aren't looking rosy in most parts of the world.
China, by comparison, has shown robust growth for the past few decades. So much so, the country was barely affected by the 2008 crash. Recently though, growth is slowing. It is much lower than what it used to be.
Why Invest in India?
Many consider India to be the nation that'll take the torch of growth from China. And they are most likely right. There are several reasons for this belief.
1. Youth
Two-thirds of the Indian population is under the age of 35. India has the highest number of youth in the world. To complement that, India's economy is consumption driven. As these young people join the workforce, get married, have children, want a better lifestyle, and so on, demand for nearly every commodity is going to increase exponentially.
Every major brand is setting shop in India to not just manufacture in India, but also to sell in India.To understand the impact of youth on the economy, consider what happened with China.
China's population doubled after 1950. In that same period, China became one of the world's most influential nations. Thanks to the availability of skilled workforce able to work under low wages, China became the factory of the world.
2. English
About 10% of the Indian population can speak and understand English. To give you an idea of how much that really is – 95% of the US population speaks and understands English and this 95% is about 250 million people.
The 10% of Indians who speak English are 125 million in number – half of that of the USA. The country with the next highest number of speakers of English is Pakistan – only 15 million.
This point is proven well if the number of call centers operating in India is considered. Many companies outsource many of their tasks to India simply because the workers here can do it for a lower pay and can understand English.
Being able to understand English gives India a decisive edge. Multi-national companies find it easy to communicate with the people in India. As a result, they find it easier to set up offices and factories in India.
3. Reformative Government
The Indian Government is actively pushing to bring in reforms in India that have so far been choking the economy of the nation. Every sector is experiencing major reforms. India added 8200 kms of highways in 2016-2017 which is the highest achieved so far.
The Indian Railways has seen drastic improvements in service and station renovation. Besides, FDI in various sectors of railways is being considered. And these are just two ministries we are touching. Several others have also seen reformative changes.
India seeks to jump 40 places on the list of 'Ease of Doing Business'. Where earlier it took over 40 applications to start a business in Delhi and Mumbai, it now takes only 8 – all online. Many companies are betting on GST for making doing business smoother. So much so, the Government is even mulling allowing 100% FDI in defense.
4. Fastest Growing Major Economy
Despite the demonetization of November 2016, India has managed to keep its GDP growth rate above 7%. Considering the GDP rate growth for the world is around 2.7%, this number is quite impressive.
According to IMF, India should overtake the UK this year becoming the world's fifth largest economy. In 2022, it is supposed to overtake Germany and by 2030, it is supposed to overtake Japan.
5. Largest Democracy
India is the world's largest democracy with over 1.2 billion people. India follows a parliamentary form of Government. The central Government gets elected every 5 years and so do the State Governments.
The concentration of power isn't very high. Good distribution of power and federal nature of the nation ensures stability in the long-term.
The stability thus ensured is vital for economic growth. It reduces the chances of major changes of power and ensures the people of the nation are able to elect who they want to.
6. Consumer Spending
India has what is called an internally driven economy. India's growth is primarily fueled by the demand of goods within the nation. That coupled with the increasing number
There are three primary reasons why the consumer spending will be high in India. First, low personal debt. Indians have far lower personal debts than people of many nations. The habit of saving and spending efficiently is the hallmark of Indian families. Second, the young population of India. Youth spend on various items and consume various new products.
That, in turn, fuels further development and manufacture. Third, rising aspirations. Middle-class Indians now demand the same brands, products, and quality that middle-class citizens of any other developed country. This has led many brands to set up shop in India.
Couple this with the increase in urbanization of various parts of India and the general trend of people moving to urban areas, consumer spending seems to be headed for an incredible increase.
USA's Economy
The world's largest economy has come a long way since the crash in 2008.
After being hit by the 2008 housing bubble, the USA has recovered well. Many prophesized the USA economy would experience great turmoil once Donald Trump was elected to power.
Another section predicted the opposite. Neither of those polar views has turned real (yet).  The USA economy failed to meet its inflation target of 2% last year. But besides that, the economy has been doing fairly well.
More recently, Intel CEO Brian Krizanich became the third high-profile executive to exit Trump's manufacturing council. The USA GDP growth was 2.6% for last year.
The Eurozone Economy
The Eurozone was established to ensure ease of economic activities among others.
The European Union has been hit by many jolts in recent times. The Greek financial crisis everybody. Many feared that it could affect the world economy in ways worse than the Lehman Brothers crash did. Thankfully, that never happened.
Trouble in the middle-east hasn't helped the cause of Europe much either. The number of refugees pouring into Europe reached record highs as countries argued with each other over sharing the load of supporting the migrants.
Brexit was another storm the European Union had to weather. Till before the results were out, many comfortably believed the referendum would fail. Much to the disbelief of many across the globe, that didn't happen.
Rising terrorism in the region also continues to put pressure on the stability of the region. The increase in average age of the people of Europe is further exacerbating the economic output of Europe.
Europe's GDP grew by 1.4% last year. This number is creeping upwards though not at a particularly good pace.
Japan's Economy
This economy has been in decline for long. And this is despite the Japanese being very skilled.
In the third quarter of 2016, the Japanese GDP grew by 2.2%. This figure might sound very poor to many, however, to the Japanese, it was very good news. That is so because Japan's GDP growth has been under 1% for the past two decades.
This growth was largely fueled by international demand for goods made in Japan. In short, Japan is heavily dependent on others for the smooth running of their economy. The Japanese debt stands at 230% of the GDP which would be considered quite high.
Various Japanese economists have proposed various solutions over the years but none have shown any change. The reason none of them have worked as hoped is because from an economic lens, everything is perfect. The per capita GDP (amount of value produced by one person) has steadily increased by 20% over the years. Japan's economic trouble stems not from economic policies, but from a demographic decline.
Japan's population is aging very fast. Even if each individual is very productive, if the number of individuals itself is low, the total value produced in all will be low. Japan's working population reached its peak in 1997. Since then, the number of people working has been on a steady decline. To make matters worse, the overall population has started to go down since 2011.
Brazil's Economy
In the early part of this century, this country was looked upon with many expectations. Today, the situation is much further from that.
In 2011 when President Lula exited office, he left behind a country that was rapidly growing. A great percentage of people had climbed out of poverty and entered the middle class. Brazil was exporting commodities all over the world. Its biggest customer was China.
To add a cherry on the cake, Brazil discovered off shore oil when crude oil prices were peaking. So well was Brazil doing that neighboring nations aspired to replicate the country's economic model.
Now, the state of affairs is very dark. Brazil has been on the decline for the past 4 years straight. The economy of Brazil contracted by 3.6% in 2016. Brazil's current recession is the worst it has ever seen. And though many are hopeful of positive change very soon, it is hard to say when the said positive changes will begin to appear.
China's Economy
The factory of the world is beginning to slow.
China, the one nation that everybody used to look up to is showing signs of weariness. There is no doubt, China's growth has slowed drastically. So much has the growth rate fallen, it is now at levels similar to the 1990s. Debt stands at 250% of the GDP.
The Chinese Government is still grappling with over-inflated real estate prices. To add salt to the wound, the stock market bubble of 2015 hasn't helped ease the Government's worries.
China saw unprecedented growth for years relying heavily on exports. Goods of all kinds varying from poor quality to exceptionally high quality were being manufactured in China. What China made, most of the world consumed. That is changing. As the Chinese population moves into the middle class, the wages in China are also rising.
Thus, making in China is becoming more expensive. The Chinese government is at work trying to shift the economic model to accommodate and take advantage of this change. From being an export driven economy, China is trying to become a consumption based economy.
A major advantage of China over the others has reached its maturity: demographic dividend. Like Japan in 1997, the number of people at work in China began to shrink in 2012. Many are comparing China's economy today to Japan's in the 1990s.
The Indian economy is indeed a bright spot on the globe that is currently experiencing a slowdown. Brimming with youthful energy, a population that understands the global business language, a reformative government, and a consumption driven economy, it no surprise that India has come to become the world's fastest growing major economy.
More people are realizing this opportunity. Most automobile manufacturers are looking to expand their production in India. In a first, smartphones including the likes of Apple, Xiaomi, Lenovo, and more have started manufacturing in India. Manufacturing units are being set up by industries that did not exist earlier.
And to cash in, investors from all walks are putting their money in the Indian economy. Investors have pumped in record amounts of money into mutual funds. Such has been the increase in the popularity of mutual funds that the Assets Under Management (AUM) went from ₹4.8 lakh crores to ₹18.3 lakh crores in just 5 years.
Investing in India: Options
Clearly, a very sizable chunk of people wants to invest in India. If you're a retail investor, here are your options:
Fixed Deposit (FD):

FDs have always been very popular among Indians. The relatively negligible risk and assured returns allow many to sleep peacefully. The benefit of FDs is so widely discussed that many consider it the only form of safe investment.

Even people who are willing to take more risks aren't aware of any other investment methods. As of today, most banks are offering a rate between 6% and 7% on FDs. Considering this income is subject to tax, the effective rate earned is even lower. FDs then are barely able to cope with inflation.

Real Estate:

For a good part of this century, real estate was considered an investment that was both safe and returned a high rate of return. It was particularly popular among NRIs.

Many buyers were in for a rude shock in the early part of this decade when property supply far exceeded the demand. The rate of growth over the past 5 years has been relatively cold.

Gold:

Probably the most famous of all investment vehicles among Indians, gold has a relation with Indians dating back centuries. Quite like real estate, gold has not been doing well of late. In the last five years, gold has barely grown at all.

With India becoming one of the world's fastest growing nation, a lot of money can be made very quickly if invested in the right place. However, it is just as easy to burn your fingers. Only people with good knowledge of the markets are able to draw good amounts of money.

Mutual Funds (MF):

There are various types of MFs with varying degrees of risk and reward. Debt MFs, which are considered low risk, have been consistently returning a rate between 8% and 9% for years.

Equity MFs often give a double digit rate of return. Many MFs have in the past returned rates of up to 50%. If you want to profit out of the Indian growth story and have no clue about the markets, equity MFs might be the best way to profit out of the market.
Investing in Mutual Funds for NRIs
Investing in mutual funds for NRIs is quite straightforward. You will need:
1. Any one of the following types of bank account:
Non-resident External Rupee (NRE) Account
Non-resident Ordinary Rupee (NRO) Account
Foreign Currency Non-resident (FCNR) Account
2. A recent photograph of yourself
3. Your PAN Card
4. Your passport (certified copy)
5. PIO/OCI Card
6. A proof of your residence outside India and permanent address proof (could be of any nation)
7. Bank statement (1 month's) of the bank account you want to use for investing
Currently, Groww does not support NRI investment.
However, you may refer to our site, Groww.in, if you want to gauge more knowledge about mutual funds
Happy investing!
Disclaimer: the views expressed here are those of the author. Mutual funds are subject to market risks. Please read the offer document before investing.