Becoming a parent is one of the most wonderful experiences in life. This mutual fund portfolio helps young parents build wealth in long term. They can use the wealth built to pay for kids college education or keep investing for their retirement.
Why Invest? Investment is future consumption!
In general, one needs to invest to take care of your future expenditures. Some of these expenditures are just too high that you need to save for them.
Inflation
And then there is Inflation – it eats up your savings.
Let us take an example – say you are 30 years old and your monthly expenses are Rs 50,000 today. Also, assume that you would want to retire at the age of 60. If you want to keep the same lifestyle, you would need around 2.8L / month. This money will have to come from your investments.
Take a look at some sample I have picked from the historical data – how much money you will need today to buy the same things that cost you Rs 100 thirty years back:
| Year | Amount | Inflation Rate |
| --- | --- | --- |
| 1986 | ₹ 100.00 | |
| 1987 | ₹ 109.57 | 9.57 % |
| 1990 | ₹ 140.00 | 11.03 % |
| 1995 | ₹ 225.22 | 9.28 % |
| 2000 | ₹ 322.61 | 5.40 % |
| 2005 | ₹ 396.52 | 4.59 % |
| 2010 | ₹ 592.80 | 7.53 % |
| 2015 | ₹ 865.49 | 5.43 % |
| 2016 | ₹ 906.98 | 4.79 % |
You can save money in a bank account or fixed deposits but you actually lose money by doing so. How? Net returns of savings account or fixed deposits are less than inflation if you consider the tax you pay on these returns. Banks make more money than you on your savings (Read: How banks make money?).
"Inflation is when you pay fifteen dollars for the ten-dollar haircut you used to get for five dollars when you had hair." – Sam Ewing
Case for mutual funds
So we need to save money for future, but banks are not the best place to save considering the inflation and low returns. Enters mutual funds – one of the best products designed for retail investors. And there are multiple reasons for the same. You can
start with very small amounts
diversify across many stocks and bonds
invest in debt easily
select different categories of mutual funds aligned to your goal
In addition, your money is managed by a professional fund manager for not very high fees (though we need to be careful to not chose very expensive funds or fund managers with not-so-good track records). If you want to learn more about mutual funds, check out this article on mutual funds – What is a mutual fund?
Portfolio requirements
With this background, let us come to building the portfolio of mutual funds for young parents. I am assuming you have very young kids (less than 5 years old so their higher education is at least 10 years away). Young parents need to invest for the following reason:
Kids education – with inflation cost of education is going higher
Kids marriage – if you believe in fanfare marriages
Your retirement – retirement looks very far but needs to considered early on
All the goals above are at least 10 years away from today for a young parent. From the risk perspective, I have chosen a low to moderate risk level considering these things are very critical and an average person would not want to take high risk.
Summary: I need a portfolio for a long term with low or moderate risk.
The Portfolio
This is the portfolio that I have designed considering the objective in mind:
Detailed analysis of the portfolio can be found here.
The minimum amount needed to invest in this portfolio is Rs 50,000. However, you can start SIP in this portfolio with an amount of Rs 5,000 and additional multiples of Rs 5,000.
Why this portfolio?
This being a core portfolio of anyone, I wanted to keep it conservative with good enough upside. That is why I decided it to be a mix of 50% equity and 50% debt+cash.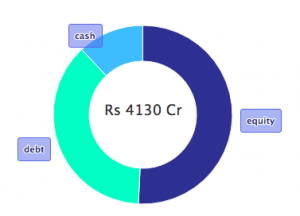 The equity component is well diversified across three categories – Large Cap fund, Multi Cap fund and Balanced fund – again shying away from high-risk mid or small cap funds or sector funds.
For debt, I prefer to keep it simple with short-term and ultra short-term – as I believe taking a risk with high duration debt is not worth it for half or single percentage point.
In each category, we filtered out funds using all important criteria.
Important Parameters
Returns should be significantly higher than to its benchmark and category
Asset under management shouldn't be too low or too high
Age should have enough history to evaluate performance
Expense ratio should not be very high
Track Record of beating the benchmark consistently in recent past
Sharpe Ratio (for equity) should be significantly higher than benchmark
Debt Rating (for debt) should be at least AA
Fund should be True to its category
The chosen funds, I believe are few of the bests in their respective categories.
Expected returns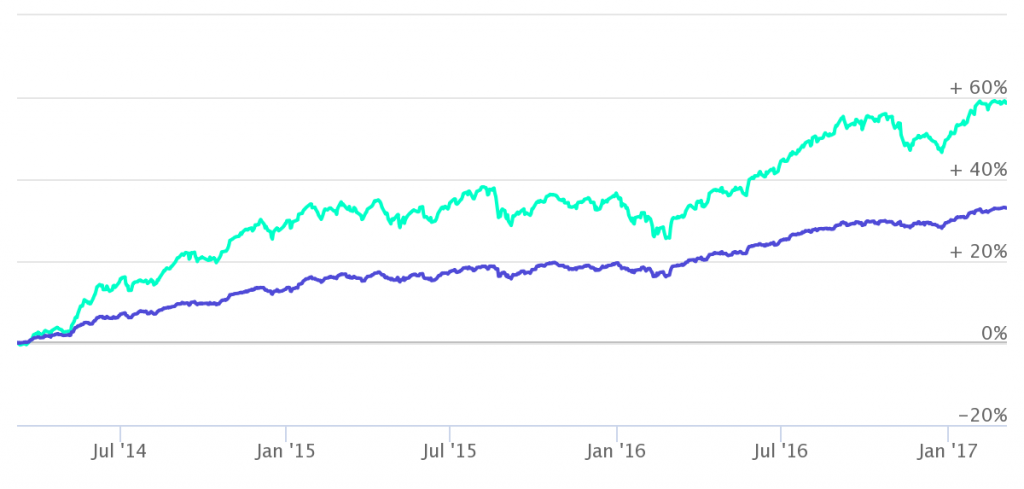 This portfolio has generated annualized return of 16% in last 3 years. However, we cannot project future returns from the past. If we take an estimate of 12% annualized return, a SIP of Rs 25,000 per month will help you build around Rs 2.5Cr in 20 years.
A SIP of Rs 25,000 / month would approximately generate around 2.3 Crores after 20 years (assuming 12% annualized returns)

SIP or lumpsum?
The answer: both. One should set a SIP in this portfolio and continue investing lumpsum amounts, as and when you have funds available. However, if you very large amount (say more than 25L) to invest in one shot – invest it in a safe liquid fund and then transfer to this fund regularly spread over few months.
How much to invest in this portfolio?
Considering that this would be your core portfolio, most of your savings shall go in this portfolio. In my opinion, you shall invest at least 20% of your income for your long term. The other way to look is how much money you would need considering the inflation, however the calculating this number is not very straight forward.
Here is a simple calculator you can use to calculate how much money you need for retirement. Add to this the education needs of your kids.
A simpler way is to follow 50/30/20 rule of personal finance – 50% for essential living expenses, 30% for saving for future and 20% for flexible lifestyle commitments.
Portfolio changes
Although investing is for long-term, it is important to review your portfolio once in a while (at least 2 times in a year).
When to modify this portfolio?
One should consider modifying this portfolio in the following scenarios:
One of the funds start underperforming
Significant changes in the market conditions
You are close to your redemption, in which case the debt component increases
Change in fund manager
If you follow this portfolio, you will get appropriate notifications whenever changes are made to this portfolio.
Want to go more aggressive (or conservative)?
This portfolio was created keeping a moderate risk profile. If you want to go more aggressive (towards equity) or more conservative (towards debt) – you can try to customize your portfolio.
For higher risk, increase your equity MFs ratio – say from current percentage of 20% each to 30%. This is how the resulting portfolio looks like: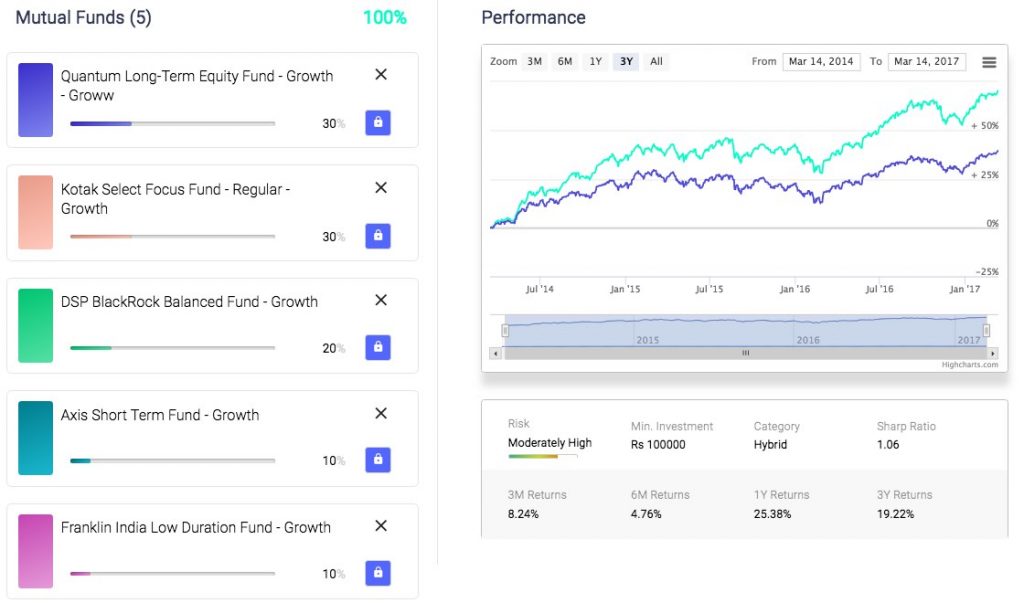 Your probable returns would be higher but then your risk also goes high. You can check out more details here.
For lower risk, increase your debt MFs ration – say from current percentage of 20% each to 30% This is how the resulting portfolio looks like: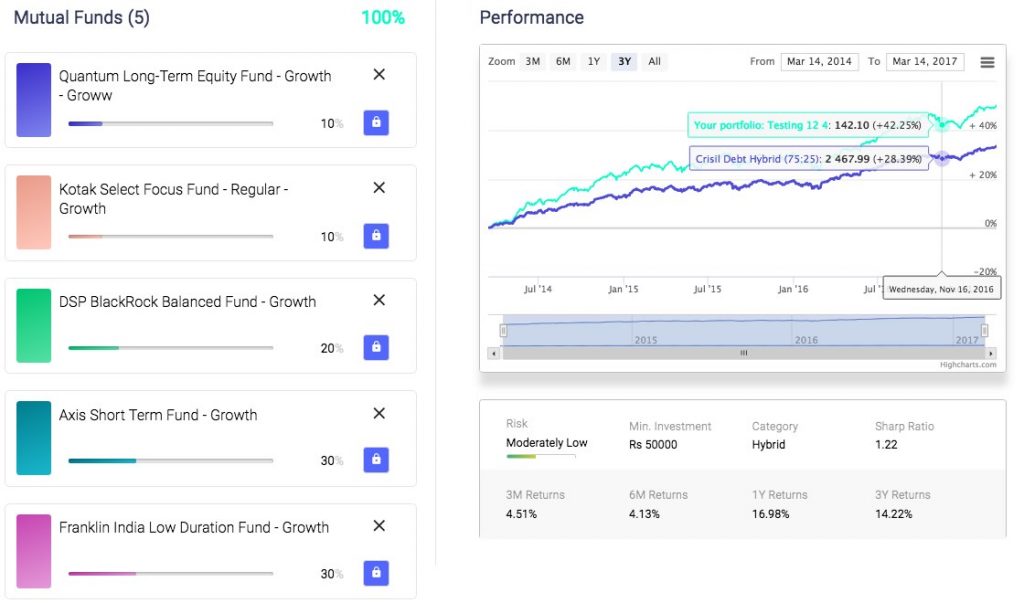 You reduce your risk but your returns also go lower. You can check out more details here.
Feel free to customize it as much as you want.
How to invest?
Purchasing a portfolio
With the advent of online facilities, investing in mutual funds has become as simple as buying your stuff from Flipkart or Amazon. However, before you start investing like you buy stuff on Flipkart, you need to go through a CKYC process. This is a one-time process and can be completed in few mins without any hassles. And yes this can be completely paperless. Check this article to know more about CKYC – What is CKYC?
Getting out of the portfolio
We started with premises that this portfolio is meant for long-term – however, there will be a day when you need to encash your portfolio for your needs. One good thing about mutual funds is that they are very liquid (you can sell anytime) compared to other investment options. When you redeem (sell) your mutual funds, the money is transferred to your bank account within a day or two.
Already have PPF?
A lot of working parents invest in PPF account. While PPF is a risk-free way to invest for future, most of the times the money saved in PPF is not sufficient for your long term goals. There are also several disadvantages of PPF
The returns are very low – you will hardly beat the inflation
Your investments are locked in. Mutual funds have much better liquidity
If you are investing in PPF for saving tax, you should consider Tax saving mutual funds as well.
Other portfolios to consider
While you invest in this portfolio, you can consider the following portfolios as well
Buying a house – if you are planning to but a house. This portfolio will help you in providing better returns than FD and also be significantly less risky. Safety of capital is more important than returns.
Park your money – If you have money lying in a savings account or FD, prefer this portfolio.
Saving tax – Portfolio of best tax saving funds to save tax under section 80C.
One more thing!
The longest word in English dictionary – mutualfundsaresubjecttomarketriskpleasereadtheschemedocumentbeforeinvesting
In short, there is always risk associated with investing in mutual funds.