UAN Member e-Sewa Portal: Customer Care & UAN Services
Introduction
The UAN Member E-Sewa portal is a one-stop resource for accessing EPF requests and using services online. You can find a wide variety of information regarding your PF contributions and carry out several activities like checking PF balance, details of past employers, withdrawing PF amount extra via the E-Sewa Portal. 
Any organisation which has more than 20 employees is required to undergo EPFP UAN registration online as the law dictates. The registration setup involves a password and unique user ID, to access the portal and its features. 
The portal through which you can access our EPFs using our UAN is called the EPF e-sewa portal. To access the portal the link is https://unifiedportal-mem.epfindia.gov.in/memberinterface/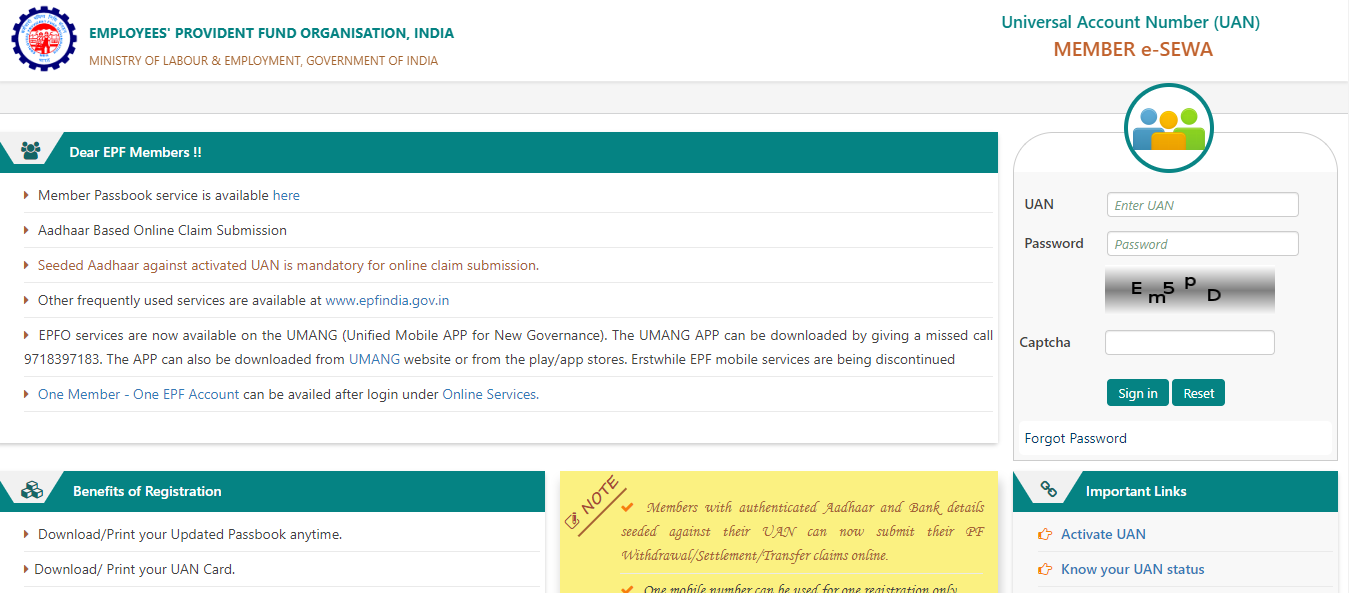 Let's just walk through the EPF UAN New registration process for the EPF e-sewa portal
Registration Process at the E-Sewa portal
You need to first activate your UAN before logging into E-Sewa Portal. You can access your UAN number from your employers or through our salary slips. You need to then follow the following steps
Click on the "Activate UAN" present in the "Important Links" section.

Then enter your details. After filling in these details you need to click on "Get Authorization PIN".

A PIN will be sent to your registered mobile number linked to EPFO.

After receiving the PIN you need to enter this PIN to activate your UAN account.

A system-generated password will be again sent to your registered mobile number through SMS.

It is highly advised to change this password after logging in successfully.
How To Check Your UAN Status? 
The process to check your

UAN PF status

is simple. Once you have logged in to the UAN portal, under " Important Links" click on "Know Your UAN"

You can choose to enter any of these details;  PF number, Member ID, PAN or Aadhaar number.

If you choose the member ID option then you need to provide other details such as the state you reside in, office details, personal details, etc. You can access member ID and PIN from your salary slips.

After providing all the details in the above step you need to click on 'Get Authorization Pin'.

You will receive a one-time password on our registered mobile number. You need to use this  OTP and click on the 'Validate OTP and get UAN' button.

EPF UAN Status will

be sent to your registered number.
How to Login to the Portal
You can view your UAN card when you have logged in to the portal. Mentioned below is the process to log in to the EPFO portal or E-Sewa Portal.
Step 1: Go to the UAN Member e-Sewa page.
Step 2: Now, enter your Universal Account Number, UAN password, and captcha code.
Step 3: Select the sign-in to log in to the portal.
UAN Member E-Sewa services
The UAN Login Member Portal offers a plethora of comprehensive services related to your EPF account. Let's explore all such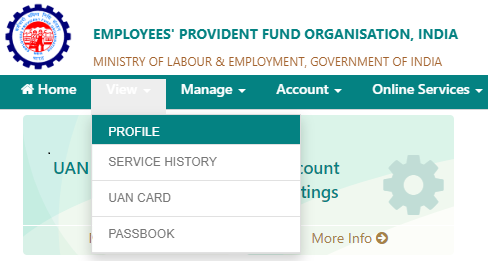 A. View
1- Profile-  The UAN employee portal has your complete EPF profile. This section contains information on  your personal details such as
UAN, Name, Date of Birth, Gender, etc. Some of the fields are editable, which can be done by authenticating through OTP.
2- Service History
All the organizations you have worked with are present on this tab. you get to see the following details
Member IDs, Organization Name, your date of joining and ending, and other details pertaining to the Employee Pension Scheme
3- UAN Card
Here you can view and download your UAN Card. This is helpful for EPF related work to carry offline.
4- EPF Passbook
This is the passbook of our EPFs. Here you can see the amount of our share and employer share towards the fund. Also, the fund contribution to the pension scheme is also visible.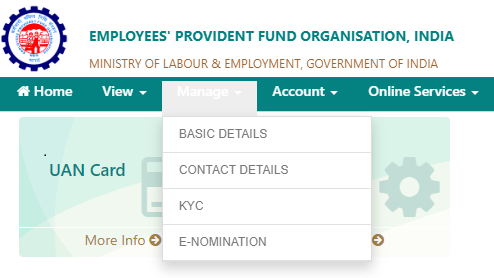 B. Manage
1-Basic Details
This section deals with changing our basic details, updating new information like education, etc,
2- KYC
All the Know Your Customer Details can be updated in this section. These details include PAN, Bank Details, Passport Number, Driving License, etc.
You need to also upload supporting documents along with the KYC details and the same should be verified by the employer. Once verified details will get changed automatically.
C. Online Services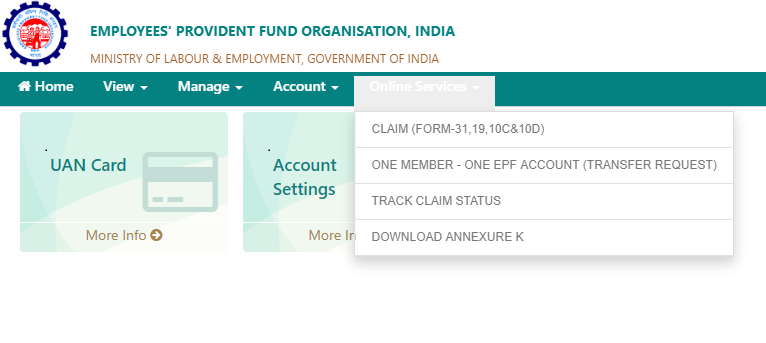 1- Claim (Form 31, 19, and 10C)
This section deals with the withdrawal of PFs. The (EPFO) Employees' Provident Fund Organization has introduced the claim forms to facilitate withdrawal of PF in full or partial. This claim section consists of the three forms – Form 31, 19, and 10C. However, you must note that for the purpose of claiming full/partial withdrawal through the Composite Claim Form, your Aadhaar must be linked to UAN.
2- Transfer
You can also request the transfer of your PF amount from the previous account into the current one. Before applying for a PF transfer on the EPFO UAN Portal, you should make sure that our KYC details are updated.
3- Track EPF Claim Status
You can track your EPF claim status on the UAN Login Portal. This section primarily deals with that.
UAN Customer Care 
For any further assistance, you can connect with UAN Customer care
Toll-Free Help Desk- 1800 11 8005
Email ID- [email protected]
You can also raise an issue on the official website www.epfindia.gov.in
Please note that the help desk service is available from 9:15 AM to 5:45 PM
UAN Member e-Sewa Portal – FAQs
Ques. How to link a UAN with Aadhaar?
Ans. One needs to visit UAN Member e Sewa Portal and login into the account using the UAN and password. Then, under the Manage tab, click on KYC details, and then UAN can be linked to Aadhar.
Ques. How to get UAN number from mobile no?
Ans. Members who have registered on the UAN portal can get their details available with EPFO by giving a missed call to 011-22901406 from their registered mobile number.
Ques. What are the prerequisites for availing miss call facility?
Ans. To avail miss call facility:
Mobile Number needs to be activated with UAN at Unified Portal.

Any one of the following KYC documents must be available against the UAN.

Bank account Number

Aadhaar card

PAN
Ques. How to Reset Password at the UAN Member Portal?
Ans. To update your password at UAN Member Portal, click on the Forgot Password option in the login section and provide the UAN and Captcha code. Next, enter the OTP sent on your registered mobile number and click on Submit. Finally, enter the new password and log in to the UAN portal.
Ques. Can a member register on the e-Sewa portal for viewing his/her account?
Ans. Yes, members can check their UAN related information such as Member ID, Employer Details, Personal Details, or UAN Card under the view tab. To get detailed information about the mentioned options, they need to register on the e-Sewa Portal.
Ques. How to update personal details at the UAN portal?
Ans. Members are allowed to update only their personal details like mobile number and Email ID in the Manage Section. Select the 'Change Contact Information' under the section, an authorization pin will be sent to the new number. Enter the pin in the provided space and your number will be updated.