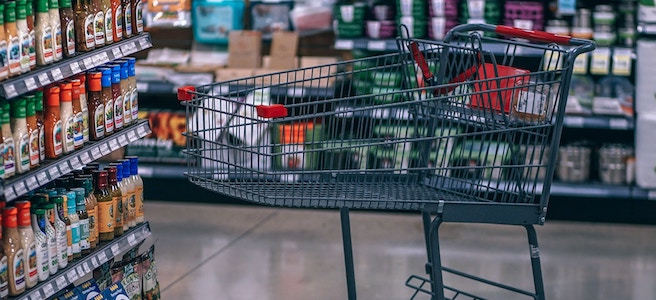 FMCG industry or the Fast Moving Consumer Goods industry comprises companies that manufacture essential products that you use daily. Home care, personal care, food and a few other product categories fall under FMCG. While we will delve into what the industry is like, let's first check some of the top stocks that have remained fundamentally strong over a sustained period.
Disclaimer: The stocks have been filtered using the highest market capitalisation as on January 14. This is for information purposes only and is not a recommendation.
Read On!
List of FMCG Stocks in India
Hindustan Unilever
HUL is a name that needs no introduction. It has many laurels to its name. It has been awarded 'No.1 Employer Of Choice' by Nielsen and was also named the seventh 'Most Innovative Company' in the world by business magazine Forbes. The company has a legacy of over 80 years in the country and more than 30 brands. 
HUL was founded in 1933 and is one of the leading FMCG stocks in India. 
HUL's brands are spread over various categories: 
Home care: Surf excel, Rin, Domex, Vim
Food and beverages: Bru coffee, Brooke bond tea, Annapoorna salt and atta, Horlicks, Cornetto, Knorr Soup, Kissan, Magnum
Personal Care: Fair And lovely, Lux, Vaseline, Clinic Plus, Axe, Dove, Lifebuoy, Pears, Ponds, Pepsodent, Sunsilk
Water purifier: Unilever Pureit
There are more brands, but these are more known to us. As you can see, HUL's product range is spread across many categories. 
Some of its well-known subsidiaries are:
Lakme cosmetics

Kwality Walls
ITC
ITC's history in India dates back even before HUL began. The company was incorporated in India in 1910. The company was earlier called Imperial Tobacco Company Ltd. and was renamed to ITC Ltd. in 1974. 
While cigarettes are its main product line, ITC has products in other categories as well. 
Food and beverages: Aashirwad Atta, Bingo Chips, Sunfeast, Yippee
Cigarettes: Gold Flake, Classic, NavyCut, SilkCut
Match MatchSticks: AIM, Homelite
Agarbatti: Mangaldeep
Stationery: Classmate and Paperkraft
Lifestyle and clothing: WLS
Personal Care: Fiama, Savlon, Vivel
The company also has its spread in the following categories apart from the FMCG industry: hotels, packaging, paperboards, speciality papers, agri-business.
Nestle
Nestle: The Kitkat chocolate manufacturer first set up its factory in India in 1961. It developed on setting up the country's milk economy and providing agricultural services to farmers in Punjab with the setting up of its first factory. 
Nestle is a Swiss Multinational company and was first set up in Switzerland in the early 1800s before it set foot in India in the 1950s. Nestle is one of the best FMCG stocks in India. 
Some of the famous brands of Nestle are 
Beverages: Nescafe range of coffees
Food: Breakfast cereals, Nangrow, Ceregrow
Chocolate: Barone, KitKat, Munch, Milkybar
Dairy Products: Nestle a+ milk and curd range
Maggi: noodles, sauce, masala, pasta etc.
Nestle also imports its foreign brands: Kit Kat Chunky and FOX's.
Dabur
Dabur India: For most of us, Dabur became synonymous with Chawanprash. While it is one of Dabur's flagship products, the company has much more to its name. The company started in 1884 as a health care products manufacturer in Kolkata (then Calcutta). The company got listed on the exchanges in 1994, and its IPO was oversubscribed 21 times.
Health Supplements: Dabur Chyawanprash, Dabur Honey 
Haircare: Amla, Vatika and Almond hair oil, Vatika range of Shampoos
Oral Care: Dabur Meswak, Dabur Lal Dant Manjan
Skin Care: Dabur Gulabari
Food and beverages: Real juice, Honey
Home care: Odomos, Odonil
Britannia Industries
Did you know that Britannia was established first in Kolkata in 1895 with an investment of Rs 295? Well, of course, the value of money has increased over time. 
The company made a fortune through a narrow but substantial range of products. Specialising in biscuits, dairy products and bread, Britannia has a legacy of around 100 years in the country. The Bourbon biscuits may be a childhood favourite for most of us were first made in 1954. The company has a global presence across 60 countries. This is a brand most of us have grown up with. From being voted in Top 300 Small Companies by Forbes to a consistent large-cap performer, Britannia has come a long way.
As for the stock, it has returned over 1,700% returns in the last 10 years.
Brands it owns:
Goodday

Bourbon

Little Hearts

Marie Gold
And a few others…
Godrej Consumer Products Ltd.
This is one of the fascinating success stories in India. Did you know that Ardeshir Godrej stated Godrej in 1897 as a lock manufacturing company? Between then and now, Godrej has forayed into multiple product categories. The company also made around 1.7 million ballot boxes for free for India's first elections as a democratic country. One Of its first entries to the FMCG sector was the launch of Cinthol soap in 1952. There was no stopping GCPL made hair colour, a foundation that invested in the environment, health and education, real estate wing called Godrej Properties all before 1991. 
In the FMCG sector, these are three main categories that GCPL has ventured into:
Hair Care: Godrej Expert, Godrej Nupur, BBlunt,
Home Care: GoodKnight, HIT, Ezee, Aer
Personal Care: Cinthol, Protekt (handwash)
About the sector
Let's understand what the FMCG sector or fast-moving consumer goods sector comprises. The shampoos, soaps, cooking oil, food items, toothpaste, and other consumer goods that you use daily to form a part of the FMCG sector. The FMCG sector is the fourth largest sector in India. Household and personal care products account for 50% of the FMCG sales in India. Of the total revenue of the FMCG sector, 55% comes from the urban segment.
There are two stock indices in our country with both the exchanges that can give you an idea of how the FMCG stocks are performing.
These were some of the top FMCG stocks in India. Read on to find out more on the sector.
Nature of the sector
Companies that fall under the FMCG banner are those that manufacture daily use goods for you. You will not stop brushing your teeth or stop taking a bath if the markets are down or the economy is not doing well. And so, FMCG stocks are always in demand. Historically, speaking of the 2008 world economic crises, the FMCG sector was relatively performing better than the other sectors.
This is called being 'defensive' of the markets in general. Defensive companies/sectors/stocks are those who are relatively immune to economic fluctuations. The reason why FMCG is termed defensive by many analysts is that when there is the general negative sentiment, people reduce their expenditure on high-end consumer durable products like cars, air conditioners and the likes. Still, their consumption of daily use products like food, personal care continues.
However, this does not mean that the best FMCG stocks are the safest market bet, and the same reason can backfire for the sector. In fact, during Demonetisation, when at least 85% of the country's cash flow was rendered illegal overnight, the FMCG sector was one of the worst-hit.
This simply means that the sector is heavily dependent on demand, and this is also very obvious. The industry becomes heavily reliant on the government's fiscal initiatives to spur demand. 
Hence the nature of the sector can be summarised as follows.
Consumer Demand Driven

Defensive to markets (at times)
Factors affecting the FMCG Sector
If you have followed us till here, you may have gauged that factors influencing demand, income, and cash flow impact the sector's performance. It is simple: if people do not have the money, they will not buy branded essentials and may resort to unorganised products.
Income Growth: Income growth also directly impacts consumer demand, and the relationship is pretty simple. Your affordability will go up if your income goes up.
GST Rates: The GST rates of most of the food items are between 0-5% making FMCG daily use goods affordable for most of us. High GST rates are also a deterrent for demand.
Consumer is King!
Interestingly, the nature of the sector and the factors impacting it lead to 'you' and the factors that affect 'you' directly and your demand. This simply shows that for the FMCG sector and probably for most other sectors, the consumer is king. It all boils down to how much money you have at hand and how much can you buy. 
Therefore, the slowdown in the FMCG sector is a significant indicator of a downturn in the economy. It indicates the country's ability to afford good quality daily use products.
Things to keep in mind before investing in FMCG stocks
Demand: If the company's products are in demand, it is a clear cut positive sign. Even the best FMCG stocks can't fool crores of consumers. If the product is of good quality and gives the desired results, people will buy it, and this will show up in the company sales and the demand thereof
Distribution network: The distribution networks and supply chain becomes essential as it is essential to know if the company's products have demand. This will help you analyse how well spread the company's business is if the company has a presence in the rural and urban areas and the strength of the network. This will help you to realise which indicators to look at, rural demand or urban demand.
Product quality: You cannot avoid buying soap or toothpaste. You can only go up or down the ladder in terms of product quality, and that's where the challenge for the companies in the FMCG sector comes in: to maintain product quality. When investing in an FMCG company, look at the quality of the products it has been selling. If the company is old enough in the market, you can look back at earlier news developments if there have been any adulteration cases, mis-selling and likewise.
Competition: None of the best FMCG stocks in India has a monopoly in the market. There are at least 5-7 companies, and naturally, there will be competition. Before picking any store, you can look at how the peer group companies are doing, if their product quality and demand for the same is healthy if there is any other company that is doing better. This metric will go for any industry and any stock. We will deal with how to compare two FMCG companies in the next segment.
How to Compare Two FMCG Companies
The key to comparing any two companies is that they should be from the same industry. We can compare the financial metrics to compare two companies: returns, price to earnings ratio, sales, debt, management efficiency, any negative news development in the past, and product quality between the two companies. 
Conclusion
FMCG industry forms a part of any country's growth story because it houses most of the essentials that any person requires. There are more companies under the FMCG sector like Dabur India, Britannia and a few other companies. The products that make up FMCG have characteristics such as frequent purchases, higher sale volume, fast consumption. If you are planning to invest in this sector or the stocks that make it, keep in mind the factors impacting the industry.
Happy Investing!
Investment in securities market are subject to market risks, read all the related documents carefully before investing. Please read the Risk Disclosure documents carefully before investing in Equity Shares, Derivatives, Mutual fund, and/or other instruments traded on the Stock Exchanges. As investments are subject to market risks and price fluctuation risk, there is no assurance or guarantee that the investment objectives shall be achieved. NBT do not guarantee any assured returns on any investments. Past performance of securities/instruments is not indicative of their future performance.