Hello investors,
I try to write this update every 3 months and every time I realize how fast things are changing around us.
Our product team keeps shipping new things at a breakneck speed, while on the other hand demand from customers keeps growing for new products and features.
This is the best position to be in – nothing gives more joy than building what people want.
Coming to updates.
One of the changes that would go soon is handling MF payments.
According to SEBI's circular regarding the non-usage of pool accounts for mutual funds, going forward you will not be able to use Groww Balance for paying for your MF investments.
Our team worked really hard to come up with your mutual fund experience in compliance with the new regulations.
Though you might not see any major changes while investing, a lot of hard work has gone under the hood to ensure your payments are as seamless as it was.
Note: according to the latest circular this change has moved to Jul 1, 2022.
We also introduced the stocks Buyback process online.
Earlier, users had to do it through our support – it clearly did not go well with what the Groww experience stands for.
With the TCS buyback, we saw a flood of buyback requests, and our engineers worked through nights to launch it just on time.
From now onwards all buybacks will be available online.
You will agree how painful it is to wait on the phone line for someone to be available from customer support of any company.
Designing zero-wait customer support numbers is also very difficult and inefficient for businesses.
That's why we introduced the "Call me back" feature. You can just request to call and our team will call you back in a few minutes.
This ensures you don't have to wait on the phone line.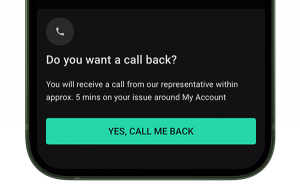 In addition to this, we are also introducing multilingual content in our Help & Support section.
This would help Groww is making further inroads.
We will literally kill the so-called English tax. We are first introducing content in Hindi and will extend it to other languages in the future.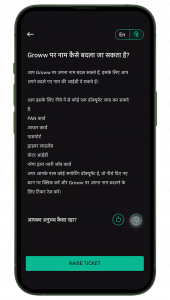 By the way, our Academy team is now producing videos in seven languages – English, Hindi, Tamil, Telugu, Kannada, Malayalam, and Gujarati.
More languages are coming soon.
We did some more streamlining of your experience for investing in stocks.
We noticed a lot of customers requested support to introduce Stop Loss triggers to their orders but weren't able to do so.
We made the UX a bit simpler so that customers can use it easily. In the same flow, we are introducing Stop Loss orders as well very soon.
For people in a hurry, we also launched Quick Launch on both Android and iOS to enable customers to go where they want to go.
Just press and hold the Groww icon for a few seconds and you will get the options.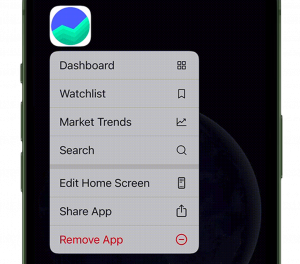 Fixed deposits are now available on Android as well.
Currently, there are three options available – IndusInd Bank, Axis Bank, and Bajaj Finance.
Now we have investment options from very low risk to very high risk.
We also simplified payments.
When you apply for an IPO, you don't have to type out your VPA again as we pre-fill the valid VPA from your earlier application.
Small things but many such small things make a delightful experience for you.
Another important change is that now Bank holidays will not stop your SIPs.
Earlier any SIP instructions given by you to Groww were not processed on bank holidays (Sunday, Festival Holiday).
Investors had to wait for the next working day for the SIP debit to get relevant NAVs.
Now, with the new regulatory guidelines, the NACH system will be available on all days, including Sundays and bank holidays.
On the Advanced chart, on popular demand, we introduced 1m, 2m, and 3m intervals for graphs.
Being a long-term investor myself it was a bit tough for me to realize how important this is for some of you.
We will continue building tools that matter to you.
We also heard feedback from F&O customers and made the following updates.
We introduced F&O tabs on product pages to access F&O easily.
Customers can also add F&O contracts to the watchlist now.
There is still a lot to do and you will continue noticing good updates in upcoming releases.
A few more under the hood changes we keep doing to keep our investors protected:
F&O market orders are protected between 5-25% for adverse price movements.
We blocked buy orders on Sintex when it was clear that the price will go to zero.
We enabled Ruchi Soya FPO cancellations as soon as SEBI passed the circular to do so.
Another important update that is close to my heart is that we restarted the "Ab India Karega Invest" (AIKI) program.
For the uninitiated, under this program we travel to your cities, meet you face to face and answer your queries.
In a 100% digital world, this is our chance to meet our customers in real life and learn.
We cover 1-2 cities every week and look forward to seeing some of you.
That's all for now.
I will come back again with new interesting updates next quarter.