Dear investor, we are braving some difficult times with the pandemic and the lockdown. You would have observed that all services including banks and AMCs are affected. Our system is run by the strengths and efforts of our team and our partners. And, since our partners are facing some issues, certain operations have slowed down or changed.
You may have noticed the following changes:
SIP order failure:

Due to reduced staffing in banks, SIP orders may get cancelled. If money gets deducted, you will receive a refund within 7-10 working days from the date of cancellation.





Alternatively, you may go ahead and make a one-time investment of the same amount for this month in the same mutual fund.





Note: Your SIP order will most likely go through without any problem as only 5% of our users are facing this issue.




Delays in unit allocation:

Due to manual RTA systems and lockdown, your unit allocation may get delayed. However, the NAV will be as per the time of placing the order.

Delay in redemption: If you are redeeming an amount, it may take 1-2 working days extra for the money to reach your account instead of the usual timeline. This is due to reduced staffing at AMCs and banks. However, we are constantly following up and coordinating with them in order to maintain our usual timelines.
Change in NAV cut-off timings: Securities and Exchange Board of India (SEBI) has revised the cut-off timing for mutual funds for a temporary period.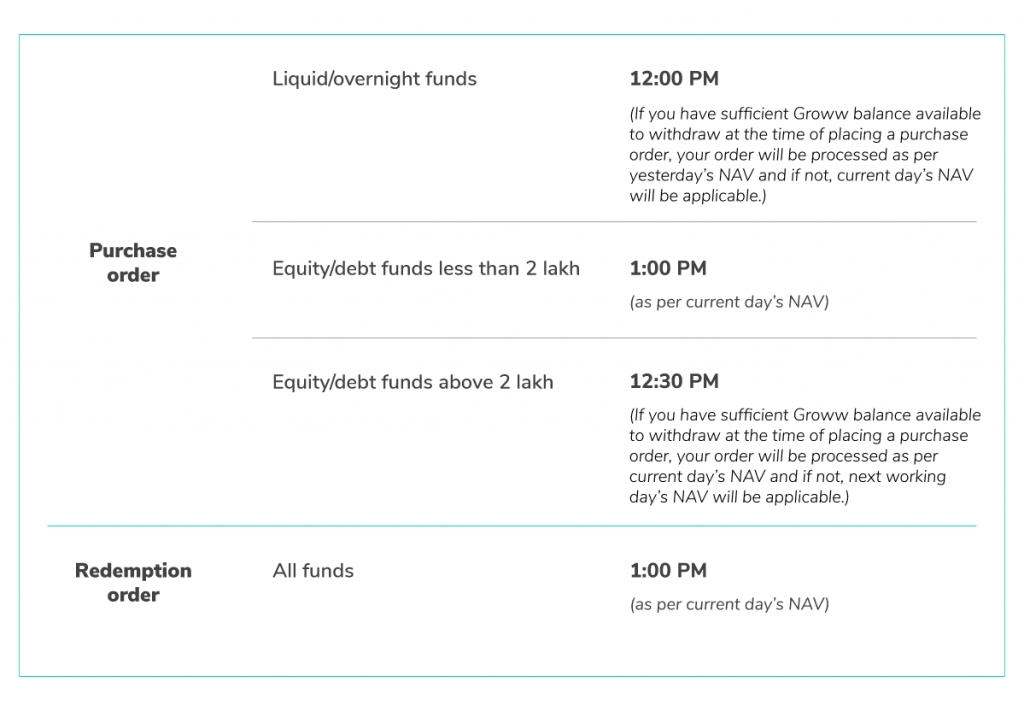 To know more, please read this blog and share with your network
The entire Groww team has been working relentlessly from home to keep your investing experience seamless. We've even added more workforce to support the higher traffic we're experiencing.
We are trying our best and working at full steam to sort the few issues that do come up. These are temporary issues that should be fixed by our partners soon. We will update you if there is further change in cut-off timings.
Invest wisely!