Opening a Demat cum trading account on Groww is extremely simple. The process is completely online and paperless and won't take more than a few minutes. So without further ado let's see the steps in detail.
P.S: Please refer to our pricing page for updated Demat charges:
Step 1: Log in to your Groww app. Under the 'Stocks' tab, click on ' complete setup'.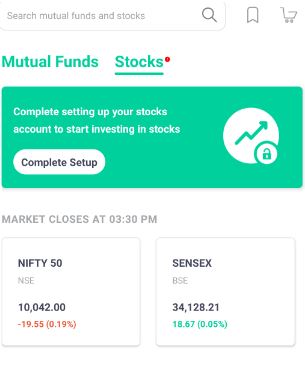 Step 2: Click on 'Open Stocks Account' to proceed. The accounting opening charges on Groww are zero. For other charges please click on 'See all charges'. Once you go through the charges and agree to pay the applicable charges, click on 'Open Stocks Account'.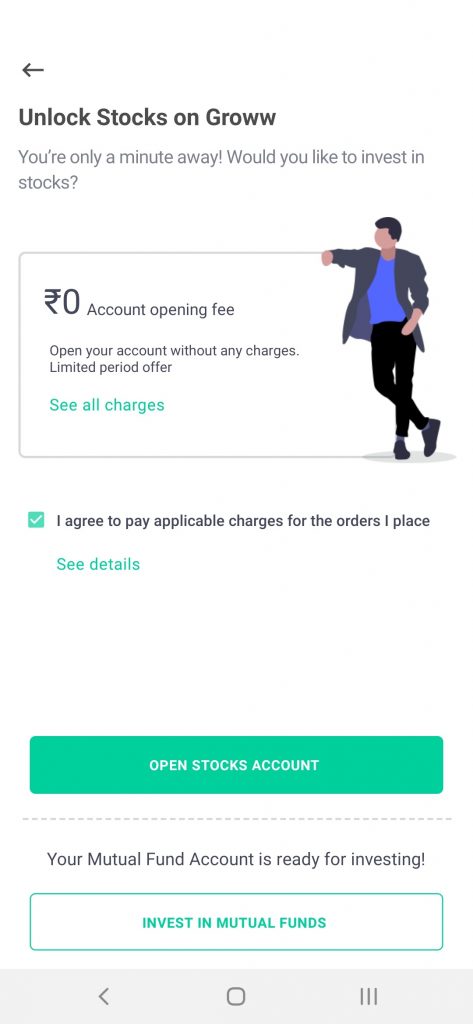 Step 3: Enter details about your occupation, income, mother's and father's name to complete the KYC process. Verify the correctness of the details and click on 'Next' to continue.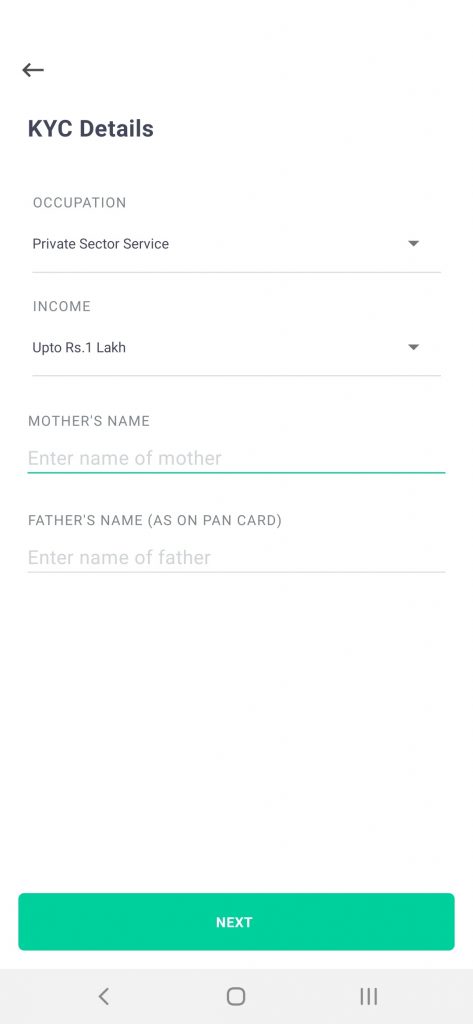 Step 4: Enter your trading experience from the drop-down list and click on 'Next' once done.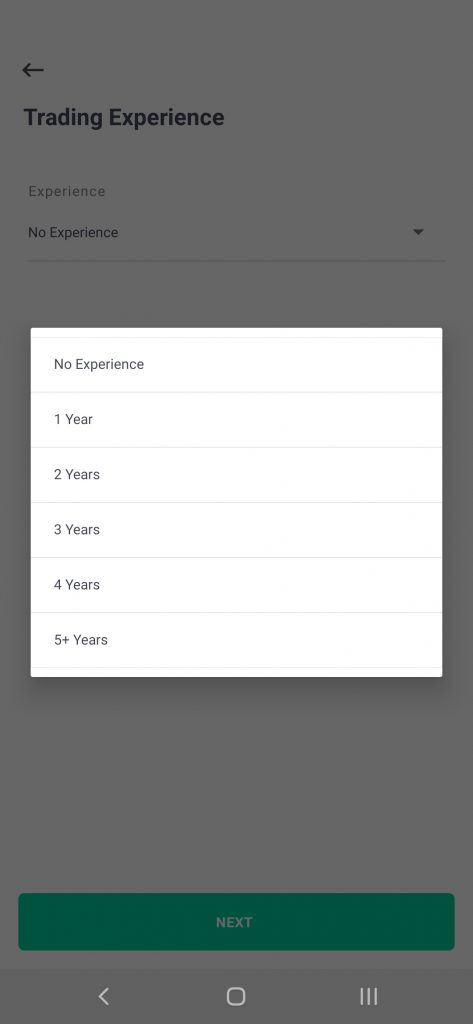 Step 5: The next step involves uploading your signature. Your signature is required to open the Demat account and hence this step is mandatory. On a plain white sheet of paper, make your signature in dark ink. Make sure it is legible and clearly visible. Also, you may be required to submit the same signature in the future if needed, so make sure you remember it. Click on the camera icon to take the picture and upload the signature. You can also retake the photo if the signature is not visible clearly. Click on 'Looks Good' if you are satisfied with the picture to continue.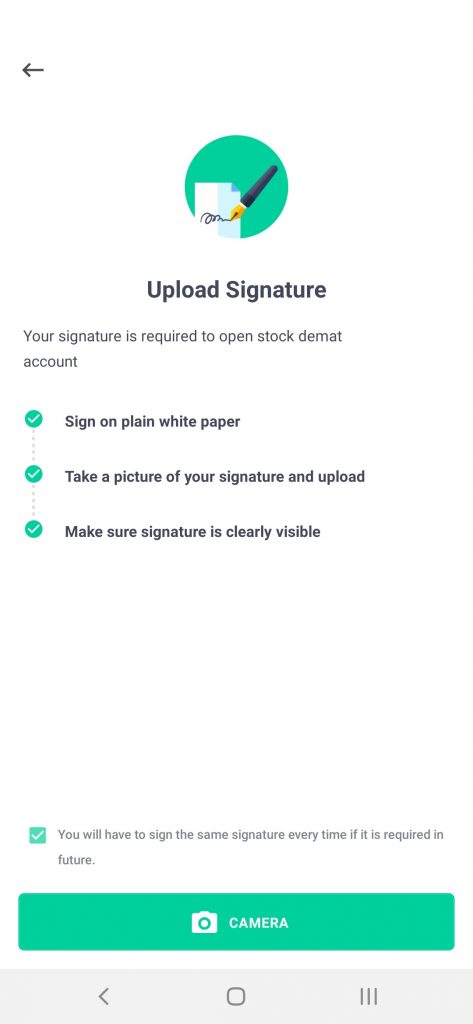 Step 6: This step is Aadhaar based e-sign. In this process, you have to submit your Aadhaar number to the e-sign service and will receive an OTP on the registered mobile number linked to your Aadhaar. To e-sign, click on 'E-SIGN AOF'.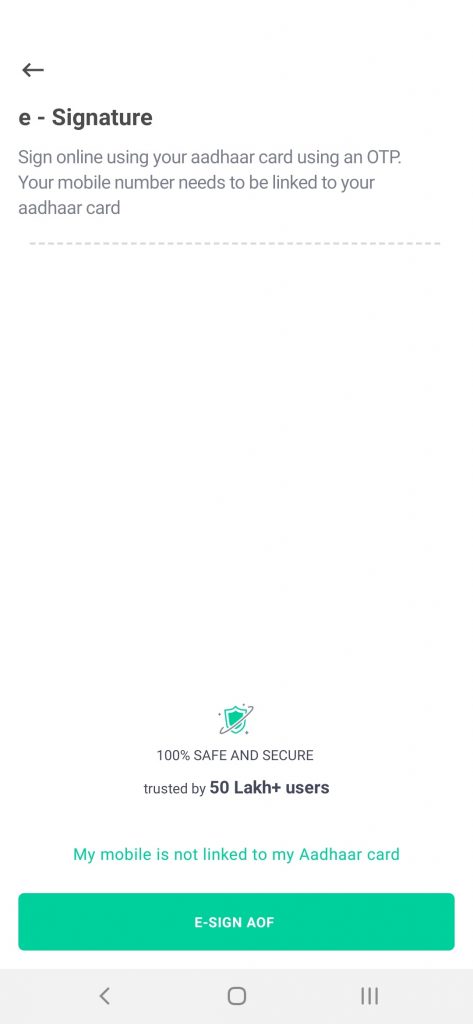 Please note, OTP/security code will be sent to your mobile-only if your Aadhaar is linked to your mobile number. In case your Aadhaar and mobile number are not linked, click on 'My mobile is not linked to my Aadhaar card'. Once you click on it you will be shown the following screen.
Also Read: How To Link Aadhaar With Mobile Number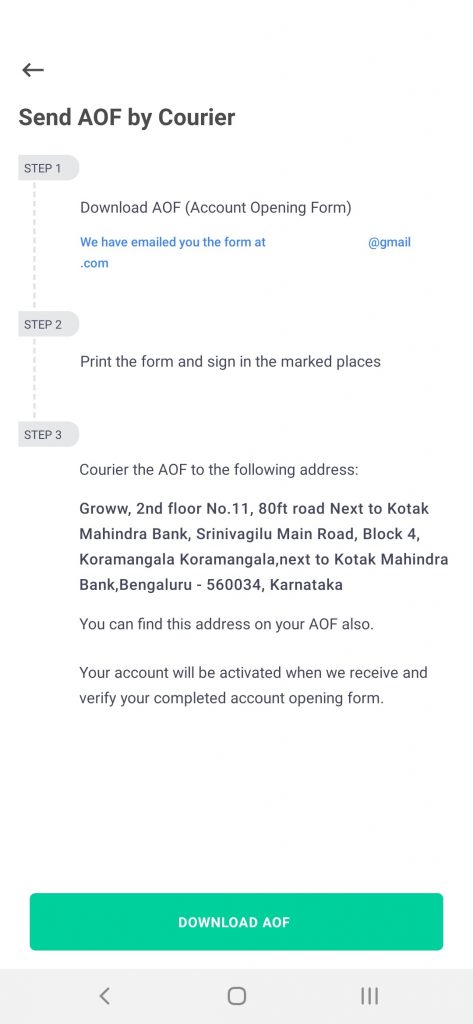 The account opening form (AOF) will be sent to your registered email ID. Print the form, read the particulars carefully, sign at the required places and courier the form to the address mentioned on the screen. Upon verification of the form, you will be notified and your account will be activated.
Step 7: If your mobile number is linked to Aadhaar, enter the OTP/security code sent to your mobile and click on 'Submit'.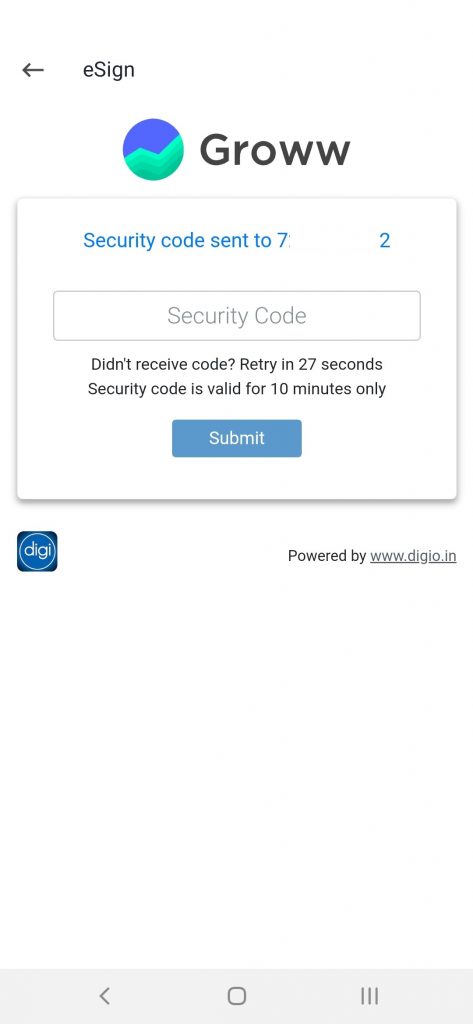 Step 8: Read the Demat account opening form carefully and click on 'Sign Now' to proceed.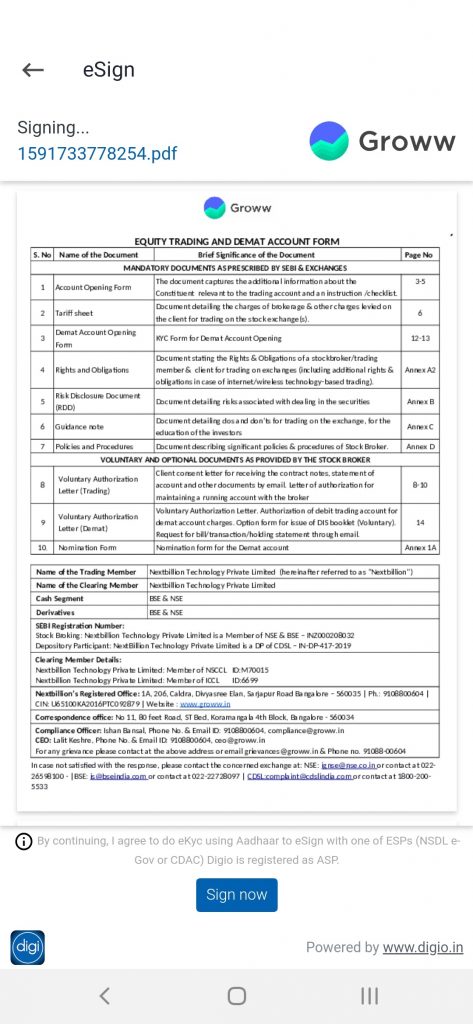 Step 9: You will be directed to NSDL electronic signature service. Enter your Aadhaar number or Aadhaar virtual ID in the space provided, and then click on
'Send OTP' button. Enter the OTP to complete the e-sign process.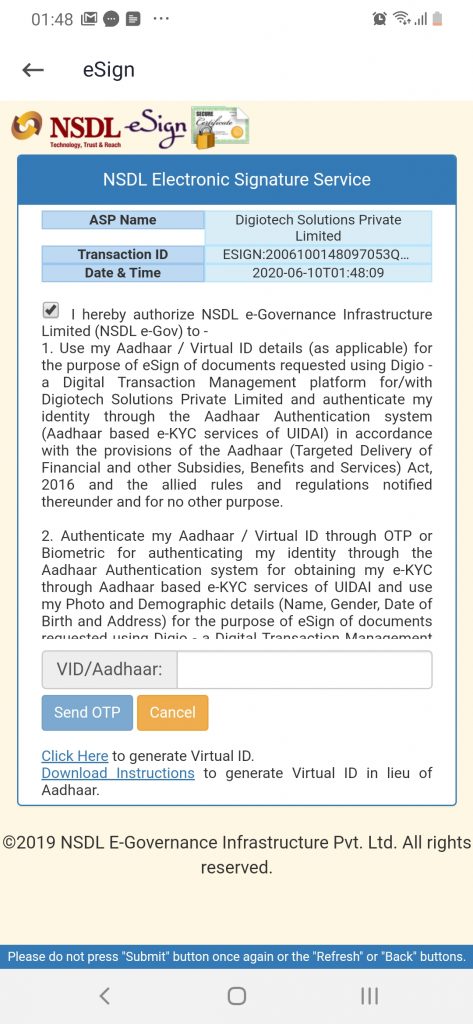 You will see a success screen that says 'Signed successfully', followed by a screen that says ' you can start investing now'. Click on 'Let's start' to proceed.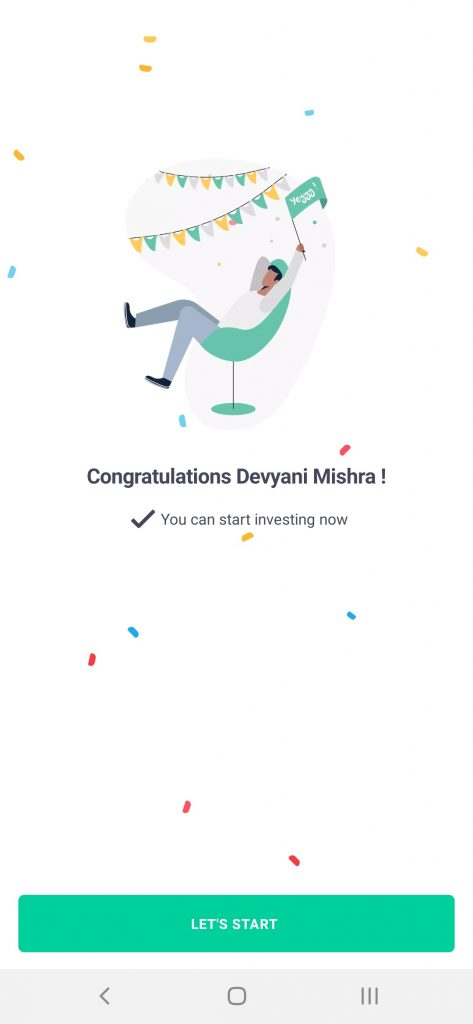 You will be directed to the home screen. Please note it may take a few hours for us to verify your account opening form. Till the time we complete the verification process, you might see the following message on your home screen.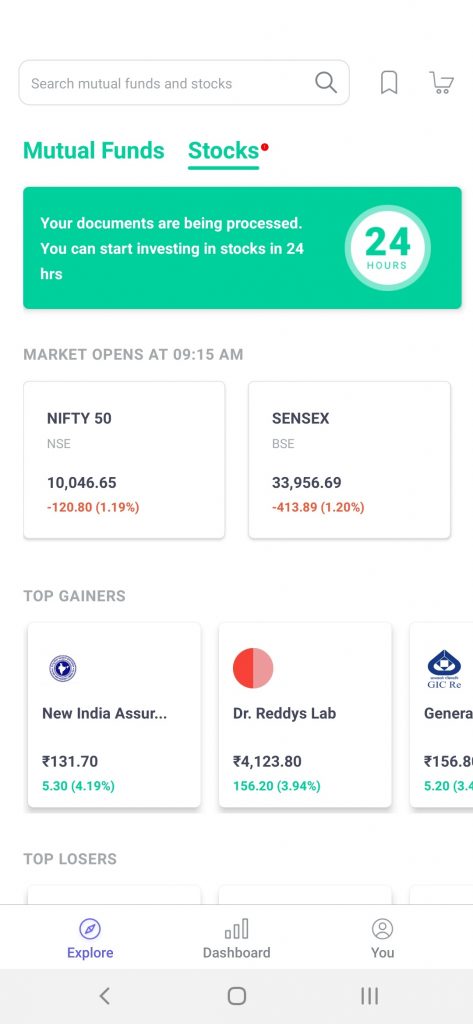 The verification will be completed within 24 hours, a post that you can start investing in!
You will also receive the Client Master Report (CMR), which will have details of your BO ID or Demat account number on your registered email ID from Groww as part of the onboarding process.
Buy and Sell Stocks on Groww
Here's a quick video to take you through the process.
Buying a Stock on Groww 
Step 1: On the home screen ( under the stocks tab), all the necessary information such as Nifty and Sensex live updates, filters like top gainers and top losers of the day. Companies are also categorised as per market cap and sectors on the landing page clearly. There is a search or navigation bar where you can simply enter the name of the stock you are looking to invest in.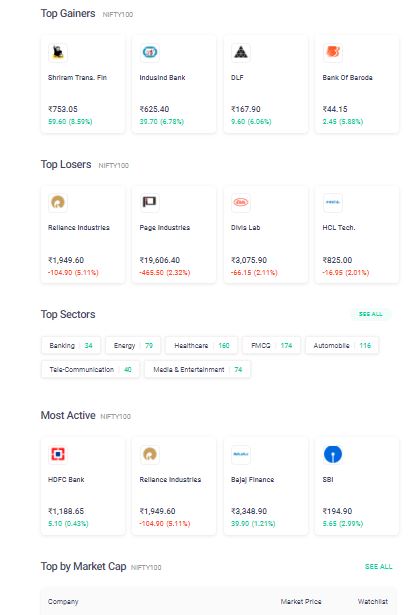 Once you search for or click on the stock of your choice, you will be directed to it's product page. On Groww, investors can view all information about a stock and the company on a single screen. This includes historic performance of a stock, opening and closing price for the day , the amount of buy/sell orders, company statistics and financial ratios, company information, financial statements (quarterly, profit and loss, balance sheet, and cash flow), shareholding pattern, and peer comparison. The app also allows investors to place a market or limit order as well as assess the bid/offer spread of the stock. All the vitals of a company are presented in a tabular or graphical format for clarity. 
You can see how the stock has performed over a period of time to gauge it's growth pattern. You can also toggle to candlestick charts if you are an intraday trader to observe the bearish-bullish patterns. ( As highlighted).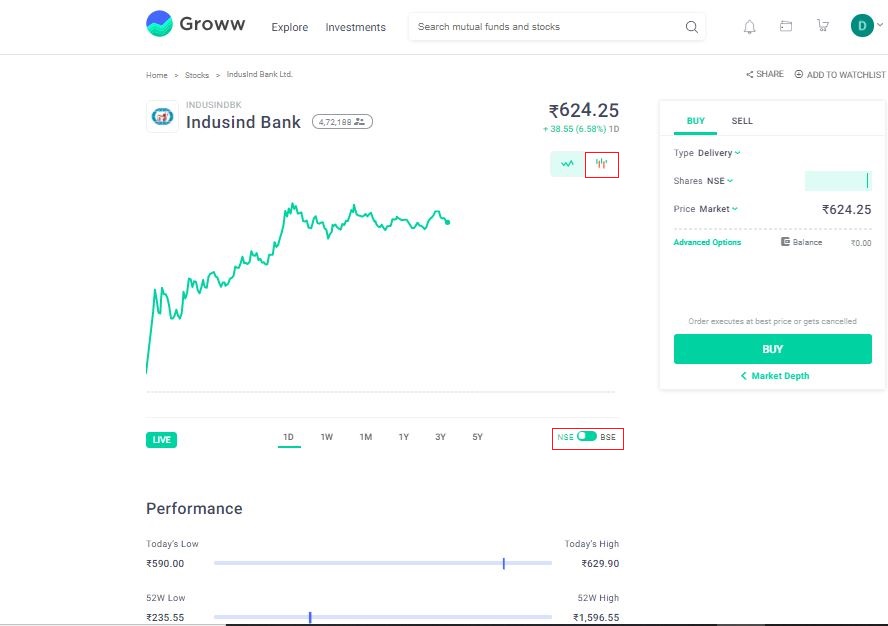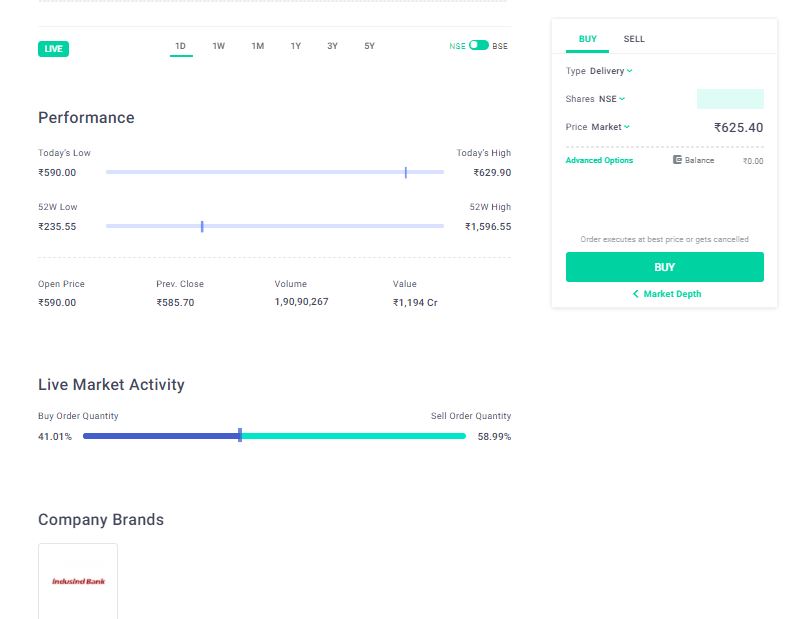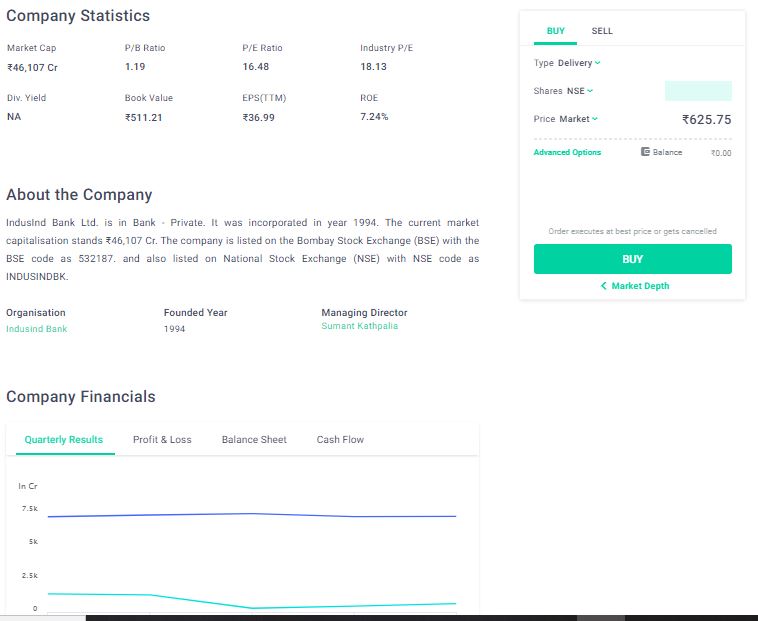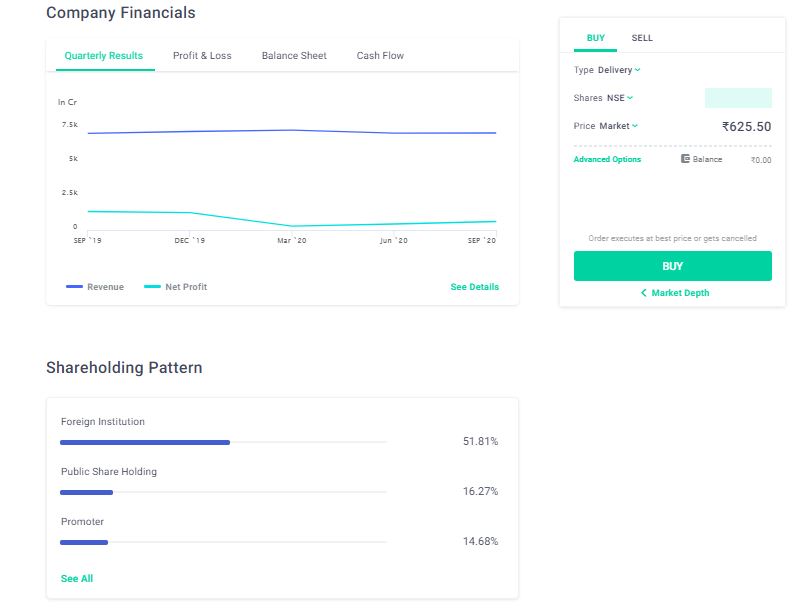 Once you go through all the fundamentals and company details, you can place your market or limit order for delivery or intraday in the order card shown on the right hand side. You can also place a stop loss order for your trades by going to ' Advanced Options'.  Please note, you will have to add money to your Groww balance to complete the purchase of your stock if you have insufficient balance. You can add money via UPI, netbanking, NEFT/RTGS.
Read More: How To Place a Stop Loss Order on Groww
Read More: How to Start Intraday Trading on Groww
You will then be able to see your order summary and order status. Once the shares are credited to your Demat account, you would be able to track their performance on the dashboard ( total returns and one-day returns), as well as buy more shares or execute sell orders as well. Click on 'Investments' tab to reach the dashboard ( on the web ). On the app you can access the dashboard by clicking on the 'stocks' tab.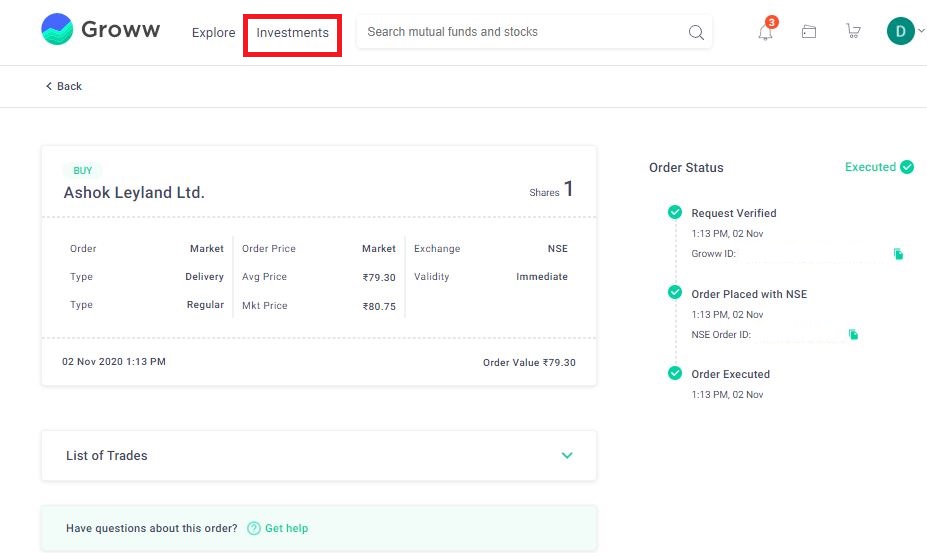 Selling a Stock on Groww 
It's super easy to sell a stock on Groww as well.
All you need to do is:-
Visit your stocks Dashboard on groww.in or Groww app and select the stock that you wish to sell.
Click on 'Verify Sell' – to place a sell order.
Click on 'Verify using TPIN' or request a new TPIN. If you are requesting a new TPIN, it will be activated after 6 minutes.
You will be directed to the CDSL page where you have to enter TPIN and click 'Verify'. You would have received a TPIN (received from CDSL on Email and SMS).
Once verified, you will be redirected to the order page on Groww where you can complete the sell order.
Read More: TPIN Based Verification to Sell Stocks on Groww
Hope this was helpful!
Happy Investing!