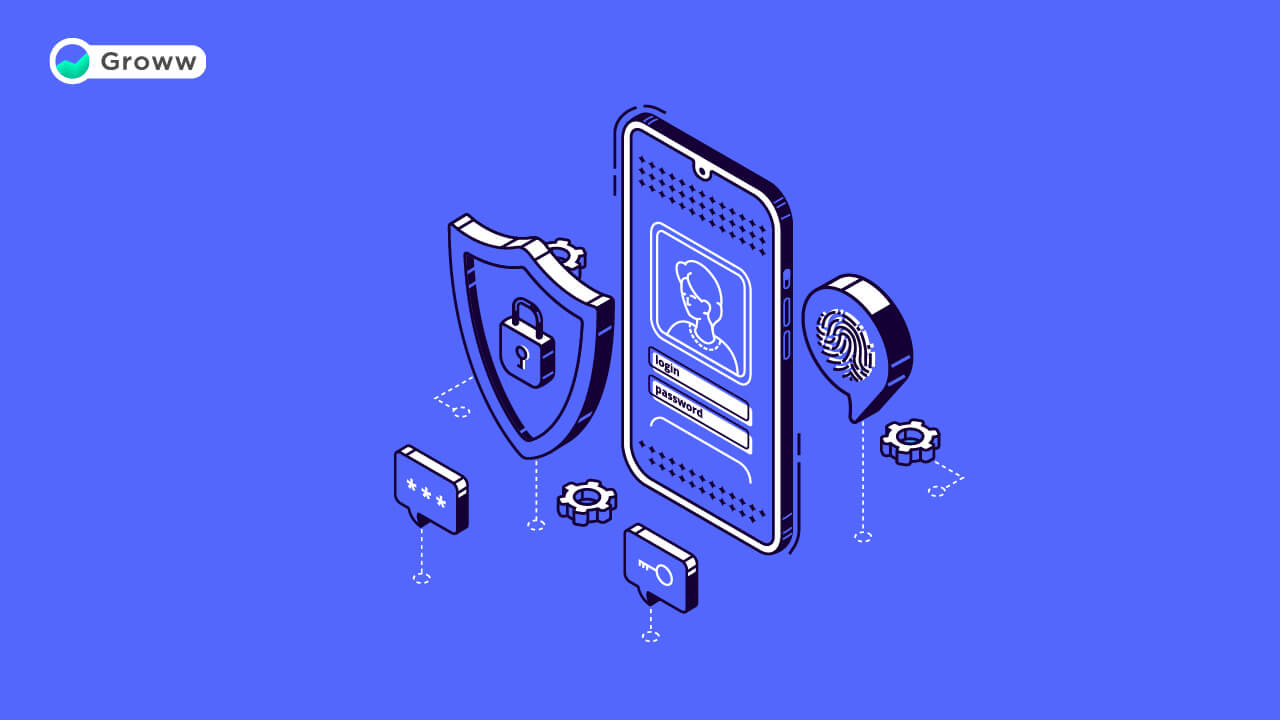 As per new regulations, CDSL has introduced e-DIS verification via TPIN for selling stocks. Earlier, selling stocks was authorized by you by entering your Groww PIN or fingerprint on the app. With this new process, you will be required to authorize it via TPIN, which will be sent by CDSL to your registered email/number.
Note: You can generate TPIN on Groww using the following method during off-market hours currently ( i.e from 3:30 pm to 9:15 am on working days) currently. We will be enabling TPIN generation at any time on Groww shortly.
Here's a quick summary of the process:-
Visit your stocks Dashboard on groww.in or Groww app and select the stock that you wish to sell.
Click on 'Verify Sell' – to place a sell order.
Click on 'Verify using TPIN' or request a new TPIN. If you are requesting a new TPIN, it will be activated after 6 minutes.
You will be directed to the CDSL page where you have to enter TPIN and click 'Verify'. You would have received a TPIN (received from CDSL on Email and SMS).
Once verified, you will be redirected to the order page on Groww where you can complete the sell order.
Covered ahead in the blog, is the detailed step by step process that you can follow. You can also read about the reasons behind the implementation of TPIN based verification on Groww. Let's begin!
Verification Process on Groww
1. For web users (Groww.in) and users who have Android App version 12.51 and above
CDSL (depository with which your Groww DEMAT account is registered) generates this TPIN and shares it with investors and not with the depository participant (Groww). You will receive a TPIN from CDSL on SMS and Email soon. 
You can also request a new TPIN on the verification page but it will be activated only after 6 mins.
The official CDSL email ID from which you would receive TPIN from is edis@cdslindia.co.in.
The subject line is TPIN for the online DIS (e-DIS) facility. The TPIN will also be sent to your registered mobile number via SMS. The message will look like this –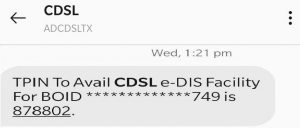 Please do not share your TPIN with anyone. Do not respond to any communication that asks you for your TPIN, nor entertain calls from agents/brokers who claim to be from Groww. Groww will never ask you to disclose sensitive information like PIN or passwords under any circumstance.
Let's see the step by step process of activating the one-time pre-verification when you sell your stocks on Groww. 
Step 1: Select the stock you want to sell and enter details. Now when you want to execute your order, you will be shown a button that says "Verify Sell". 
Please note: Users who have already gone through the verification will only see the "Sell" button on their screens. In that case, you can simply go ahead and complete the order execution.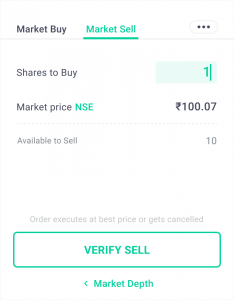 As you click on it, you will  be asked to 'Verify Using TPIN.' If you have not received this TPIN or lost it, click on 'Request New Pin'( at the bottom of the screen) and you will receive one from CDSL on your email and through SMS but it will be valid after 6 mins. So we advise you to use the existing PIN to avoid delays. Please note that you can keep using the same TPIN for future verification unless you request a new one. 
Step 2: Once you click on this option, you will be directed to the CDSL approval page, which looks like this.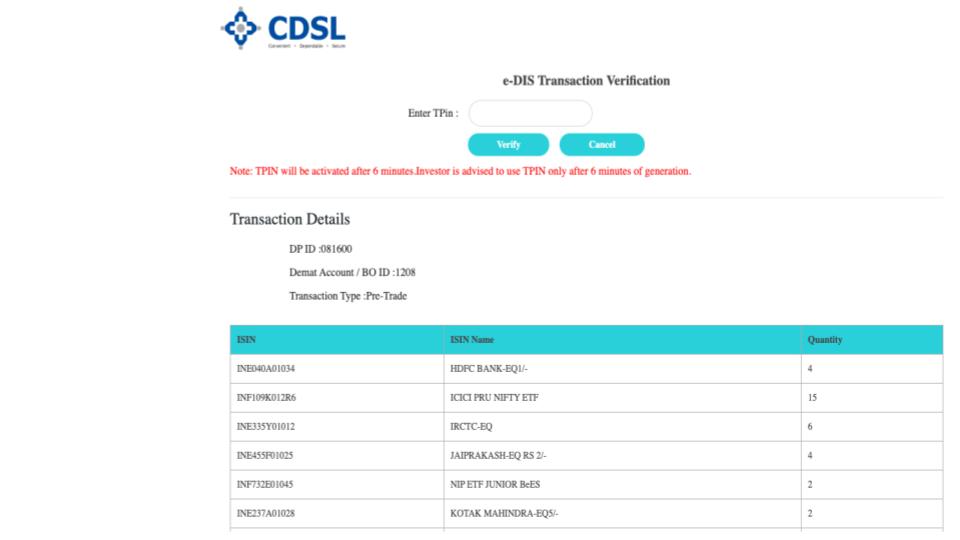 Here, enter the TPIN and click on Verify to confirm the transaction. Once you do this, you will be taken back to the initial page. Now you can click on 'sell' to execute the order. Now even if you don't want to sell your holdings at the moment, the TPIN verification is complete. So you can go back to your dashboard, without pressing "Sell", if you just want to verify.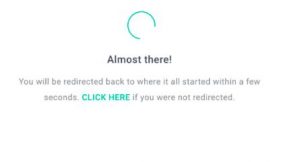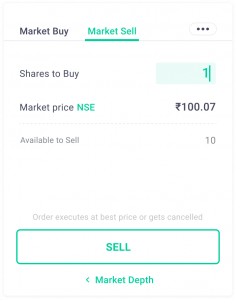 The best thing about TPIN? Once you do the first verification, we will not ask you to authorize again for the next 90 days. This means, after the initial verification, you are free to sell your holdings without any hassle or delay for 90 days.
2. For IOS users and users with Android App Version below 12.51
If you are an IOS user or have an Android app version below 12.51, your screen would look like this when you log in to the Groww App. Click on
" Verify with PIN".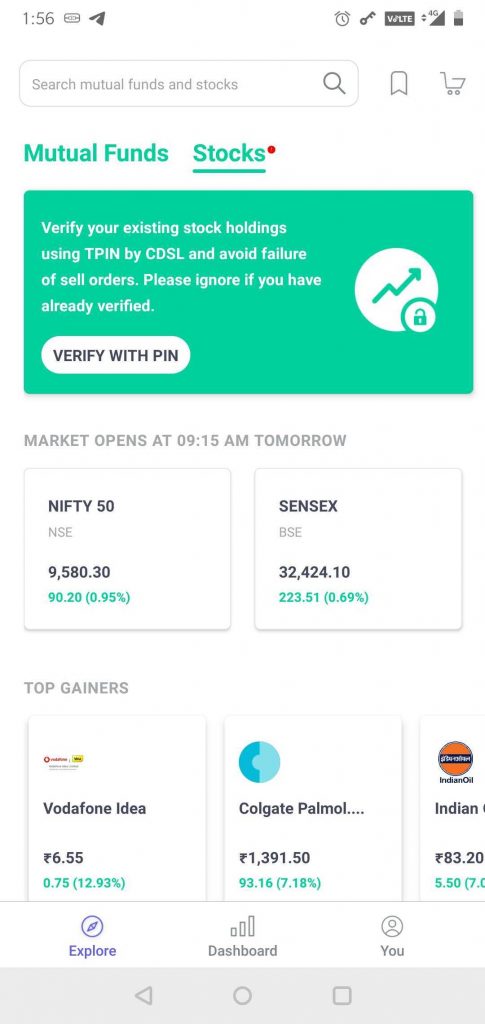 You will then be taken to the CDSL page as shown in Step 2 and the flow remains the same thereafter. Alternatively, if you want to do the verification right now, just go to  https://groww.in/cdslauth. There, click on ' Verify Using TPIN' and you will be directed to the CDSL page.
A Deeper Understanding
As an intermediary, Groww facilitates your buy and sell orders. When you purchase shares on our platform, we receive them from the exchanges and transfer them to your DEMAT account. Your DEMAT account on Groww is registered with CDSL, which is a depository*. 
*A depository is an organization established to hold stocks of the investors in dematerialized form through an agent registered with SEBI i.e. a Depository Participant. The Depository Participant, in this case, is Groww.
Likewise, when you place a sell order, we debit the shares from your DEMAT account and send it to the exchanges. However, brokers/platforms are required to take permission from investors to sell shares on their behalf.  
Your DEMAT account is very similar to a bank account. While more amounts can be added to it, any amount that needs to be withdrawn from your account cannot be done without your approval.
For instance, the SIP amount that gets debited from your account every month or the EMI that gets deducted only happens because you have given prior standing instruction to the bank.
On most platforms, investors are required to give a POA (power of attorney) to their brokers, which basically permits the broker/platform to debit shares from the DEMAT account of the investor and send it to the exchanges on their behalf.
This is a cumbersome process that involves physically signing a POA and sending it to your broker every time you want to sell shares.
 To avoid this hassle, Groww allowed you to sell stocks on the platform using your Groww PIN/fingerprint. This is known as e-DIS, which is an electronic delivery instruction slip for you to transfer shares from your DEMAT account for delivery to exchange.
Once you entered Groww PIN, you basically gave permission to Groww to execute sell orders for your existing holdings.
Why Can't I Verify Using Groww PIN Anymore? 
While the earlier method via Groww PIN/fingerprint is convenient for investors, it grants less transparency to CDSL. In a physically-signed POA copy, the client or user clearly gives permission to the user to execute sell orders on his behalf and CDSL is aware of it. However, when it comes to entering the platform-specific PIN, CDSL is not aware of the exact process that is being followed. 
To make your sell transactions more secure for you and bring more transparency to the system, CDSL has introduced e-DIS via TPIN-based verification. This TPIN will be directly shared with you via SMS/email by CDSL's official communication channels and will not be known to anyone at Groww.
Alternatively, you can generate TPIN anytime you want by going on this link -https://edis.cdslindia.com/home/generatepin. Enter your PAN and BO-ID ( 16 digit number) and the TPIN will be sent on your email and through SMS.
FAQs
If I verify with TPIN, will it sell all my stock holdings? 
No. Once you verify via TPIN by CDSL, it only verifies your existing holdings so that you can place your sell order whenever you want. The approval is valid for 90 days for your Demat account after which you will require to verify again. We assure you that no sell order will be placed without your approval.
If I buy new stocks, will I have to verify my holdings again to sell them?
If you try selling new stocks bought on the same day, it will not require verification. However, if the stocks reach your Demat account in 2 trading days, you would need to verify the extra holdings for sale transactions. 
How many days is the verification by TPIN valid for? 
Once verified, the approval using TPIN by CDSL is valid for 90 days from the date of verification. Once this expires, you will be required to verify your holdings again to be able to sell stocks.
Why does the new TPIN activation take 6 minutes? 
As of now, CDSL takes up to 6 minutes. We are working with them to reduce this to near real-time. CDSL has sent you a  reusable TPIN in advance. This can be used anytime until you request a new TPIN.
I haven't received TPIN from CDSL. What do I do?
You can search for an SMS on your registered mobile number from CDSL for the TPIN ( Message – TPIN to avail CDSL e-DIS Facility for BOID ******123 is 123456 )
Else you can also search your inbox for an email from edis@cdslindia.co.in with the subject line "TPIN for online DIS (e-DIS) facility"/ "PIN generated". 
What is my BOID and why is it required?  
BOID (Beneficial Owner Identification Number) is your 16-digit Demat account number registered with CDSL.  This is different for each broker/platform account. 
Your BOID is present as a DP ID. This can be found on the app. Once you login to the app, click on " You" and then go to personal details to get the BOID.
Do I need to verify intraday orders?   
No, you don't have to verify intraday orders as these stocks are not in your Demat account.
What if my order gets delayed due to TPIN verification?   
To keep your experience smooth, Groww has ensured TPIN generation in advance for your Demat account. You should verify your holdings beforehand (start of the trading day) for faster execution. However, if you are generating a new TPIN by CDSL, the activation takes up to 6 minutes. We recommend you to use the last generated TPIN for a faster experience.  
Can I set my own 6-digit TPIN?
No, but you may retain your current TPIN by CDSL for your Demat account. Only when you request for a new TPIN, we will generate one with CDSL.

Do I need to verify if I don't want to sell my holdings right now? 

It's recommended that you verify your holdings via TPIN by CDSL as soon as possible to avoid failure in sell orders in case you change your mind. In case you don't sell the stocks after verifying, the verification will automatically expire in 90 days.
Investment in securities market are subject to market risks, read all the related documents carefully before investing. Please read the Risk Disclosure documents carefully before investing in Equity Shares, Derivatives, Mutual fund, and/or other instruments traded on the Stock Exchanges. As investments are subject to market risks and price fluctuation risk, there is no assurance or guarantee that the investment objectives shall be achieved. NBT do not guarantee any assured returns on any investments. Past performance of securities/instruments is not indicative of their future performance.