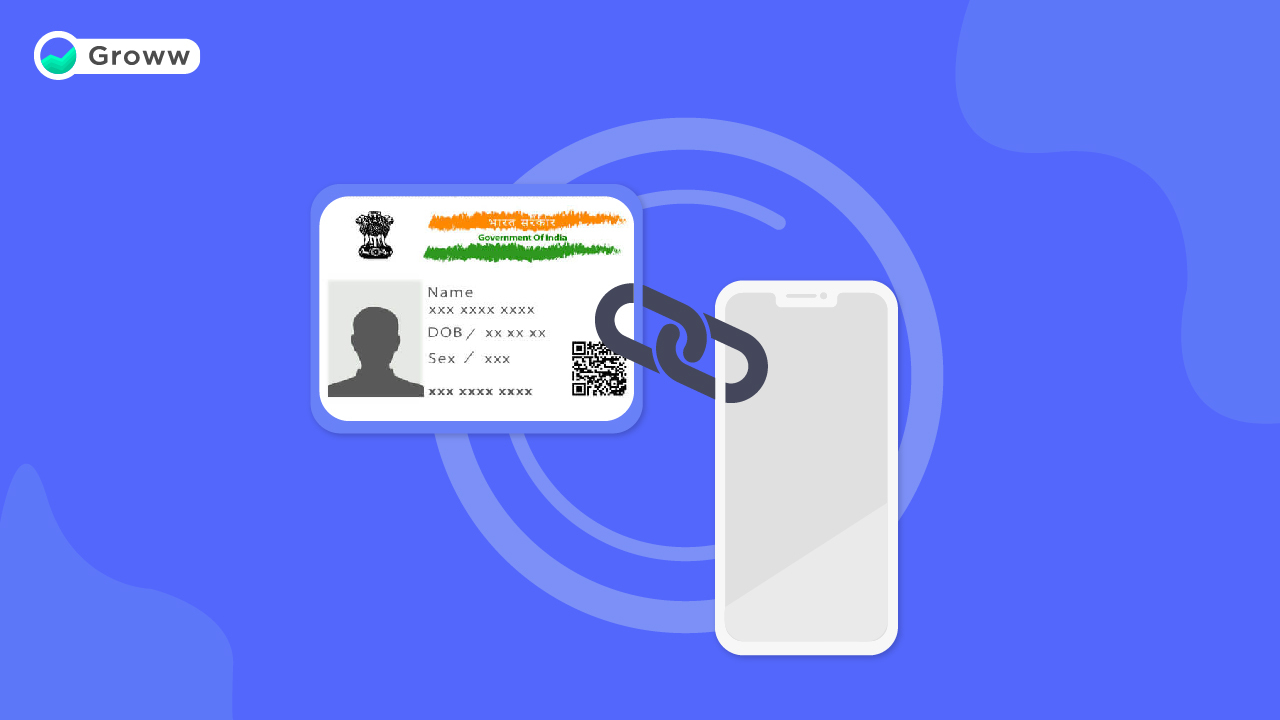 Aadhaar Card is the unique identification card issued by the Government of India to all Indian citizens. The card carries a unique 12-digit number called the Aadhaar Number, based on the specific biometric and demographic data of each individual.
Aadhaar Linking with your mobile number has become mandatory by the Government as per the order passed by the Supreme Court. The main aim behind this step is to mitigate and filter out the connections issued on fake documents. Mobile number re-verification with your Aadhaar doesn't have any charge and can be done in just a few seconds.
Steps for Aadhaar-Mobile Linking
Let's consider a few scenarios to know how to link you mobile number to your Aadhaar card.
1. Replacing An Old Number With A New One
Say you have changed your already linked mobile number and want to update your Aadhaar data by replacing the old number with the new one. Here are the steps to link your mobile number:
Steps to Generate Aadhaar-Mobile Linking Application form
Step 1: Go to the official portal of Aadhar here https://ask.uidai.gov.in/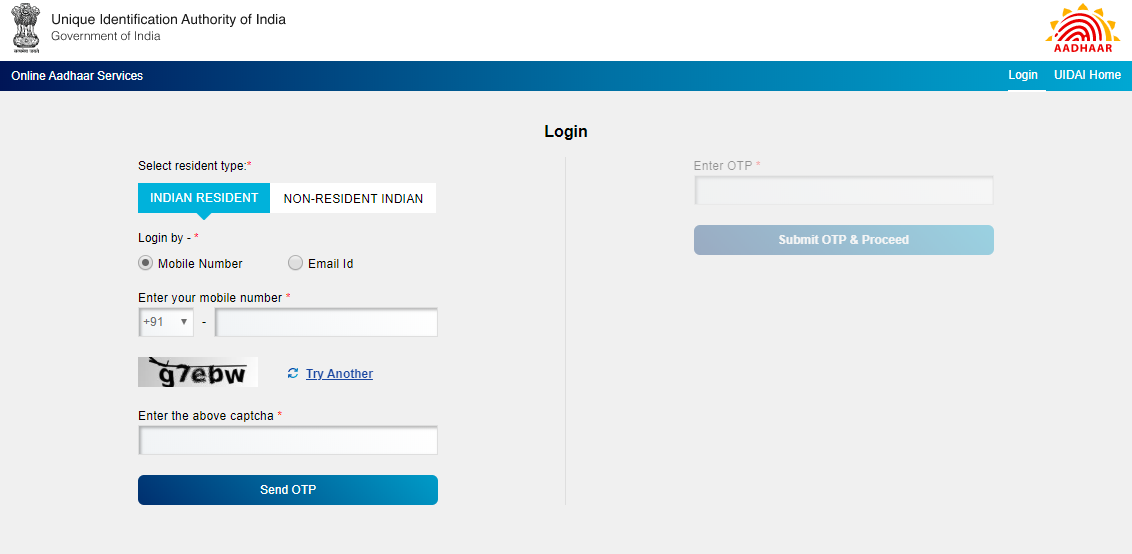 Step 2:  Select log in by mobile number in the 'login by' option and enter your mobile number and captcha. Once you have entered and crosschecked the details, click on 'Send OTP'.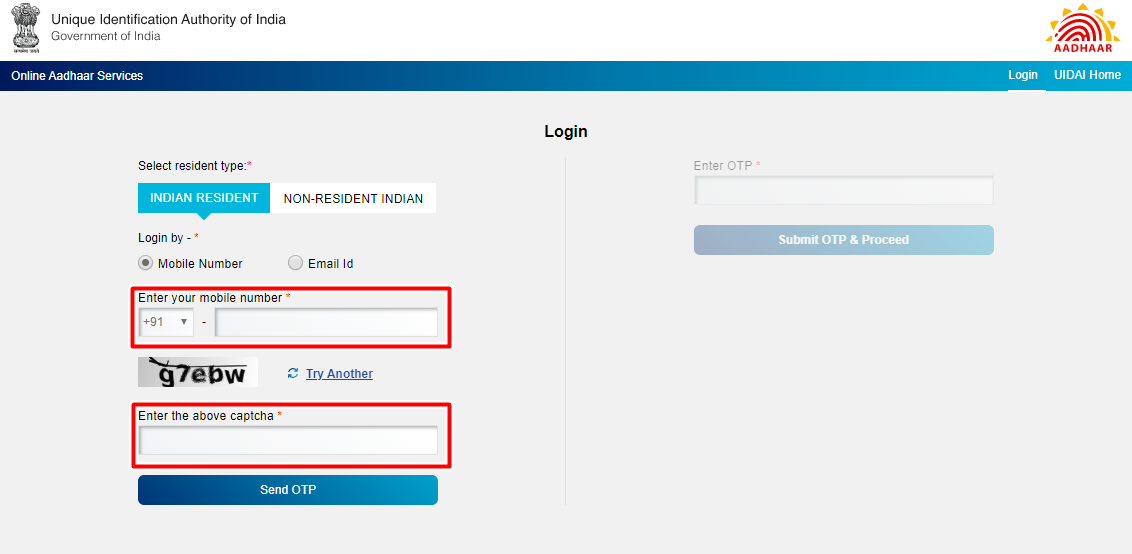 Step 3: Next, Enter the received OTP on the right-hand side box and click 'submit OTP and process. Always keep your mobile handy to receive and enter the OTP successfully.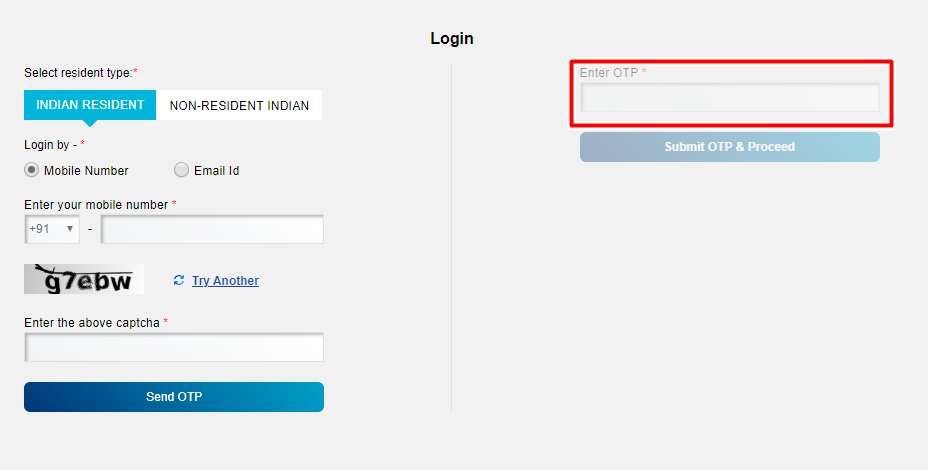 Step 4: The next screen will show you the Aadhaar services, viz. New enrolment and Update Aadhaar. Click on update Aadhaar.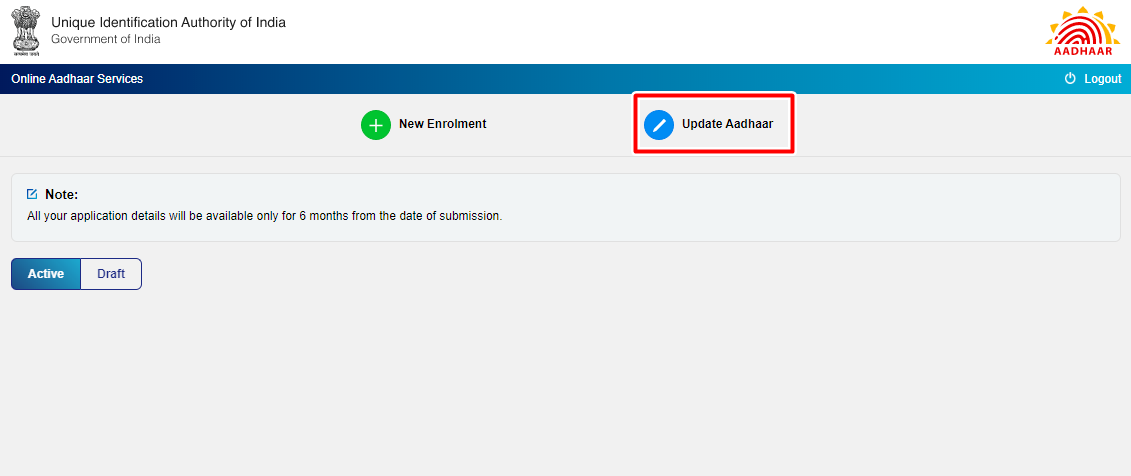 Step 5: The next screen will show you different fields such as, Name, Aadhaar Number, Resident Type, and what do you want to update, etc.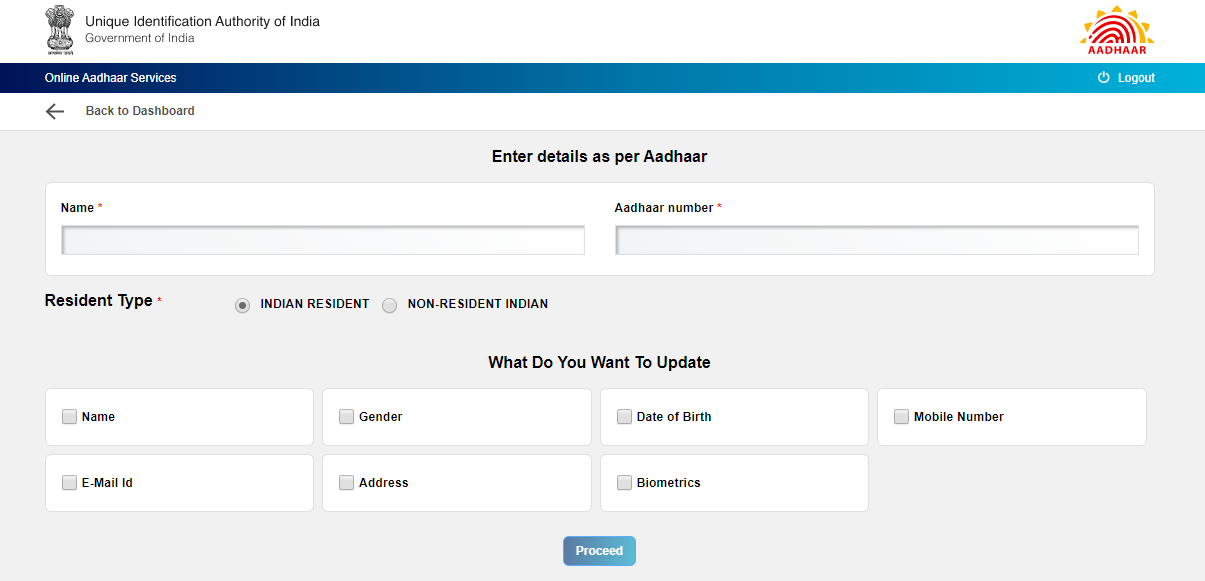 Step 6: Since you want to link your mobile number with Aadhaar, fill in all the mandatory fields and select 'Mobile Number' under 'what do you want to update' section. Click on proceed.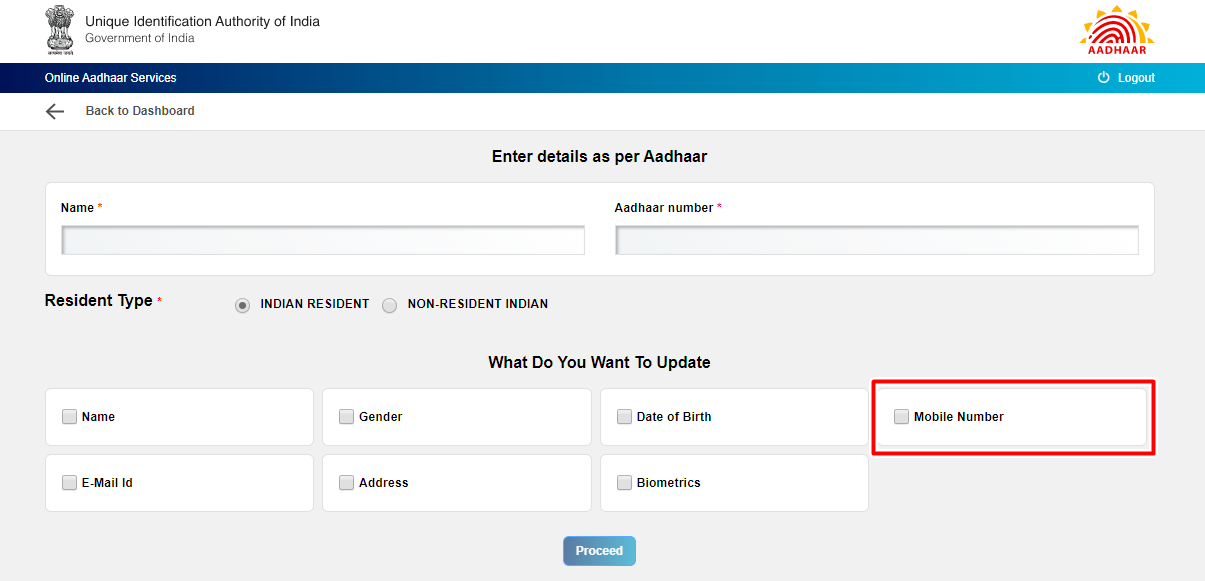 Step 7: The next screen will ask your mobile number and a captcha. Fill all the fields and click on 'Send OTP'. Enter and verify the received OTP and click on 'Save and Proceed'.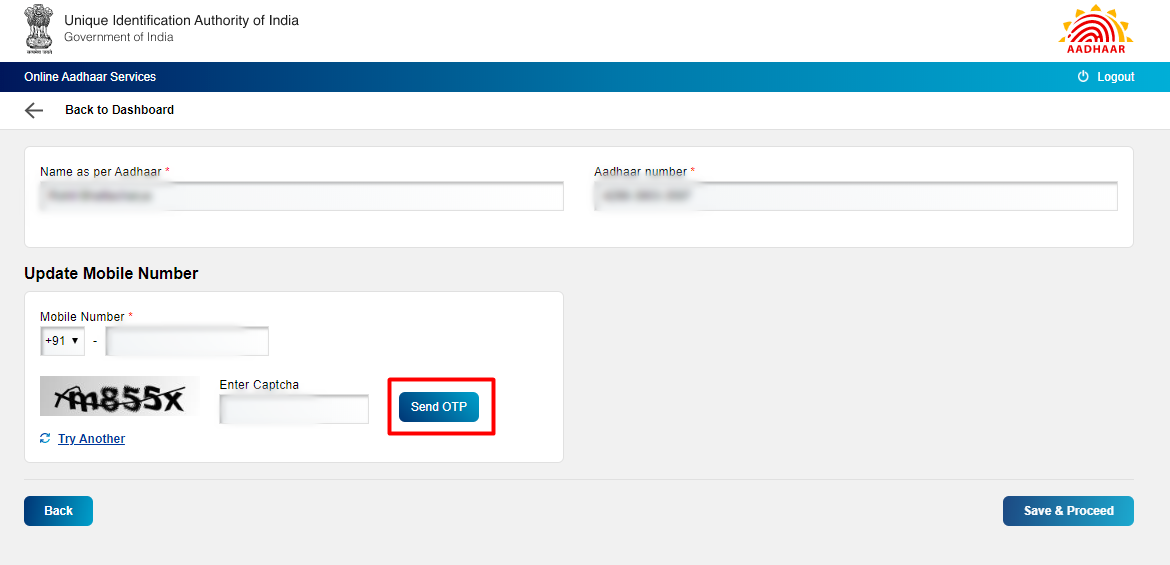 Step 8: Crosscheck all the details one last time and click on Submit.

Step 9: In the next step, you will see a Success Screen with your Appointment id. Click on the 'Book Appointment' option to book a slot at the Aadhaar enrollment center.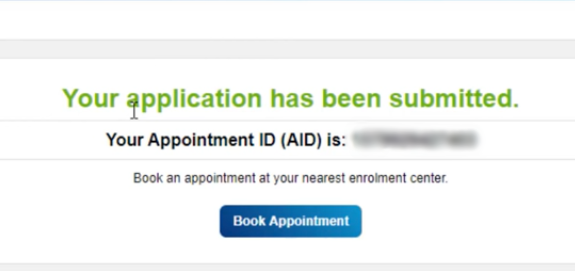 How to Book an Appointment?
Step 1: Once you click the 'Book Appointment' in step 9 given-above, you need to search for an enrolment center. There are many options to search for an enrollment center such as through center name, Pincode, state, etc.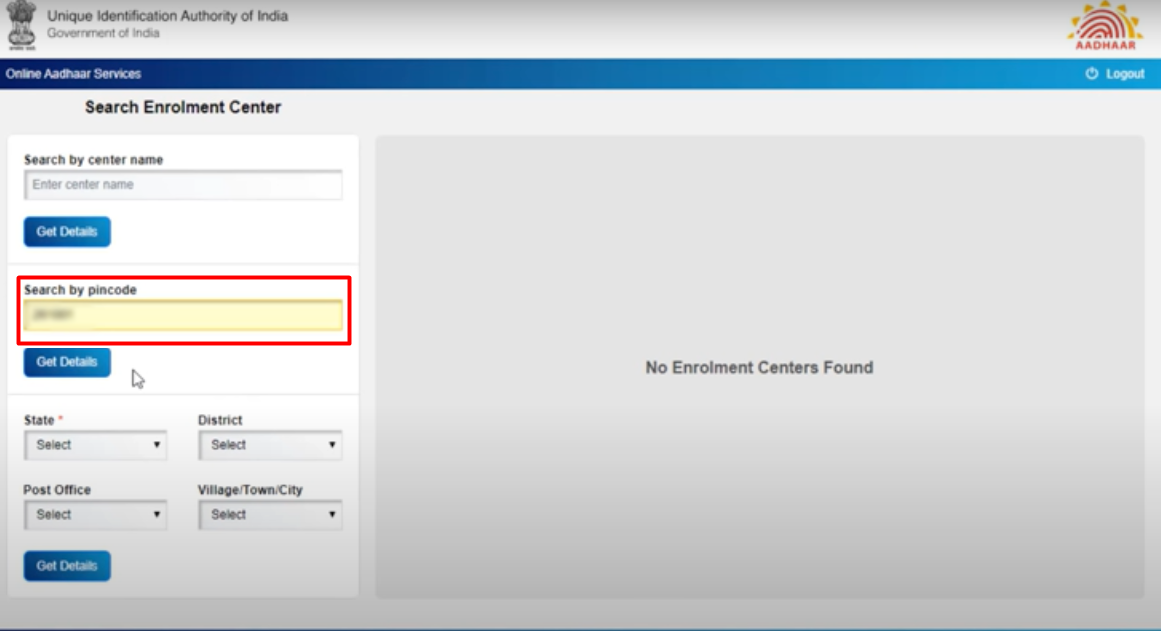 Pick any one option which is convenient for you and click on get details. We have selected Pin Code here.
Step 2: The portal will show you a list of nearby enrollment centers; pick one and choose the date and time slot as per your convenience by clicking 'Book Appointment'.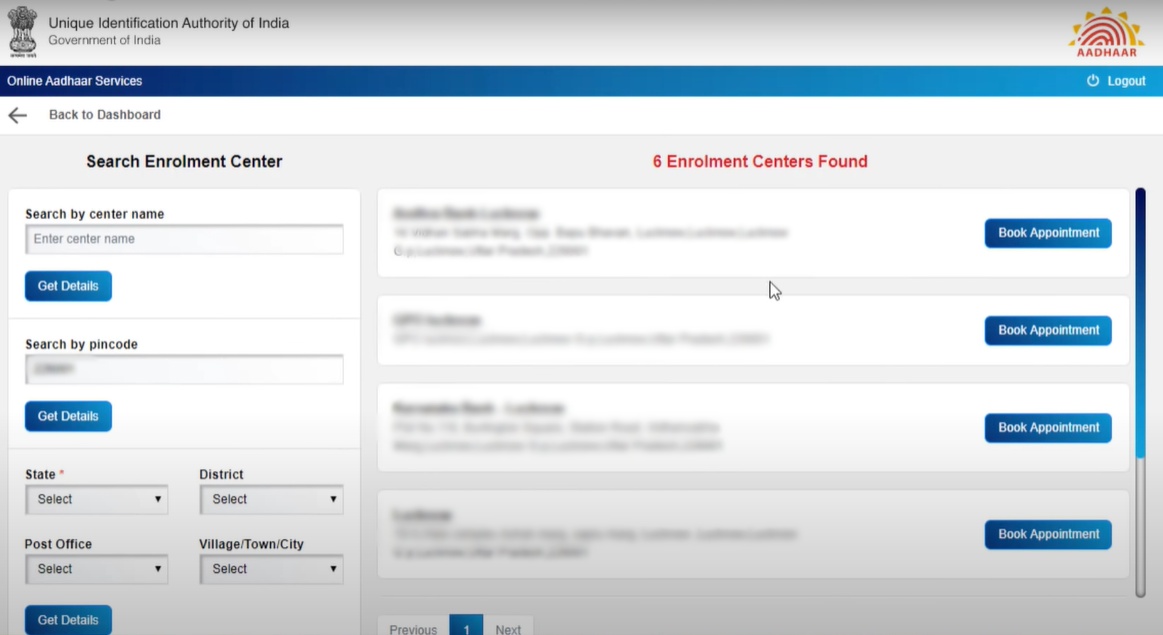 Note: Choose from the green ones while selecting the date as red ones are already booked.
Step 3: Crosscheck all the details once again and click on confirm.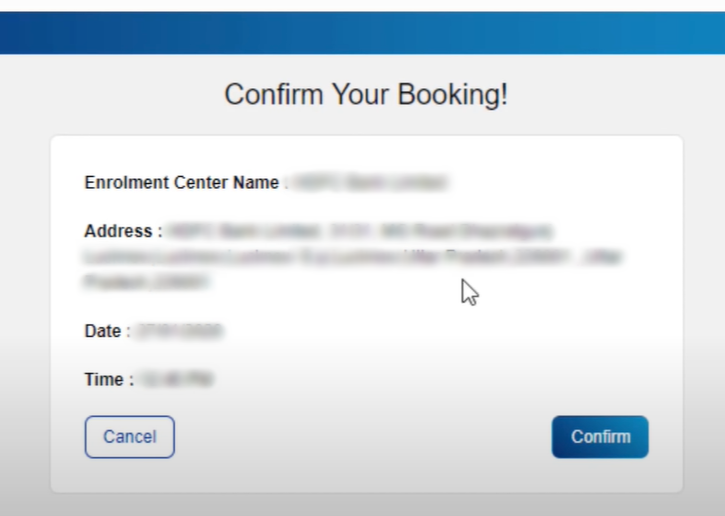 You will get an Application form in PDF format the moment you click on confirm. You can save it and get a print out of the same before going to the enrollment center.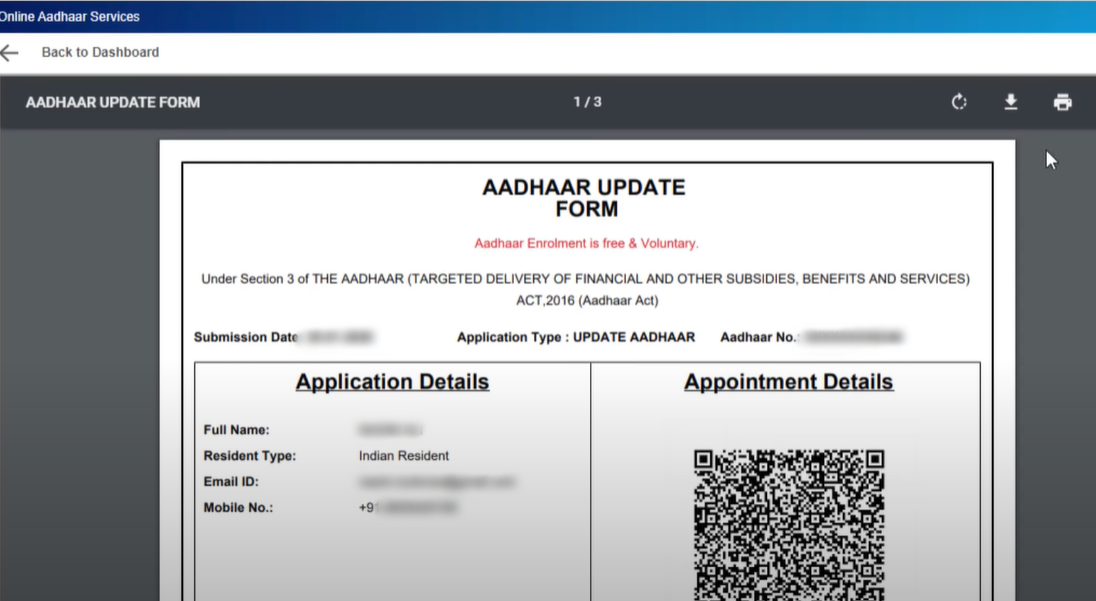 2. If Your Number Is Not Linked To Aadhaar
In case the number is not linked to Aadhaar, a user will have to follow the offline process to link his/her SIM card with Aadhaar by visiting a retailer or a store. Below-given are the steps of how to link Aadhaar with your mobile number through OTP:
Step 1: Call 14546* from your mobile number
Step 2: Select whether you are an Indian or an NRI
Step 3: Re-verify Aadhaar by pressing 1
Step 4: Type your 12-digit Aadhaar number and confirm it by pressing 1
Step 5: An OTP will be generated and sent to the registered mobile number
Step 6: Allow your operator to access your name, photo, and DOB from UIDAI
Step 7: IVR will read out the last 4 digits of your mobile number
Step 8: If correct, enter the OTP received
Step 9: Press 1 to complete the process
How to add your existing mobile number to Aadhaar Card by Visiting Enrolment Centre?
An online facility was available to register your mobile number in Aadhaar through SSUP. Later, this facility was stopped and now, the applicant can visit the Aadhaar Enrolment or the Update center to add or update his/her current mobile number in Aadhaar. Below-given is the steps to add your mobile number in Aadhaar:
Visit your nearest Aadhaar Enrolment or Update Center
Fill the Aadhaar Correction Form available at the center
Fill in your current/existing mobile number that you are currently using and want to update in your Aadhaar
Submit the form and provide them with your biometrics for authentication
The executive will go through everything and then hand over the acknowledgment slip to you
This slip has an Update Request Number (URN)
The Update Request Number can be used to check the status of your Aadhaar updation
Once you have updated your mobile number in Aadhaar, you do not need to get another Aadhaar card
You will start receiving updates about Aadhaar OTPs for availing a number of facilities once your mobile number is registered with your Aadhaar
To check the status of your Aadhaar card update status, you can also call UIDAI's toll-free number 1947.
Aadhaar Mobile Linking – Frequently Asked Questions
Ques. Do telecom operators charge any fee for mobile verification with Aadhaar?
Ans. No, telecom operators do not charge their users for the verification of mobile numbers with Aadhaar. It is totally free of cost.
Ques. Can Multiple Mobile Numbers be registered with an Aadhaar Card Number?
Ans. No, only one number can be registered per Aadhaar number. However, you can register the same mobile number with multiple Aadhaar cards.
Ques. Can Aadhaar number be linked with a mobile number online?
Ans. As of now, there is no option to link Aadhaar with sim cards online. However, it can be done offline, through IVR or through OTP.
Ques. How to add a new mobile number in the Aadhaar card?
Ans. You can register your mobile number with Aadhar card by visiting an Enrolment Centre and submitting the application form generated by visiting the official portal. A fee of Rs. 30 needs to submitted and no documents are needed.
Ques. My Mobile Number is already Registered with Aadhaar, do I need to Link it again?
Ans. You need to link your mobile number with Aadhaar only once. There is no need to link the same number with Aadhar multiple times.
Ques. What will be the consequence if the linking process gets interrupted and not completed?
Ans. If a mobile subscriber gets interrupted and fails to link the mobile number with Aadhaar, his connection will be deactivated until the re-verification is done again.