The market of cryptocurrencies is flourishing with various altcoins, but not all of them are worth investing.
Let's take a look at another cryptocurrency which has entered the crypto market and understand the basic facts about this new cryptocurrency TRON.
Here's a list of top 10 cryptocurrencies of 2018.
1. What is Tron TRX?
Tron coin is another cryptocurrency which is traded online and is popular among users. TRON has performed very well in the last few months and its market cap has increased multifold.
It is launched in the mid-September of the year 2017. Tron's official cryptocurrency is Tronix (TRX).
It was originally designed to give digital content creators full ownership and control over their content. The company is targeting the media and entertainment sector.
Tron cryptocurrency is providing users a decentralized content distribution platform. The user is allowed to freely publish, store and own data. The company is targeting competitors such as Google Play, Apple, etc who provide this service on higher charges.
2. History of Tron Coin
Tron is created by Justice Sun, founder, and CEO of Peiwo which is the largest voice live streaming app in China. The company is looking for partnerships to grow in the revolutionary marketplace.
Justice Sun is a 26-year-old from the Haidian district of Beijing. He purchased his first bitcoin in the year 2012. He has also worked with another cryptocurrency Ripple.
Tron has introduced the concept of a shared economy into the digital world. It has made the users the content producers on the digital platform.
3. How Does TRX Tron Work?
 Like any other cryptocurrency, Tron can be purchased using other cryptocurrencies such as Bitcoin (BTC) and Ethereum (ETH). However, one can also purchase by using direct money through crypto exchanges.
Tron is providing a shared platform for the whole entertainment market and enables users to share and maintain information between systems.  Hence, it is helping users to reduce information input efforts.
The token of the Tron platform is TRONIX. It tracks users' behavior basically from entertainment market and shares data with apps within the TRON network.
4. Characteristics of Tron
 Tron is data liberation i.e. the content can be stored, uploaded and spread among the users on a free basis.
An individual can freely distribute the digital content and at the same time, others can get benefit from it.
It is providing infrastructure to allow an exchange of digital assets and also helping in market forecasting.
5. Tron Price Charts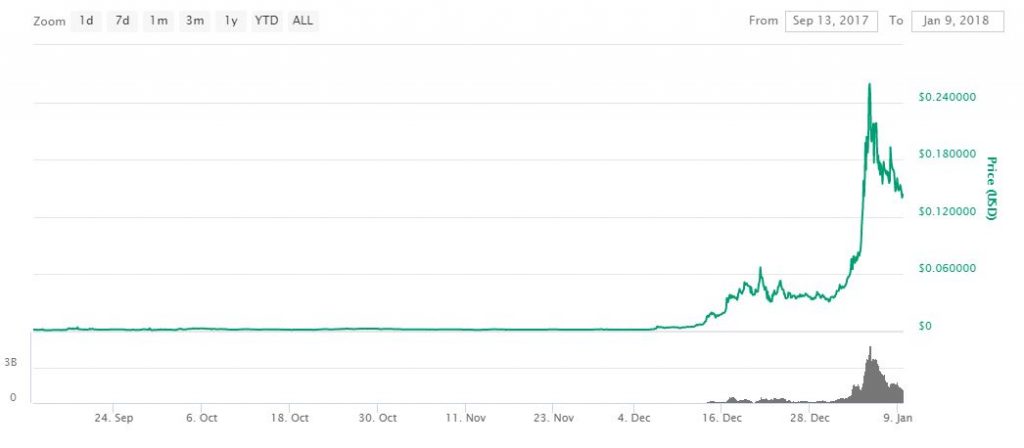 The price movement for Tron has been very volatile which makes it a very risky investment. Tron has made to the top 10 cryptocurrencies in the first few days of 2018.
Tron has gained an increase of 1000% in this month of Dec-Jan, the price of TRX increased from $0.0021 to $0.21.It has become the 10th largest cryptocurrency in terms of market cap.
The performance graph of Tron has shown an upward trend. But investors should be aware that the top 10 cryptocurrencies list is changing rapidly due to this cryptocurrency revolution.
6. Facts:
The TRX price in INR is Rs. 5.53
| | |
| --- | --- |
| Price | $0.144663 |
| Market Cap | $9,511,330,768 |
| Volume | $1,144,960,000 |
| Circulating Supply | 65,748,192,475 TRX |
| % Change (last 1 year) |  -58.57% |
7. Should I Invest in Tron?
Seeing the upward trend and the future technology, one can plan to invest in Tron but it depends on the risk appetite of an investor.
Investors and users should be aware that there is a lot of risk in this digital currency as the prices can fluctuate at a very rapid level and they can easily lose out the complete value of their investment.
The legal status of cryptocurrencies varies from country to country and still undefined. Most of the instances have occurred when online crypto cash has been targeted by the hackers.
However, considering the volatile values of Tron and the cryptocurrency market in its infancy, it can turn around into a very risky investment. Also, it is not a legal tender in India.
8. Tron: Risk
Most of the regulators across the world have warned investors dangers and risk associated with cryptocurrencies. They are unregulated, liquid and are more prone to price fluctuations at a rapid level.
Transactions settle or not is very probabilistic and cannot be reported to the regulators and hence, manipulation can occur in the market. Higher prices indicate it a lucrative market for the hackers who are constantly trying to attack investors.
Investors who are directly involved in exchange transactions i.e. using their own account are frequently targeted and prone to lose their capital.
Where Else Can I Invest?
If you want to channelize your hard-earned money and accumulate wealth with minimized risk, mutual funds can be considered as a safe investment.
Mutual funds are an indirect way of investing your money. If investors do not have time and expertise to invest in markets, mutual funds are ideal for your investment. They are managed by professional fund managers who have years of experience in capital markets and investments.
If you are interested in high-risk investments, you can look at small-cap funds.Here's a list of some of the best small-cap funds: 3 Top Small Cap Funds.
Conclusion:
Cryptocurrencies market appears to be fascinating to investors in terms of returns but it is at its peak according to economists. It can be a bubble which can burst at any moment, hence investors are advised to select right investment products for their capital such as mutual funds, etc.
Also, Finance Ministry of India has recently announced that virtual currencies are not the legal tender in India. It is a clear and precise statement from the ministry to protect the citizens from hazards of hacking.
According to Finance ministry – "Consumers need to be alert and extremely cautious as to avoid getting trapped in such Ponzi schemes,".  Virtual currencies are stored in electronic form and are more vulnerable to cyber attacks and can result in loss of money. It is advisable to invest your hard-earned money in the right direction.
Happy investing!
Disclaimer: the views expressed here are those of the author. Mutual funds are subject to market risks. Please read the offer document before investing.