Every drop of water make can contribute to make an ocean.
Similarly, small, but regular investments can lead to wealth creation. In this blog, we seek to discuss why a Systematic Investment Plan (SIP) is an essential method for investment.
Also, we shall look at a case highlight on how you can quadruple your investments in ten years by investing merely Rs. 10000 every month.
Read on!
SIP All the Way!
SIP is a method of investment in which a fixed sum is invested regularly in a mutual fund scheme. SIP method empowers an investor to buy units regularly on a specific date of the month. This process will help in building wealth in the long term.
If you meet any financial expert and ask for a long term investing plan, all of them would ask you to start a –  Systematic Investment Plan (SIP), in an equity mutual fund.
We believe, the benefits of SIP and the growth opportunity of equities in India has made it difficult for an investor even to escape the ubiquitous strategy these days.
Everyone talks about maximizing profits, as one of the main reasons for SIP.
But we differ here. We believe the most critical feature of SIP­ based investment is imparting financial discipline in the lives of investors.
Warning: Do Not Time the Market!
If you believe you can buy and sell an investment at the right time, you're wrong!
It is not possible to time the market, not even ace investors can do that. In this circumstance, what works best is the disciplined approach to investing.
This way, you can stop worrying about when and how much to invest.
Given the fact that your investments are spread over time, buying fewer units during rising markets and buying some units during a falling market reduces the average cost per unit of your investments. The concept is also known as rupee cost averaging.
Thus, if you observe, disciplined approach gradually leads to rupee cost averaging which in turn leads to profit maximization in the long-term.
It is often seen that investors adopt a start-stop method of investing. In this method, investors start investing when there is an optimistic mood all around, and they stop their investments when there is pessimism (for example, the market has corrected drastically, etc.).
How Much Can I Make If I Invest Rs 10,000 Every Month for Ten Years?
To answer the question, let us first take some assumptions.
The assumption is related to the profile of the individual (investor) that shall help us arrive at a risk appetite
Assume the investor in this situation is 30 years old and is a salaried individual working with a multi-national firm.
He is married and has no kids currently. He is looking to create wealth in a decade, and any downward movement in the value of the portfolio in the short-term is not likely to impact his financial flexibility.
Also, he has adequate investments in an emergency fund (typically emergency fund comprises of your three months salary invested in liquid funds or low-risk debt funds). Thus, he is not likely to withdraw any money before ten years.
What Should be His Approach?
The investor, in this case, is looking for wealth creation and has a long-term investment horizon. Also, age is in his favour and thus, his risk-taking ability will be high.
We recommend a portfolio of mid-cap and small-cap funds purely. The investment in small cap is capped at 40% whereas the remainder is allocated in mid-cap.
| | | |
| --- | --- | --- |
| Category | Fund | Share |
| Small Cap | HDFC Small Cap Fund | 20% |
| Small Cap | L&T Emerging Businesses Fund | 20% |
| Mid Cap | Kotak Emerging Equity Scheme | 30% |
| Mid Cap | L&T Mid Cap Fund | 30% |
By investing Rs 10,000 per month, an investor can look to accumulate over Rs. 49 Lakhs in ten years. This growth is more than four times the total investments made in a decade.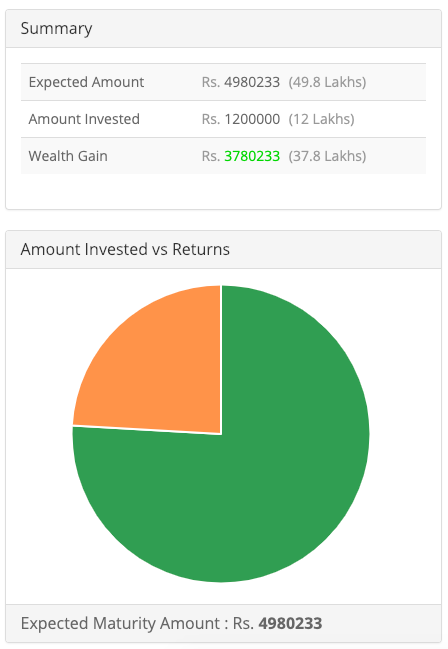 P.S – With 100% equity, the risk increases and the returns also increase accordingly.
Upon using Groww's calculator, the following is one of the best ways of creating wealth in ten years.
Now, let's get to the funds that will help you build a corpus as such.
Objective
The fund seeks to generate long-term capital appreciation by investing in equity and equity-related securities of mid-sized companies.
Performance over the years


Fund Manager
Pankaj Tibrewal
Objective
The fund seeks to generate capital appreciation by investing primarily in mid-cap stocks. The fund aims to invest in companies whose market capitalization is between the highest and the lowest constituent of the Nifty Free Float Midcap 100 Index.
Performance over the years


Fund Manager
Soumendra Nath Lahiri, Vihang Naik
Let us now move to the small-cap funds. These funds invest in small companies and come with higher risk and higher returns.
Objective
The fund seeks to generate long-term capital appreciation from an actively managed portfolio of equity and equity-related securities including equity derivatives of small-cap companies.
Performance over the years


Fund Manager
Chirag Setalvad
Objective
The fund seeks to generate long-term capital appreciation from a diversified portfolio of predominantly equity and equity-related securities, including equity derivatives, in the Indian markets with key theme focus being emerging companies (small cap stocks).
Performance over the years
 

Fund Manager
Soumendra Nath Lahiri, Karan Desai
Conclusion
To conclude, we can say that SIP investing is a robust approach and is fruitful if an investor is looking to accumulate wealth over the long-term.
We believe an investor should place the goal right at the center of investing process and build a strategy around the same by taking into consideration risk-return profile, investment horizon.
Last but not least, remember that if your age is higher than what is discussed in the case above, the choice of funds will change.
This change is because risk is inversely proportional to age. It means that with rising age, the risk appetite reduces. In case your risk appetite is lower, you should scout for balanced funds or debt funds to average out overall risk.
Happy Investing!
Disclaimer: The views expressed in this post are that of the author and not those of Groww