The Reserve Bank of India (RBI) has finally lifted the moratorium on Yes Bank after a 13-day period. Yes Bank has resumed all banking services as of 1800 hours on March 18, 2020. This is two weeks earlier than the proposed moratorium deadline of April 03, 2020.
This has come as a huge relief for the bank's customers who can now withdraw as much as they want without any limits. During the moratorium period, the withdrawals were capped at Rs.50000 per day. 
The bank recently went through a troubled phase due to bad loans that had forced RBI to intervene and impose a moratorium to minimize panic-driven withdrawals from the bank.
During this period, Yes Bank's shares hit rock-bottom and were trading at Rs.5.55 (a 52-week low). After the announcement about the lifting of the moratorium, the share prices picked up and closed at Rs.60.80 at the end of the day.
How Did Yes Bank survive?
The government approved a rescue plan for the bank called the Yes Bank Ltd Reconstruction Scheme 2020. According to this scheme, eight companies that include the State Bank of India, HDFC Bank, ICICI Bank, Kotak Mahindra Bank, and Axis Bank will invest in Yes Bank to get it out of troubled waters. Also, Prashant Kumar will take over as the new CEO of Yes Bank. This is how the shareholding pattern looks like.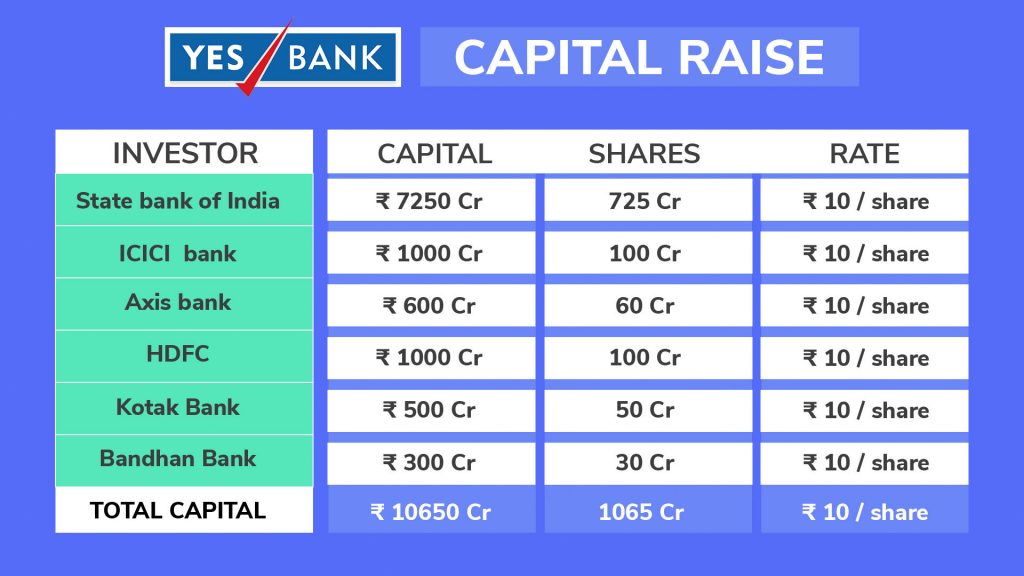 How Does the Lifting of the Moratorium AffectyYou?
On March 18, 2020, at 17:59 hours, Yes Bank tweeted saying:
Our banking services are now operational. You can now experience the full suite of our services. Thank you for your patience and co-operation. #YESforYOU @RBI @FinMinIndia
This came on the back of RBI's decision to lift the moratorium on the bank. This means that you can withdraw as much as you want from your account. 
The bank also decided to extend their banking hours to serve their customers better. In another tweet, the bank said:
To serve you better, our branches will open one hour earlier at 08:30 hours from March 19 to 21, 2020. We have also extended banking hours across branches for our senior citizen customers, from March 19 to March 27, 2020, 16:30 hours to 17:30 hours. #YESforYOU @RBI @FinMinIndia
Yes Bank customers can now operate their accounts normally via all banking channels. All auto-debits linked to your Yes bank account, be it SIPs, insurance premiums or loan EMI's will function normally post the lift.
Disclaimer: The views expressed here are of the author and do not reflect those of Groww.