The Indian stock markets have recently observed many famous companies going for an Initial Public Offering. From Paytm and Nuvoco Vistas to Nykaa and Paras Defence, investors have seen many blockbuster listings while some others failed to impress the markets. 
Through IPOs, companies raise money that assist them in their growth and expansion while the investors get to be a part of the growth and enjoy returns. 
If you have been wondering how you can invest in an IPO, in this article we have discussed how easy it is to invest in an IPO on Groww. 
Here are the steps:
Step 1: Open the Groww app (you can apply for the IPO on the Groww website as well) and log in if you already have an account or sign up for a new account. 
Step 2: Click on the IPO tab on the main screen.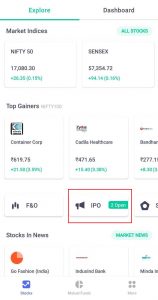 You will see a list of IPOs that are 'Open Now', that have been 'Recently Closed', 'Upcoming IPOs' and 'Recently Listed Stocks'. 
Step 3: Under the 'open now' section, you will see the IPOs that are currently open for subscription. You may also see some IPOs that are open to pre-apply.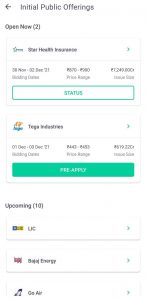 Click on the Apply button for the IPO that you wish to subscribe to. At times there will also be a couple of IPOs that will be open for 'pre-apply' around 1-2 days before the actual subscription period begins.
Step 4: Now, you will see two options – the number of shares you wish to bid for and the bid price. 
The number of shares can be in the multiples of the minimum lot size of the IPO i.e. the minimum limit of shares one needs to apply for that particular IPO. 
For the price, you can choose to bid at the cutoff price or you can choose any amount between the price range of the IPO.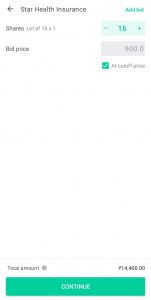 Step 5: Enter your UPI ID and continue. You can find your UPI ID on your UPI app (for example Paytm, PhonePe, Google Pay, etc.)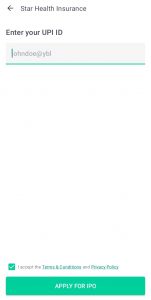 Within 24 hours after this, you will receive a mandate request on your UPI app. Approve the payment and now you have applied for the IPO.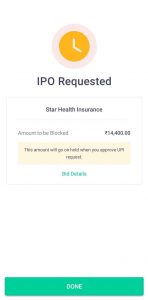 Relax. We will now keep you updated on your status on the same IPO page. 
These were the steps by which you can apply for an IPO on Groww. We hope you found the article helpful. 
Happy Investing!
Disclaimer: The content presented here is only for educational and informational purposes. It is not advice on what to buy or sell.