PVR and Inox Leisure, the country's top multiplex companies, announced a merger on March 27, 2022. The merger will be an all-stock amalgamation between the two companies.
As of now, PVR operates more than 870 screens and INOX operates more than 670 screens. Ajay Bijli will be the managing director of the combined entity.
The merger is however subject to shareholder approval as of this moment. All the new theatres that open up after the merger will be branded as PVR Inox.
Post the merger, Inox Leisure shareholders will receive 3 shares of PVR for 10 shares of Inox.
And after the amalgamation, promoters of PVR will have a 10.62% stake in the combined entity. Inox promoters will have a 10.66% stake in the same.
Now with steady vaccine roll-out, a lower number of Covid cases, states including Maharastra, Karnataka, and Delhi are considering to re-open movie theatres with 100% seating capacity. This is a big positive for multiplex players – PVR and Inox. A few states like Tamil Nadu, Andhra Pradesh and Madhya Pradesh have already opened theatres with 100% seating capacity.
Since January this year, the stocks of PVR and Inox have rallied 34.53% and 32.23% respectively.
In addition to the theatre re-opening and release of movies, there are other positives for both companies. Read to find out more.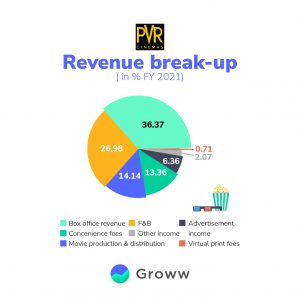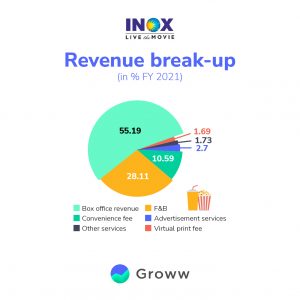 Positives for PVR and Inox Merger
Big Budget Movies Lined Up For 2022
Many big-budget Bollywood movies announced their release dates scheduled for the rest of 2022-23. These movies include Bhool Bhulaiyaa 2, Attack by Lakshya Raj Anand, Beast (Tamil), Gangubai Kathiawadi (recently released), RRR (recently released), Ek Villian Returns, Tiger 3, and many others.
This along with some Hollywood movies include Top Gun, Doctor Strange – Multiverse of Madness, Morbius, Fantastic Beasts: The secret of Dumbledore, Bad Guys, and Batman (recently released) among others. Multiple regional content languages movies including Tamil, Telugu, Malayalam, and Kannada have been lined for release in FY23.
India's theatre screen penetration is relatively low compared to other developed markets. This aids in the screen expansion plans of both Inox and PVR. For instance, PVR has 860 screens and the company was able to open about 18 screens in January 2022. In the case of Inox have opened 24 screens across 6 properties as of Q3 FY22. The company plans to open about 17 screens across 4 properties by the end of FY22.
Boost Entertainment Industry
Almost all the states are expected to slowly reduce and in some places remove restrictions (on seating capacity) altogether. Both PVR and Inox have a strong presence in almost all states. This bodes well for the companies.
Strong Pan India Presence
While PVR has nearly 35% of its screens in the South comprising 296 screens, Inox has 22% of its screens (146 screens) in the South. But Inox has 40% of its screen in the West versus PVR having 29% of its screens in the same region. Both companies are well-balanced in terms of their strong market penetration in their respective regions. And the merger is likely to aid in their growth going ahead.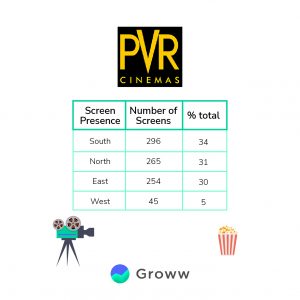 Premium Features to Boost Growth
PVR's Luxe and Director's Cut offer superior projection and sound systems, special assistance services, and so on. This helps the company in monetizing higher ticket prices. The average ticket prices for Luxe and Director's Cut screens are around Rs 800-1200.

PVR also has PVR Utsav where the ticket price starts around Rs 100.

Similarly, Inox too has launched different viewing experiences catering to customers across all income levels.
Thus, cinema screens featuring quality infrastructure, the latest audio-visual systems, and multiple foods and beverages offerings, augur well for both PVR and Inox growth prospects.
Barrier to Entry for New Players: The barrier for a new player to enter is high in the multiplex market due to the costs and regulations involved in doing the same. Plus the widespread geography of both players will be hard to beat. The market continues to be dominated by big players such as PVR and Inox. This will aid in the growth of these multiplex operators.
Slowdown in Single Screens: Single screens, usually owned and operated by regional players are slowly coming down and the Covid-19 has hit them hard, this gives screen expansion opportunities for the multiplex operators.
Other Factors: Increasing vaccine population, reduction in a number of covid-19 cases and strong pent-up demand bodes well for multiplex players – PVR and Inox.
Concerns
While the outlook for PVR and Inox appears fairly steady, there are two points of concern that investors should keep in mind.
One is the direct release of movies on OTT. Multiple movies that were slated for theatre release have hit viewing platforms such as Netflix, and Amazon Prime among others. These movies include Radhe, Suraraipotru, Black Widow, and so on. Many experts believe it is a temporary phenomenon.
Though big-budget movies are awaiting theatre release, the small and medium-budget movies are moving to stream platforms. In OTT they get a better audience. But many industry experts believe that theatre releases are going to continue. And OTT direct release is going to be a temporary phenomenon. This is further supported by media reports on Disney's 2021-22 movie pipeline having an exclusive theatre release.
If the merger is approved, the competition is likely to be PVR Inox versus OTT.
Two, if there is another outbreak of the Covid variant, then it could postpone the re-opening of movie theatres this year. This in turn could hamper the growth prospects of the multiplex players.
Is It Worth Buying PVR and Inox Stocks – Investors to Note
The release of pent-up demand across all regions in the country should drive the performance of both companies in the second half of FY22. It is already been witnessed in the December quarter of FY22. As both companies were able to save significantly on their fixed costs such as rent and common area maintenance (CAM), it should help in boosting their margins in the coming quarters.
Similarly, the expansion of screens (already in the pipeline) should also help in improving the revenue for both companies. For instance, Inox has plans to open 17 new properties in FY22 with 41 screens. It offers 7456 seating capacity across multiple cities. Similarly, PVR too has plans to open its cinemas and screens across multiple cities.
Both companies are in comfortable debt positions. Their financials are weak as FY21 was nearly a wash-out year for both PVR and Inox, in terms of movies released. While the merged entities are likely to make their financials strong, it remains to be seen how fast they could rebound.
To read the RA disclaimer, please click here.
Research Analyst: Bavadharini KS