Reliance had been making headlines for quite some time with a slew of acquisitions. This time it's for making an investment in Dunzo. The company has invested around $200 million in Dunzo, a company that delivers essential supplies including groceries, fruits and vegetables. 
This investment, amongst others, indicates Reliance Industries' shift from being a petrochemical giant to a conglomerate. 
In this article, we will look at Reliance's different businesses and its recent acquisitions. Along with its deals and the major changes brought forward by the group over the past five years. 
Presence across industries
RIL has a presence across 5 broad industries. These are Retail, Digital Services, Media and Entertainment, Oil to Chemicals, Oil and Gas Exploration and Production. 
Let's have a look at how its presence in these businesses has changed over the years: 
Retail (27% of revenue in FY21)
The Retail segment of Reliance is the money-spinner. This segment has undergone a significant change since 2015. 
The group's retail segment caters to 5 key consumption segments: 
Consumer Electronics

Fashion & Lifestyle 

Grocery

Pharma Retail

Connectivity
Highlights of its retail presence
Over 156 million registered loyal customer base

Presence in over 7,000 Cities

12,711 Retail Stores
Reliance has been on an acquisition spree to establish its dominance across the consumption segments. For instance, it recently acquired NetMeds to expand its presence in Pharma Retail. 
A few of the company's digital platforms too are strengthening its retail presence. These include JioMart, Ajio, Urban Ladder and Zivame.
The investment in Dunzo can be seen as a step in the direction to establish itself in the grocery segment. 
The change can be seen in the numbers too – in 2015-16, a mere 6% of Reliance's revenues came from the Retail segment while 93% was from refining & marketing, petrochemicals and Oil & Gas business combined. 
In 2020-21, the retail segment contributed 27% to the group's total revenue. And as of FY20-21, its revenue stood at Rs 1,53,818 crore. On the other hand, its Oil to Chemicals and Exploration and Production businesses combined accounted for around 56% of the revenue. 

Digital Services (15% of Revenue in FY21)
Jio forayed into the telecom segment in 2016 and within a span of three years, it has transformed the entire telecom industry. 
The 'Jio effect' has been observed by almost every Indian. Reliance Jio was able to rapidly increase its subscriber base. Jio was a key driver that helped improve and increase internet access to almost every Indian. It had been a stepping stone for a revolution in the sector. 
Jio became the first operator outside China to cross the 400 million subscriber milestone in a single country market. The subscriber base of Jio stood at nearly 426.5 million as per the October report released by the Telecom Regulatory Authority of India (TRAI). In FY21, its revenue stood at Rs 90,287 crore
Now, through Jio Platforms Limited (JPL), Reliance operates India's largest telecom network.
The revenue from the Digital Services segment had been increasing over the years. This segment in FY21 contributes to about 15% of the revenue while it was only 4% in FY18. 
In FY21, Jio Platforms Limited completed fundraising of a record Rs 1,52,056 crore across 13 global marquee investors. 
*RIL reorganised its Refinery & Petrochemicals business into Oil to Chemicals (O2C) business in FY21. This is to reflect evolving strategy and management matrix.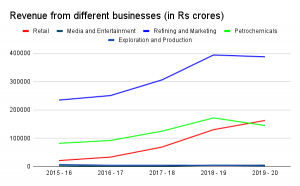 Media and Entertainment (1% of revenue in FY21)
Reliance's Media and Entertainment business has seen steady growth over the years as well. In terms of revenue, however, it still continues to be a minor contributor to the group's overall revenue. In FY21, the revenue for this segment was at Rs 5,459 crore.
The company has about 12.64% TV viewership share as of FY21 with channels including CNBCTV 18, Colors, MTV India, and Comedy Central.
It also has its digital presence with websites such as Moneycontrol, and bookmyshow. 
Oil to Chemicals (56% of revenue in FY21)
Reliance reorganised its Refinery & Petrochemicals business into Oil to Chemicals (O2C) business in FY 2020-21. Its revenue during the same period was at Rs 3,20,008 crore.
This move, the company mentioned, reflects its evolving strategy and management matrix.
The O2C business captures a broad portfolio spanning transportation fuels, polymers, polyesters and elastomers. 
While this segment continues to contribute to a significant portion of the company's revenue, its share had been slowly declining over the years. 
The changing trends can be observed by Reliance's recent forays into green and renewable energy – Reliance Industries Limited announced the launch of 'Reliance New Energy Solar Limited (RNESL)'. 
In its BSE filing, the company said RNESL has been incorporated to undertake activities related to solar energy, and it is yet to commence its business operation. 
Reliance plans to achieve Net Carbon Zero-emission company by 2035.
Oil and Gas E&P (0.4% of revenue in FY21)
Reliance also has a presence in the oil & gas exploration and production businesses. 
The company says that through this business, its commitment is to contribute towards India's transition to a cleaner and greener gas-based economy. 
In FY21 Reliance commissioned Asia's deepest gas field. It was India's first ultra-deepwater gas field – R Cluster in KG D6 Block. But the company's share in domestic gas production had been coming down over the years.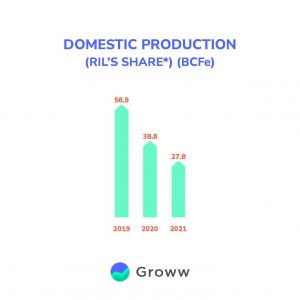 Future play 
The group has made investments in futuristic technologies. Along with increase in presence across various industries. 
JioGenNext:

Reliance's startup accelerator programme, JioGenNext, was started to support founders for launching their startups in the Reliance ecosystem. In FY 2020-21, Reliance added 22 new startups into the ecosystem. 

Transport:

In another update, Reliance Strategic Business Ventures Limited (RSBVL), a wholly-owned subsidiary of Reliance Industries, acquired an additional equity stake in the US-based technology company skyTran Inc. With this, the group aims at bringing autonomous, zero-emission vehicles to India for high-speed efficient and economical intra- and inter-city connectivity through a 'Transportation As-a-Service' platform.

Solar play:

The Reliance Group recently became a promoter in Sterling and Wilson Renewable Energy Ltd with the group firms holding over 40% stake in the company.  

Education:

In the education sector, the group is setting up the 'Jio Institute', a research-focused multi-disciplinary higher education institution, in Navi Mumbai, Maharashtra. 
How Reliance's investments across various sectors and industries play out in the future will be an interesting update to watch out for its competitors and investors. 
We hope you found this update informative and helpful. 
Happy Investing! 
Disclaimer: The content presented here is only for educational and informational purposes. It is not intended to be advice on what to buy or sell. 
To read the RA disclaimer, please click here.