The world of investing has seen many stalwarts, but some of the most common names that pop up in our minds are Mr Warren Buffett, Mr George Soros, Mr Michael Bloomberg, etc.
But have you ever heard of a female investor making a name in this vast and exciting investing world? No, right?
Because investing remained male-dominated for many years, females were heavily scrutinized or overlooked for their investing capability.
But today, we'll tell you a story about an exceptional woman, Abigail Johnson, who scored big in the investing world. She made her name in the investing world and is the wealthiest female investor in the world!
Mrs Abigail Johnson, commonly known by the nickname Abby, is one of the wealthiest woman investors in the world and has a net worth of USD 17 billion as of June 2019. This net worth primarily consists of the shares of Fidelity Investments, of which Mrs Abigail Johnson is both the CEO and President. As of March 2019, Mrs Johnson holds an estimated 24.5% of shares.
Her grandfather Edward C. Johnson II, founded Fidelity. Her father, Edward C. "Ned" Johnson III, remains chairman emeritus of FMR. In addition, Mrs Johnson's family has a controlling interest in Fidelity Investments, America's largest mutual fund company. Since 2014, Mrs Johnson has been CEO and president of American investment firm Fidelity Investments (FMR) and chairman of its sister international company Fidelity International (FIL).
In 2016, Mrs Johnson was named chairman and will remain CEO and president, giving her complete control of Fidelity, with 45,000 employees worldwide.
| | |
| --- | --- |
| Full Name | Abigail Pierrepont Johnson |
| Net worth (2023) | USD 21.6 billion |
| Age | 57 years |
| Date of Birth | 19th December 1961 |
| Residence | Boston, Massachusetts, U.S. |
| Citizenship | American |
| Occupation | CEO and President of Fidelity Investments (FMR) and Chairman of Fidelity International (FIL) |
| Marital Status | Married |
| Children | 2 |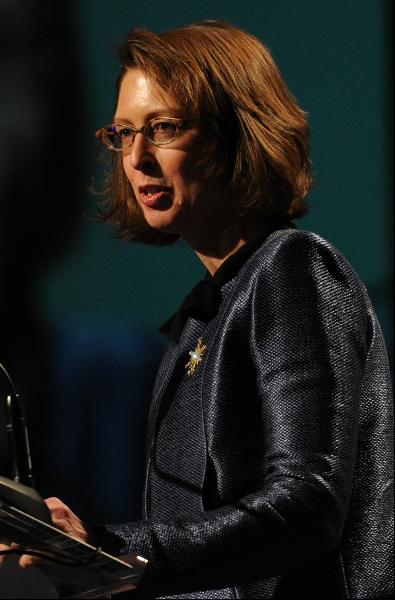 Chronology
| | |
| --- | --- |
| Year | Events |
| 1961 | Born in Boston, Massachusetts, USA |
| 1984 | Earns B.A. in Art History from Hobart and William Smith Colleges |
| 1985 | Joins Booz Allen Hamilton as a Research Associate |
| 1988 | Makes an MBA degree from Harvard Business School (HBS) |
| 1988 | Joins Fidelity as Equity Analyst |
| 1994 | Named Associate Director of Fidelity |
| 1998 | Named SVP in Fidelity Investments (FMR) |
| 2001 | Named President of Fidelity Asset Management (FAM) |
| 2007 | Named President of Fidelity Personal and Workplace Investing |
| 2012 | Named President of Fidelity Financial Services |
| 2013 | Named President of FMR |
| 2014 | Named CEO of FMR |
| 2016 | Named Chairman of FMR |
| 2018 | Fidelity serves 27 million individual customers |
Mrs Johnson joined Fidelity in the research department of the equity group and spent five years as an analyst before moving into diversified fund management. Then, in one of its kind move, Johnson introduced cryptocurrency as a separate platform through which investors can trade bitcoins and ether.
As her career progressed in Fidelity, she simultaneously raised two daughters. Yet, Mrs Johnson conquered every challenge that came her way and methodically set about transforming the company.
Awards and Honors
Her significant awards and honours include the following-
Learnings from Abigail P. Johnson
Here are a few prominent learnings from Abigail P. Johnson to have a look at-
Johnson has learned that "lots of people will give you advice...and depending on how well they know you, the advice might be valid or not so valid," whether it was what to do after graduation, which path to go during difficult times at Fidelity, or even how to manage the logistics of living with kids and a demanding profession.
She believes that only you know what's best for you.
"At the end of the day," she expresses, "you know yourself best."
Effective Communication is the Key
After leading the asset management business, Johnson was appointed president of Fidelity Financial Services in August 2012. As a result, her leadership style had to change as she transitioned from leading a group she knew inside and out to "a bigger, different kind of broader, more operational organization."
[In my new position,] I had many high-powered sales and marketing professionals who reported to me," she says.
"But I also had thousands of call centre representatives reporting to me." She discovered that she had to become more deliberate during employee interactions. "I had to learn to communicate to very different types of groups of managers with different orientations, different priorities," she says.
And that was a real leadership challenge." Nevertheless, she committed herself to the task and has been lauded as an empathetic, confident leader.
Get The Little Stuff Right
During the summer between high school graduation and her first year at Hobart and William Smith College, Johnson worked her first job at Fidelity, handling customer orders.
"I was responsible for filling out the forms to put in order the transactions they were requesting correctly," she asserts. "It was a pretty basic job. But it gave me an appreciation of what it was like to be responsible for important things in people's lives and ensure they were always done accurately and correctly."
Don't Let The Bumps In The Road Throw You
Johnson's most challenging problem during her tenure was the loss of two significant corporate clients, which she characterizes as "extremely difficult and, at times, painful, personally, for me and  others."
The loss taught her that her leadership style needed more direct and consequential. "There's a time that may come in an organization where leading by influence is not enough," advises Johnson.
"When things are not going the way they need to go, there's a time when one has to step up…to set the organization back in the right direction," she says. However, rather than disintegrate under the suffering and the uncomfortable experience of addressing it, she was determined to do whatever had to be done.
Conclusion
Many people think that investing is a man's game. But that's the wrong notion. Always remember that gender can never define your investments.
If you are female and interested in investing, there are now more opportunities than ever for women, thanks mainly to women who have pioneered in the area.
Suppose you want to play leadership roles in finance and are looking for a role model. In that case, Mrs Abigail Johnson has set a perfect example by achieving great success, often by being willing to stand out, take risks and refuse to accept no for an answer.