"Know what you own and know why you own it." – Peter Lynch
Financial experts often reiterate the importance of a balanced investment portfolio and the risk-return trade-off. However, there are some investment decisions, when returns don't matter.
Every decision cannot be viewed purely from the financial ROI angle. Life throws up several challenges, financial and non-financial. Thus, to effectively tackle them, one must know how to make the most of one's money. There are some investment scenarios where qualitative factors prevail like satisfaction, safety, and even indulgence.
We shall look into the following investment avenues, where other considerations are a priority over returns:
1. Emergency fund
As the name suggests, a contingency fund is meant to serve just that purpose.
One must allocate a certain portion of funds for sudden developments and the corpus should grow with advancing age. Besides, emergencies come unannounced. Hence, one must build a sizeable emergency corpus on a war footing.
Further, any withdrawal from the funds should be promptly replenished for any future events. One can't expect to earn high returns from a cash buffer.
Let's understand why.
Assume an elderly person about 62 years of age has a fixed deposit of Rs 20 lakhs. She opts for the annual renewal of the FD. An investment manager would advise her to opt for a higher return instrument.
However, she has a valid reason for her savings choice. She suffers from health ailments and the FD money with its short tenure of a year serves as a reserve to draw money in case of a medical emergency.
Thus, she is ok with low returns as her priority is liquidity, not earning returns. Consider Groww's easy-to-use simple FD calculator. Continuing with the same example, she earns a moderate annual interest of Rs 1.2 lakhs.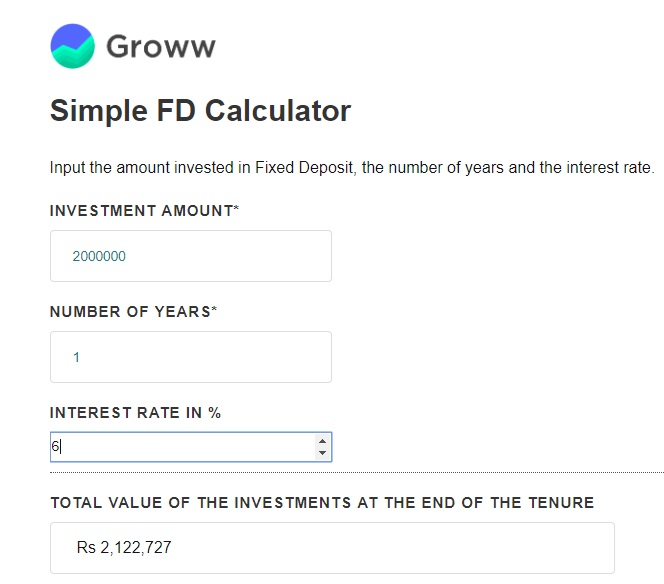 In this case, liquid mutual funds can also be considered.
Liquid funds are low-risk funds and in any case, provide higher returns than an FD. If we take the same case, a liquid fund would provide the following returns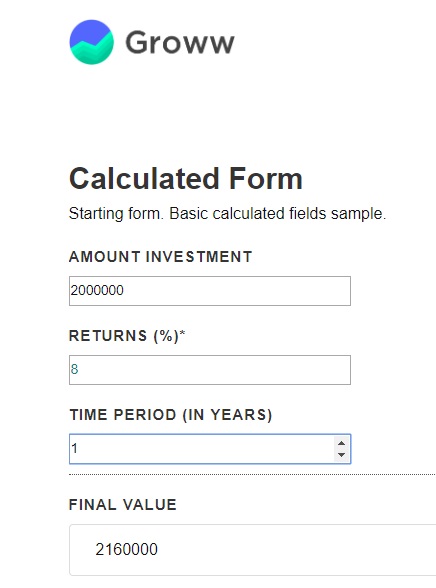 Through liquid funds, she can make returns of 1.6 lakhs in the same time duration.
In other cases, the corpus may be set aside to meet sudden, unforeseen expenses like loss of employment, a medical condition, or major repair work in the house, etc.
The focus is on the security factor of the monetary amount, rather than wealth creation. Liquid funds mainly invest in money market instruments or short-term corporate deposits with returns ranging between 6-8% and higher returns than FDs.
Another major benefit of such funds is that they provide peace of mind and financial strength to withstand a rainy day.
Another option is to keep money parked in a bank savings account, which allows instant withdrawal with a low yield of up to 4%.
2. Life Insurance
Insurance works in a reverse manner to investments. In investing, one gets a return for one's money. However, in pure life insurance, the nominee is paid upon the death of the insured.
If the insured lives on, no one earns anything. Ironically, life insurance is about death and not about life.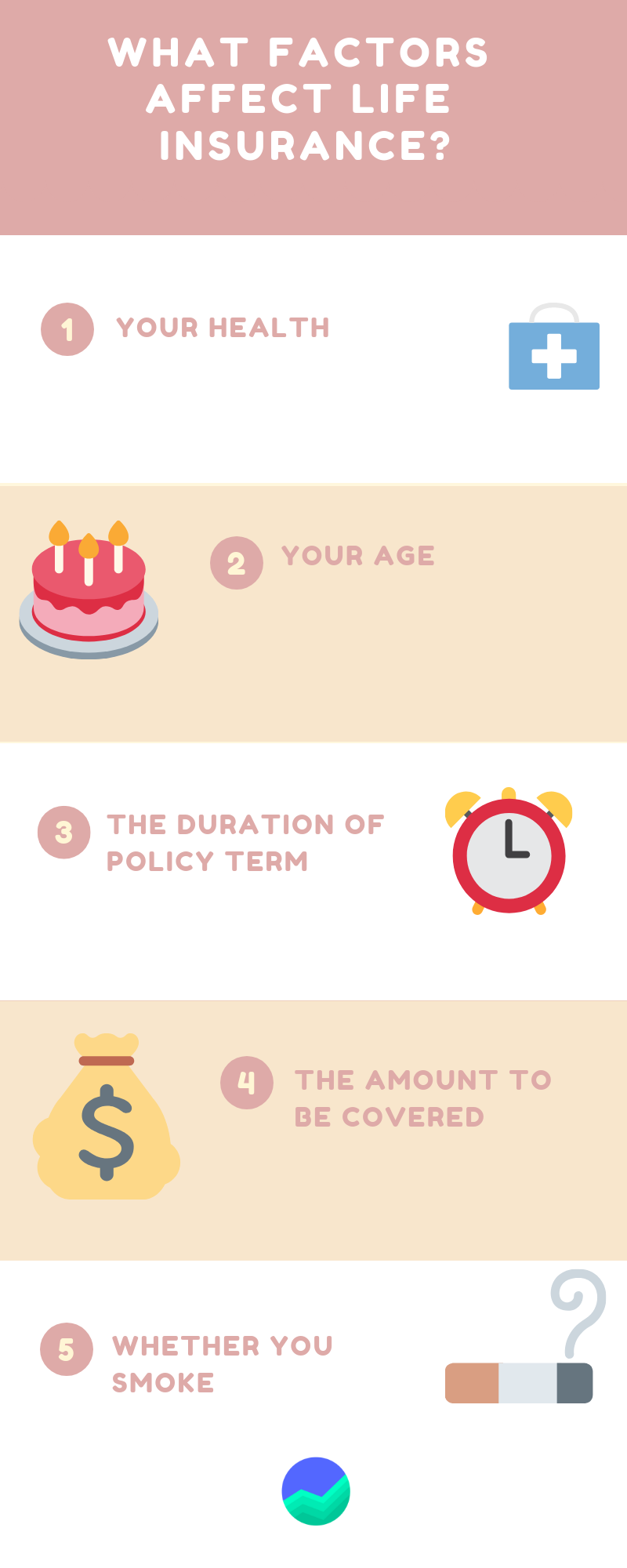 Insurance is a low-risk product that provides life cover, so that life does not come to a standstill for the rest of the family in case of sudden death.
However, in spite of the low yield, insurance provides safety for family members. Thus, a large section of individuals opts for life insurance in India.
For example, let's consider LIC's new endowment plan. A 30-year-old individual buys the plan for a 5 lakh sum assured over 20 years. The annual premium is Rs 23809.
In the case of a lower premium, the cover is even smaller. One should ideally not mix insurance with investment as the purpose is often defeated.
Often, the premium charged is higher for a small corpus amount on maturity. A fundamental principle of finance is 'high risk – high return'. Since insurance is a low-risk product, the return is low with a fixed sum assured, which might not generate inflation-proof returns.
3. Gold
Indian women love gold, especially in the form of jewelry.
It comes as no surprise that India is amongst the largest consumer markets for gold jewellery, with demand peaking during the festive season of Diwali or the marriage season.
However, while gold is a good investment choice, physical gold in the form of jewellery is not a preferred investment route.
This is because of the loss in value due to charges by the jeweller, in the form of making and polishing charges, wastage, etc. Besides, the buyer also loses out on the margin charged by the jeweller between the cost of gold and the real market value.
Besides, gold jewellery is a kind of dead and illiquid investment, in the sense, it is not easily convertible into cash. Most reputed jewellery shops would be willing to exchange physical gold for other ornaments.
In some instances, the cash realized after the sale of gold would be after several deductions by the jeweller. Thus, the amount is reduced with each transaction of physical gold.
Jewellery is mostly a status symbol worn by the wealthy or for decorative purposes on a festive occasions. Thus, it is not prudent to hoard physical gold. Instead, gold ETFs are liquid and offer superior returns.
4. House Property
'Home is where the heart is'.
A self-owned house property remains a major aspirational goal for many Indians. With the rising cost of rentals, especially in urban areas, it makes economic sense to invest in a home at the earliest.
However, it must be remembered that a house property as an investment choice involves several factors like the location of the house, the general trends in the real estate sector, macroeconomic conditions, etc.
Thus, while a house property for utility purposes and to save on rent makes financial sense, it may not always be the case for investment purposes.
Even, if one has to buy a second home with the intention of giving it for rent, the location of the house, access to facilities, the infrastructure, etc influence the rental rates and availability of a tenant.
Conclusion
Thus, while the above may be termed investment decisions, they should be selected without a pure returns-focused approach.
Else, it may result in disappointment. There are a plethora of other investment avenues to select from, when the main criterion is to generate returns to outperform the market like equity, mutual funds, ELSS, etc.
These safe options are for low-risk investors, who prefer to stay safe than sorry.
Happy Investing!
Disclaimer: The views expressed in this post are that of the author and not those of Groww