XL 6E Rewards If you are a frequent flier with IndiGo, the IndiGo HDFC Bank Credit Card is the best option. This credit card will let you earn up to 5% 6E points on IndiGo airline reservations.
IndiGo will also provide you with a complimentary ticket, as well as various additional benefits such as priority check-in, a free dinner, speedy baggage claim, and seat selection. You can also earn rewards on other purchases using the card, such as groceries, shopping, entertainment, and so on.
If you are an IndiGo fan, this can be a terrific way to save money on your travel bookings.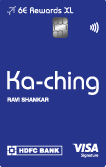 Image Source: HDFC Official website