Investing in Stock Market can be tricky, especially for individuals new to this investing world. The investment process has become hassle-free nowadays as individuals can allocate their funds to shares through various digital platforms.
In case you are not up-to-date with the process, here's a complete guide on how to invest in share market online.
How to Invest in Stock Market in India?
In case you're wondering how to invest in Share Market online in India, we've got you covered.
Here are the steps that you need to follow to buy stocks easily from the comfort of your home: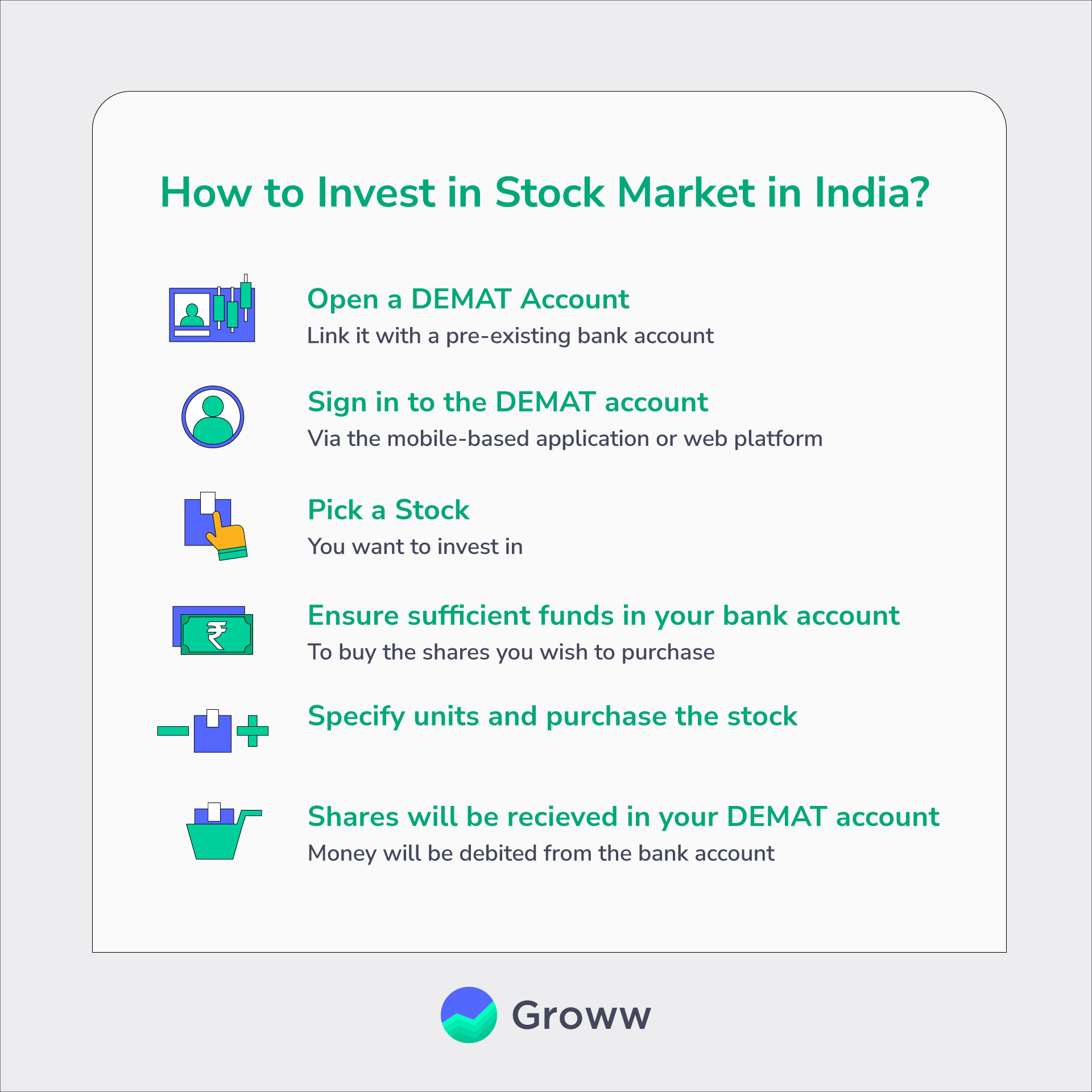 Step 1: Open a DEMAT account and ensure it is linked with a pre-existing bank account to carry out transactions smoothly.


Step 2: Sign in to the DEMAT account via the mobile-based application or web platform.


Step 3: Pick a Stock that you want to invest in.


Step 4: Make sure you have sufficient funds in your bank account to buy the shares you wish to purchase.


Step 5: Purchase the stock at its listed price and specify the number of units.


Step 6

: Once a seller reciprocates that request, your purchase order will get executed. Post-completion of the transaction, your bank account will get debited with the required amount. Simultaneously, you will receive the shares in your DEMAT account.
Note - Individuals must note that there are specific prerequisites when opening a DEMAT Account.
Bank Account

Proof of Address

Proof of Identity

PAN Card

Cancelled Cheque

A Stockbroker
For individuals who want to learn how to invest money in the share market, it is essential to keep certain factors in mind.
Factors To Consider Before Making Stock Market Investment
Some factors to consider before investing in the stock market are as follows-
If you're wondering about How to Start Investing in Stock Market in India or any other investment avenue, you must first identify your financial goals. The investment objective is not universal and alters with every investor.
Hence, you must pick stocks after taking your financial goals into account. Decide your investment horizon as well before investing.
Another essential factor to consider when investing in shares is your risk appetite. Investors with a low-risk appetite may consider investing in defensive stocks that provide stable returns and are less impacted by market volatility.
By building a diversified portfolio, you can mitigate risks. In other words, the more your investment is spread across different sectors, the lower the financial risk associated with your investments will be.
When it comes to investing in stocks, there are two markets that you can consider.
Conclusion
Now that you know how to invest in share market in India online, open a DEMAT account with a broker of your choice and follow the steps discussed above to start investing. Also, remember the various essential factors when choosing which stocks to add to your portfolio for better outcomes.
You May Also Be Interested to Know-

1.

2.

3.

4.

5.
Disclaimer: This blog is solely for educational purposes. The securities/investments quoted here are not recommendatory.