PAN card verification is an essential and simple step that can be done online. Online PAN verification is a feature that is accessible on specific government websites and can be completed easily, provided you have all of the necessary information.
The Income Tax Department has authorized NSDL e-Governance Infrastructure Limited to validate and verify these PAN Cards. Thus, one can verify their pan card online by using this NSDL e-Governance service.
Pan Card Verification Online Process
You can verify pan card online using the following  steps  outlined below: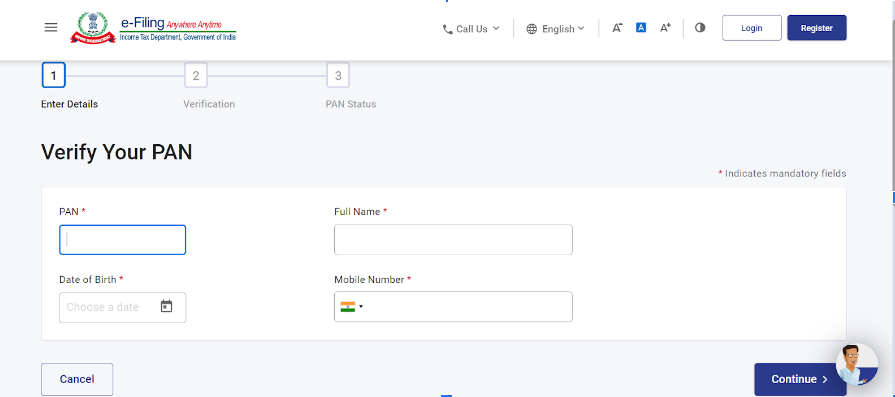 Fill in the data, including your complete name, date of birth, and your PAN number.

After that, enter the captcha code provided by the portal and press the submit button.

Your PAN card will then be shown, along with the pan number verification status.

You must verify the verification status within 5 days of getting the acknowledgement.
Online Pan Verification by Pan Number
You can also do your Pan verification online using the pan card number. Here are the steps that should be followed for online pan verification by pan no.
Step 1: Visit https://eportal.incometax.gov.in/iec/foservices/#/pre-login/verifyYourPAN.
Step 2: Fill in the details such as your full name, date of birth, and mobile number along with your PAN number.
Step 3: Click on 'Continue'.
Step 4: Enter the OTP that is sent to your mobile number and click on 'Validate'.
Step 5: Follow the steps on the next page to complete the process.
How to Verify Pan Online Under Section 194N?
The following are the actions that must be taken to verify pan card under Section 194N:
Step 1: Go to https://www1.incometaxindiaefiling.gov.in/e-FilingGS/Services/ViewReturnStatusLink.html?lang=eng and log in.
Step 2: Enter your PAN and cell phone number.
Step 3: Accept the terms and conditions by clicking the 'Continue' button.
Step 4: Complete the instructions on the following page to obtain information on the verification of application under Section 194N.
How to Verify PAN Details Issued by the Company?
UTI Infrastructure Technology And Services Limited is one of the country's largest financial services companies. They are owned by the Government of India and provide financial technology to the government's financial sectors. UTIISL, like NDSL, issues PAN cards to Indians who apply through their website.
To verify, go to the UTIISL PAN website and log in with your credentials. After that, you must pick the option to validate your PAN card by entering the necessary information. The results will subsequently be shown on the website.
How to e-verify your Returns Using Aadhar Card?
The following is the procedure that must be undertaken to e-verify your returns using the Aadhaar OTP:
Step 1: Go to https://portal.incometaxindiaefiling.gov.in/e-Filing/UserLogin/LoginHome.html?lang=eng and sign in.
Step 2: Log in to your account by providing your PAN, password, and captcha information.
Step 3: Go to 'My Account.'
Step 4: Select 'e-verify return.'
Step 5: Next, choose the 'I want to generate an Aadhaar OTP to e-verify my return' option.
Step 6: A one-time password (OTP) will be provided to the registered cellphone.
Step 7: To finish the verification procedure, enter the OTP.
Entities Eligible for PAN Verification
A list of persons and organizations that are eligible for verification is provided below. This service is available to the following entities-
RBI-approved payment banks

Central Vigilance Commission

Stamp and Registration Department

Reserve Bank of India

Income Tax Projects

Central and State Government Agencies

Depositories

Goods and Service Tax Network

Commodity Exchanges/Stock Exchanges/Clearing Corporations

Entities that must submit a Statement of Financial Transactions/Annual Information Return

Companies that must file a Statement of Financial Transactions/Annual Information Return

Regulatory Bodies that have founded educational institutions

Central KYC Registry

RBI-approved credit information agencies

Depository Participants

Authorities who issue the DSC

National Pension System's Central Recordkeeping Agency

Credit card institutions

Mutual Funds

Insurance Repository

Insurance Company

Housing Finance Companies

RBI Prepaid Payment Instrument Issuers

RBI NBFCs

SEBI Investment Advisor