According to SEBI, the market regulator, an investor can successfully sell his/her stock or share only if the holdings are verified.
Last year, CDSL had introduced e-DIS verification for better investor protection. It stands for electronic delivery instruction slip. This verification is done via TPIN at the time of sale of stocks. TPIN stands for Transaction Personal Identification Number.
In addition to TPIN, you as an investor or trader had to authenticate the transaction with OTP.
CDSL is the depository with which your Groww Demat account is registered.
Here is what you should know.
What is Changing for You?
There are primarily three changes that you need to take note of:
TPIN+OTP Verification
As mentioned earlier, you will now be required to enter an OTP along with your TPIN for selling stocks. If you don't have a TPIN, the same can be generated. 
Holdings Verification Validity
Verification of your holdings is valid till the next market closing time. Let's understand this in detail.
Situation 1: 
If you verify your holdings during market hours,  the verification will expire after markets close on the same trading day. For example, if you verify your holdings at 11.00 a.m., it will expire after 3.30 p.m on the same day.
Situation 2: 
If you verify your holdings after markets close, it will be valid until the next trading day's closing time. For example: if you verify your holdings on a Wednesday at 4.00 p.m. after markets close, it will be valid till 3.30 p.m. on Thursday (which is the next trading day's closing time).
Let's observe another example. Say an investor verifies his/her holdings on a Friday after 3.30 p.m. or during the weekend, the verification will be valid till the next trading day's closing time; which is 3.30 p.m. on Monday.
Markets in India are open between 9.15 a.m. and 3.30 p.m. except on trading holidays.
Earlier this verification was valid till the next 90 days. However, due to a change in rules, the verification is valid only till market closing.
Set Your Own TPIN
In case you don't remember your TPIN or have lost it, until now you could request one from CDSL. But now you have an additional option to set your own TPIN. A step-by-step process for this is covered ahead in the blog. This is an added facility. 
How Can You Verify Your Holdings?
There are primarily two ways you can do this:
Go to your dashboard and click on 'Verify Holdings'.

While placing a sell order (in case you had not verified your holdings prior to that, you will be prompted to do the same to successfully complete your sell order).
The following details the entire process.
What is TPIN on Groww - Step-By-Step Verification Process on Groww
For web users (Groww.in) and users who have Android App version 12.51 and above
CDSL (depository with which your Groww DEMAT account is registered) generates this TPIN and the same is shared with investors via SMS and Email. This is not shared with the depository participant (Groww). 
The TPIN will also be sent to your registered mobile number via SMS. The message will look like this: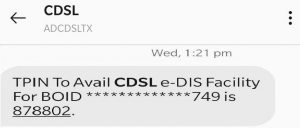 Please do not share your TPIN with anyone. Do not respond to any communication that asks you for your TPIN, nor entertain calls from agents/brokers who claim to be from Groww. Groww will never ask you to disclose sensitive information like PIN or passwords under any circumstance.
Here is the step by step process of activating the one-time pre-verification when you sell your stocks on Groww. 
Step 1:

Select the stock you want to sell and enter details.

 Now when you want to execute your order, you will be shown a button that says

"Verify Sell

". 
Please note: Users who have already gone through the verification will only see the "Sell" button on their screens. In that case, you can simply go ahead and complete the order execution.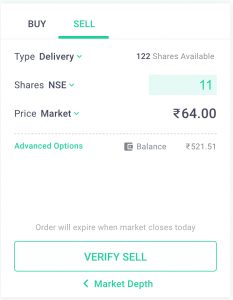 As you click on it, you will  be asked to 'Verify Using TPIN & OTP.' If you have not received this TPIN or lost it, click on 'Request New Pin'( at the bottom of the screen) and you will receive one from CDSL on your email and through SMS. So we advise you to use the existing PIN to avoid delays. Please note that you can keep using the same TPIN for future verification unless you request a new one.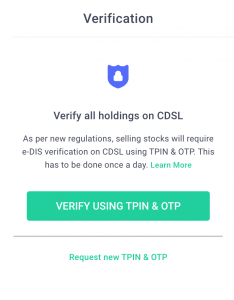 Step 2: Once you click on this option, you will be directed to the CDSL approval page, which looks like this. You will have to first enter your TPIN.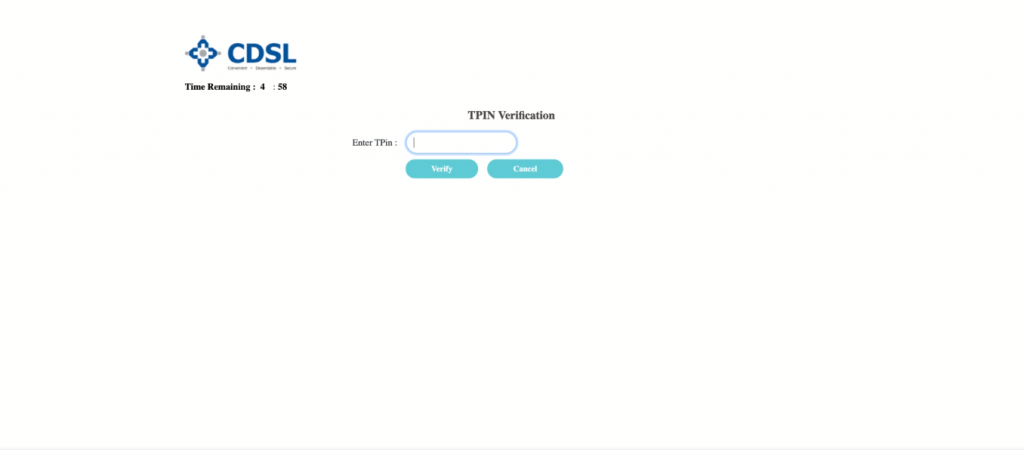 On the next screen, you will be asked to enter an OTP that will be sent to your email ID and mobile number.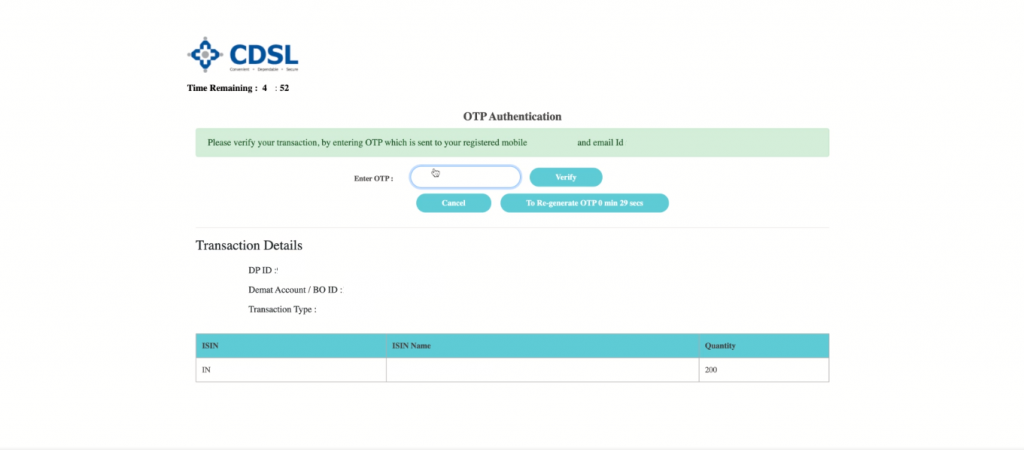 Click on Verify to confirm the transaction. Once you do this, you will be taken back to the initial page. Now you can click on 'sell' to execute the order. Now even if you don't want to sell your holdings at the moment, the TPIN verification is complete. So you can go back to your dashboard, without pressing "Sell", if you just want to verify.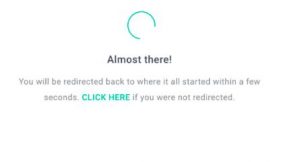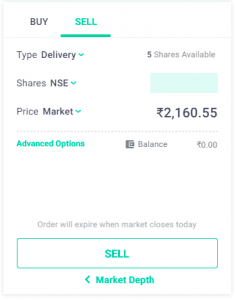 For IOS users and users with Android App Version below 12.51
If you are an IOS user or have an Android app version below 12.51, your screen would look like this when you log in to the Groww App. Click on " Verify with PIN".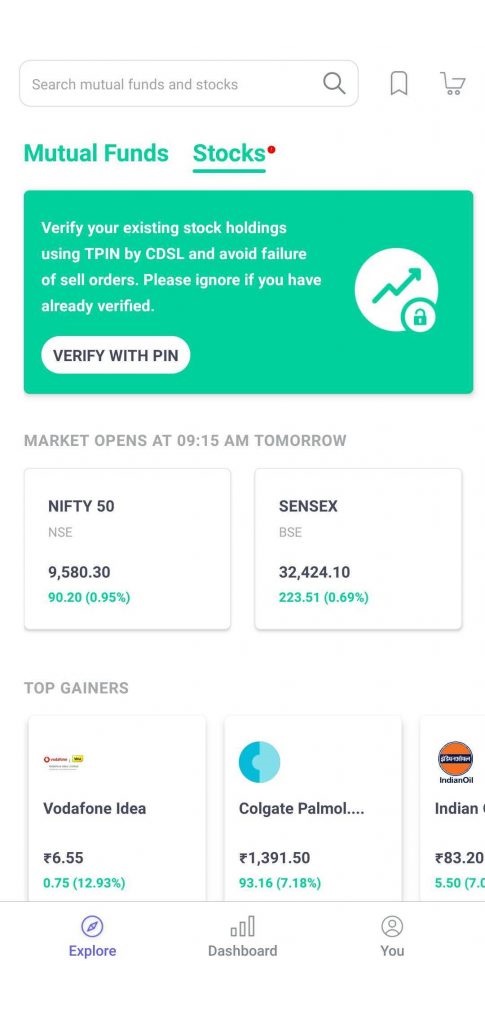 You will then be taken to the CDSL page as shown in Step 2 and the flow remains the same thereafter. Alternatively, if you want to do the verification right now, just go to  https://groww.in/cdslauth. There, click on ' Verify Using TPIN' and you will be directed to the CDSL page.
How to Set Your Own TPIN?
You can now set your own TPIN instead of requesting one from CDSL. Click here and follow the steps mentioned below.
Step 1: Once you click on the link, you will land on this screen.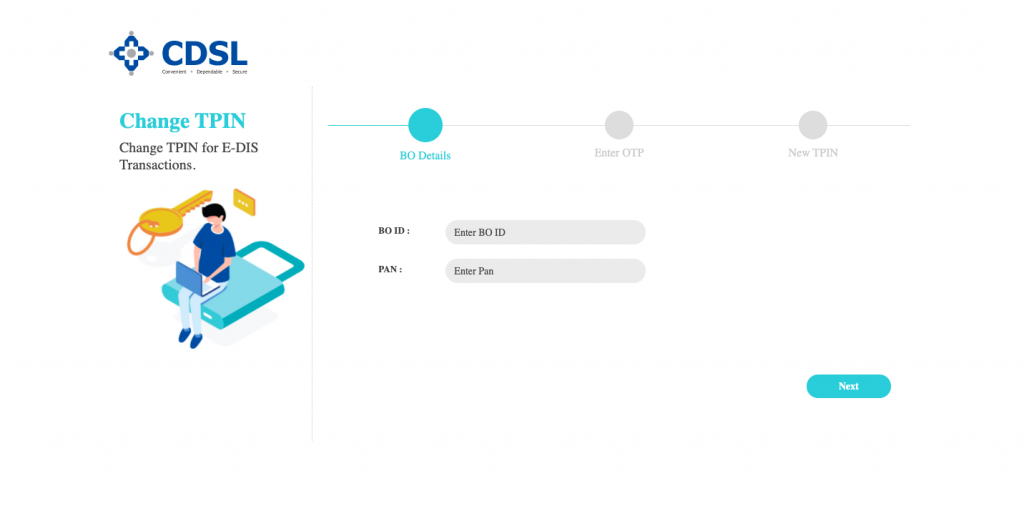 You can enter your BOID, PAN number on the first screen. BOID stands for Beneficiary Owner Identification Number which is basically your 16-digit demat account number.
Step 2:

Click on Next and Enter OTP on the next screen.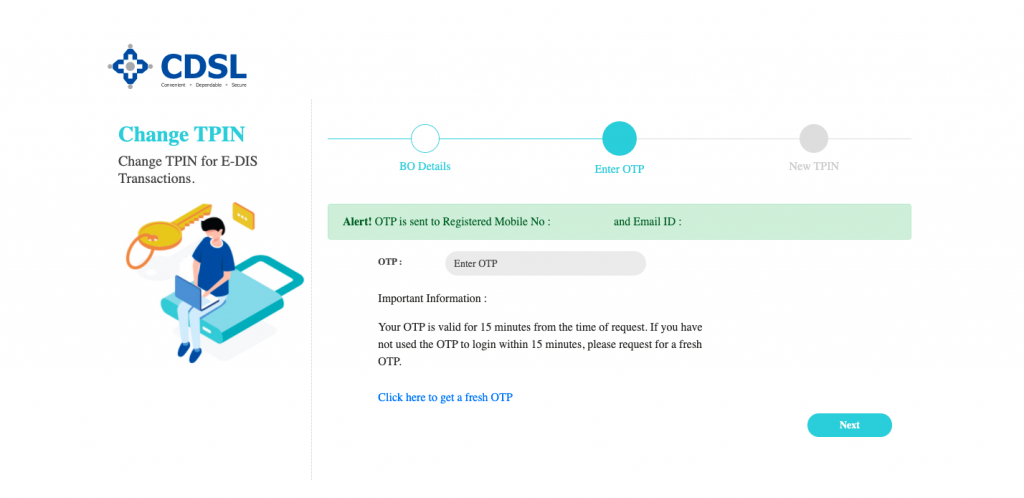 Step 3:

Enter a new TPIN and click on '

Submit

' to confirm the new TPIN.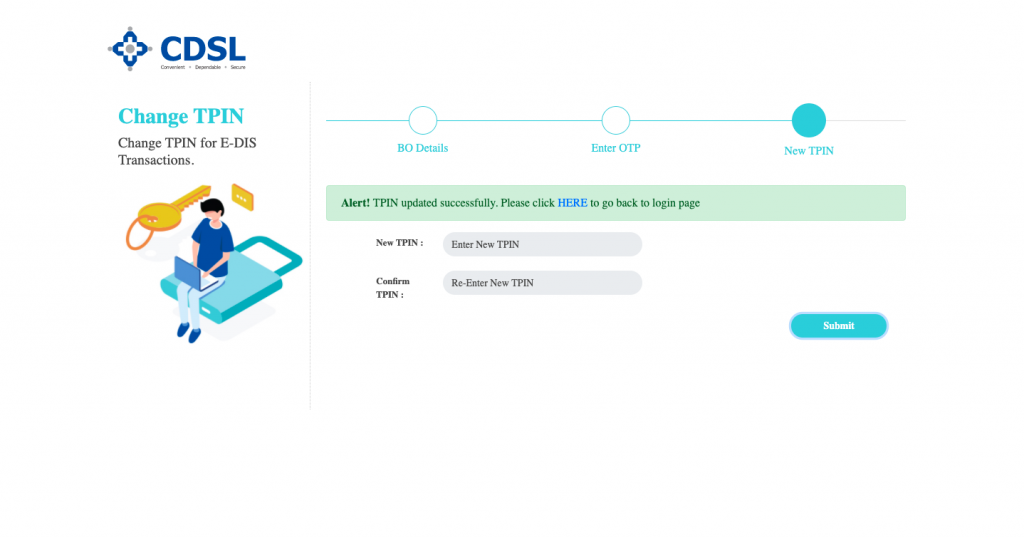 Take Note
As an intermediary, Groww facilitates your buy and sell orders. When you purchase shares on the platform, it receives them from the exchanges and transfer them to your DEMAT account. Your DEMAT account on Groww is registered with CDSL, which is a depository*. 
*A depository is an organization established to hold stocks of the investors in dematerialized form through an agent registered with SEBI i.e. a Depository Participant. The Depository Participant, in this case, is Groww.
Likewise, when you place a sell order, we debit the shares from your DEMAT account and send it to the exchanges. However, brokers/platforms are required to take permission from investors to sell shares on their behalf.  
Your DEMAT account is very similar to a bank account. While more amounts can be added to it, any amount that needs to be withdrawn from your account cannot be done without your approval.
For instance, the SIP amount that gets debited from your account every month or the EMI that gets deducted only happens because you have given prior standing instruction to the bank.
On most platforms, investors are required to give a POA (power of attorney) to their brokers. This means, it basically permits the broker/platform to debit shares from the DEMAT account of the investor and send it to the exchanges on their behalf.
This is a cumbersome process that involves physically signing a POA and sending it to your broker every time you want to sell shares.
To avoid this hassle, Groww allowed you to sell stocks on the platform using your Groww PIN/fingerprint. This is known as e-DIS, which is an electronic delivery instruction slip for you to transfer shares from your DEMAT account for delivery to exchange.
Once you entered Groww PIN, you basically gave permission to Groww to execute sell orders for your existing holdings.
Why Can't I Verify Using Groww PIN Anymore? 
While the earlier method via Groww PIN/fingerprint is convenient for investors, it grants less transparency to CDSL. In a physically-signed POA copy, the client or user clearly gives permission to the user to execute sell orders on his behalf and CDSL is aware of it. However, when it comes to entering the platform-specific PIN, CDSL is not aware of the exact process that is being followed. 
To make your sell transactions more secure for you and bring more transparency to the system, CDSL has introduced e-DIS via TPIN-based verification. This TPIN will be directly shared with you via SMS/email by CDSL's official communication channels and will not be known to anyone at Groww.
Alternatively, you can generate TPIN anytime you want by going on this link here-. Enter your PAN and BO-ID ( 16 digit number) and the TPIN will be sent on your email and through SMS.