Pledging allows you to keep your stock holdings as collateral with a broker. Pledging is simply a way of taking loans against your shares. In other words, pledging is a way to access some extra funds for your trading and investments by using some existing investments as collateral.
The shares are kept as collateral with your broker who in turn lends you funds to trade in exchange.
There are no extra charges or interest on the margin you get from your broker. There is a one-time charge per scrip for unpledging.
Read on to find out more on how to pledge or unpledge your shares on Groww, key points regarding margin allocation to your trading account and haircut on different stocks.
How to Pledge Shares on Groww
Step 1: Open your Groww Balance section and click on pledge balance.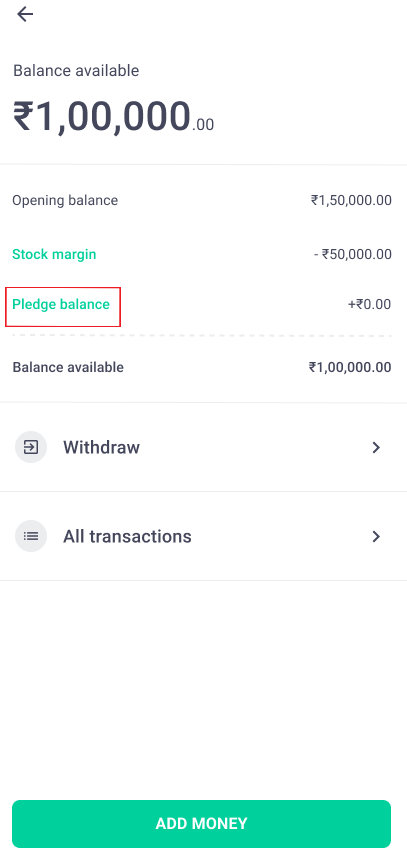 You can also view access Pledge on Groww through your stock holdings.
Step 2: All the stocks that are eligible for pledging from your holdings will be displayed. Choose which stock you want to pledge. Then click on the Verify Pledge button.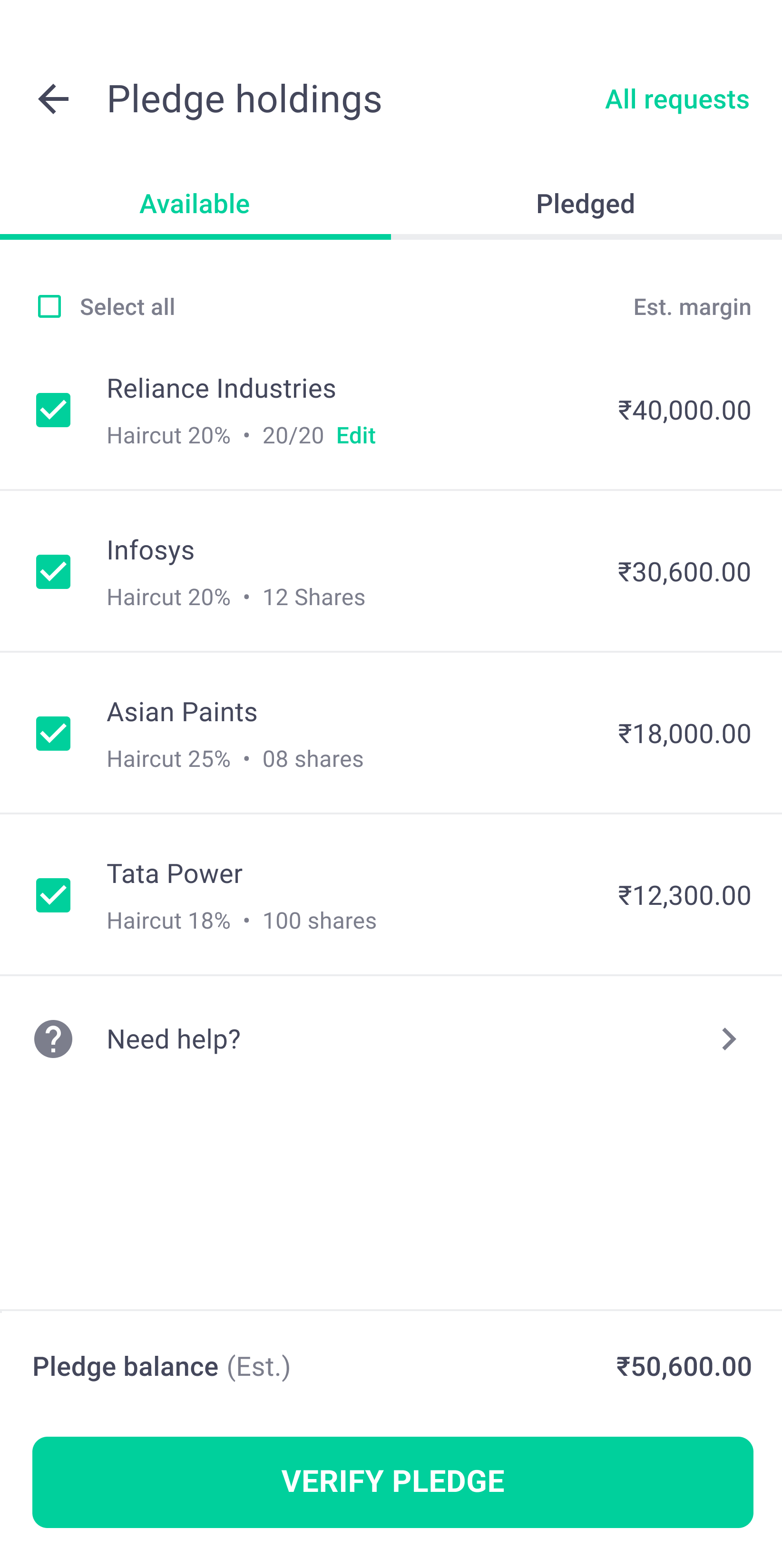 Step 3: You can edit the quantity of the stock you want to pledge. (Here you can see the total margin you will receive and the total haircut levied)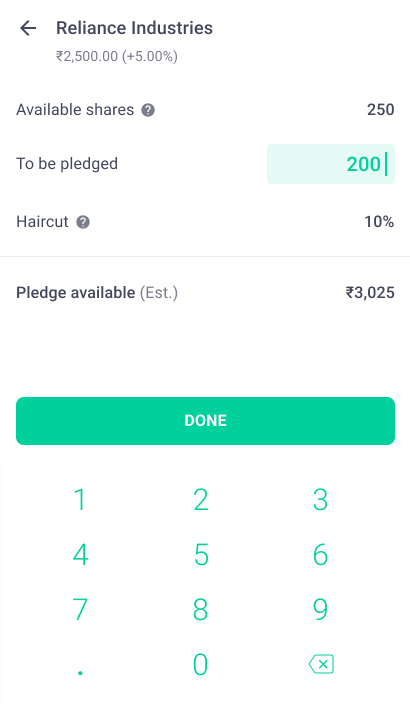 Note: No interest or charges will be applied to the usage of pledged margin.
Step 4: Click on the 'Verify Pledge Button'. After clicking, you will be asked for an OTP. On filling in the OTP, you will be taken to another screen i.e. 'All Request'. You can check your pledge status in the order details menu.
In Groww, you can use your pledged margin for the following:
Option buying

Option selling

Futures

Intraday
How is Margin Allocated in My Trading Account?
Margin allocation is different for different stocks. While pledging only a certain percentage of the total pledged value will be allocated to you in your trading account and a certain percentage will be deducted as haircut.
As different stocks will have different haircuts, the total margin that will be allocated to you will depend on the stock. Which stock has how much haircut is available on the 'Pledged Shares' screen on Groww.
Things to Keep in Mind About Margin Before You Pledge Your Shares
As mentioned before, the funds that will be disbursed to you after you pledge your shares will only be a certain percentage of the share value. For example: If you have pledged 1 share of a company whose current market price is Rs 2,580 and it has a 20% haircut, you will receive Rs 2,064 which is 80% of the market price.


The margin that you will receive will be based on: the previous day's closing value or the last traded price, whichever is lesser while accounting for the haircut as well.



The margin given by the broker will change every day according to the value of the pledged stocks. For example, if the pledged share of Reliance Industries loses its value by Rs 30 then there will be a decrease in the collateral margin as well.
How to Unpledge Shares on Groww?
You can only unpledge your shares if the position taken from the pledged margin is closed and not active.
In order to unpledge your shares on groww you have to follow the following steps:
Step 1: Click on your profile and open Groww Balance dashboard.
Step 2: Click on 'pledged balance'.
Step 3: You will find all the pledged shares on the next screen.
Step 4: Click on the unpledge button next to the stock you want to unpledge.
Step 5: Enter the quantity and then click on unpledge .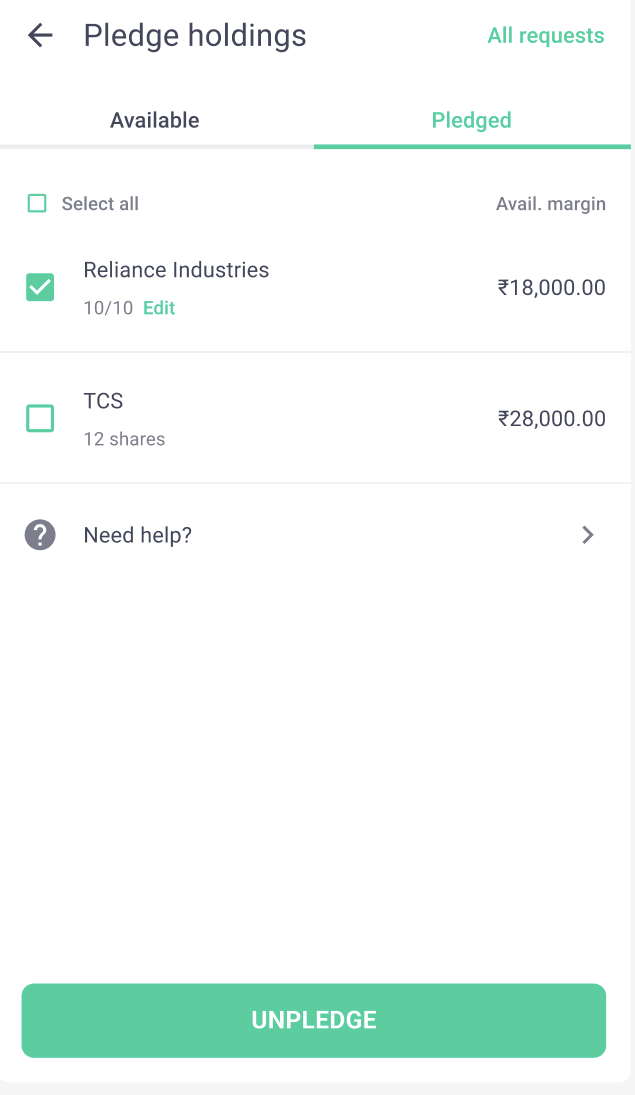 However, you cannot unpledge shares if the position or trade taken from the pledged margin goes into negative .
For example : After pledging you shares you have received a margin of Rs 1 lakh. You traded with that pledge margin and that trade goes into a loss. In this situation you wont be able to unpledge your shares.
Charges on Pledging and Unpledging
Per Request: Pledging is free of any charge. On the other hand, Rs.20 plus GST is levied per request per scrip basis as a charge for Unpledging. This charge is for a request and not the quantity.
Example 1:
Say you pledge 50 shares of Reliance Industries, 20 shares of CDSL and 30 shares of ITC. No charges will be levied on pledging. But on unpledging, charges will amount to Rs 60 (Rs 20*3).
Example 2:
Let's consider another situation. Say you unpledged the above-mentioned shares in example 1, and on the same day you unpledged additional 20 shares of Reliance, you will still be charged Rs 60 because the unpledging charge is per scrip. So, according to this example, you would have been charged Rs 20 for unpledging 50 shares of Reliance and nil for pledging, since it is free of charge.
The margin received after pledging your shares can be used to trade stocks and F&O without any charges levied on it.
Negative Balance: There are some charges that are levied when your account goes into a negative balance. Let's understand in detail when can you run into a negative balance
Other Charges
If 50% of your traded margin is not available in your Groww Balance at the end of the day, then it will be considered a cash shortfall.
For example: Say you traded for Rs 1 lakh, and if at the end of the day your Groww Balance is Rs 20,000 which is lesser than 50% of your traded margin of Rs 1 lakh. This means that you have utilised Rs 80,000 of your pledge balance.
Since your pledge balance is more than what you had in your Groww Balance, you will be charged 0.045% + GST on the remaining amount which is Rs 60,000 (80,000-20,000)
If your Groww balance becomes negative, you will have to pay a daily charge of 0.045% + GST. Your Groww Balance can become negative if your losses are more than your opening Groww Balance.
What Happens if This Situation Prolongs?
Your position will be liquidated if your negative balance crosses 80% of the pledged margin. For example: If your pledged margin is Rs 1 lakh and your position is showing a loss of Rs 80,000 then your position will automatically be liquidated by your broker.



If you continue maintaining your negative balance and pay the daily negative balance charge till the 60th day, your pledged stocks will be liquidated
Collateral Benefits Will Stop
On the fifth day of paying the daily charge, collateral benefits will be taken away. Your stocks will remain pledged but you will not be able to use the collateral margin until your balance is positive.
How to Avoid Negative Balance?
In order to avoid automatic liquidation, you should either add more funds to your Groww Balance to make it positive or sell your holdings.