If you are going to file your income tax returns this year, this is an important read. It is mandatory to link your Aadhaar with PAN to file your income tax returns. The last date to link your Aadhaar with a PAN card is extended till March 31, 2022.
In case someone fails to link, the PAN card will become inoperative. If someone links the cards after the deadline, they will be liable to pay a penalty of Rs 500 if they link within the first three months after the deadline. After three months, the penalty amount will be increased to Rs 1000.
This article explains the procedure to link your Aadhaar and PAN cards so that you can be ready for the tax-filing season.
How to Link Aadhaar with PAN to file Income Tax Returns
When filing your ITR, it is crucial to link PAN with Aadhaar unless the taxpayer is exempted under some instances. These include the following:
Non-Resident Indians (NRI), Persons of Indian Origin Card (POI), Overseas Citizenship of India (OCI), etc., who are conducting their businesses in India do not have to link PAN and Aadhaar card.
Foreign nationals residing in India are exempted from linking their PAN and Aadhaar card mandatorily.
People residing in Assam, Meghalaya and Jammu &Kashmir are exempted from linking the two documents.
People above 80 are also exempted from linking PAN and Aadhaar cards.
Procedure for Linking Aadhaar card and PAN card
Linking via Online Method
Visit the e-filing ITR website (www.incometaxindiaefiling.gov.in/home)
You can go on the quick links as mentioned on the homepage, where you can find a LINK AADHAAR option
Enter your Aadhaar and PAN number
Enter your name as per your Aadhaar card.
Tick the box, " I have only Year of Birth mentioned in Aadhaar card" this applies only to those who have just the birth year mentioned in place of Date of Birth (DOB). You also have to select the option that says you agree to validate your details.
Click on the Link Aadhaar button.
On the next screen, you will have to enter an OTP that is sent to your mobile number.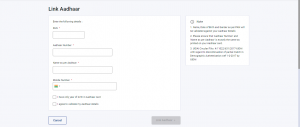 Linking via SMS Method
You need to send an SMS to 567678 or 56161 from their registered mobile number in the following format:
UIDPAN<SPACE><12 digit Aadhaar><Space><10 digit PAN>
Sample PAN: AKPLM2124M
Sample Aadhaar: 123456789123
Example SMS: UIDPAN 123456789123 AKPLM2124M
Takeaway
An Aadhaar card provides multiple benefits to a user, including Direct Benefit Transfer, Jan Dhan Yojana accepting Aadhaar, etc. Similarly, your PAN card is used for various financial transactions every day.
Therefore linking the two documents will allow the government to curb incidents of tax evasion and track every transaction. So, link your Aadhaar with PAN if you haven't already!
Disclaimer: The views expressed here are of the author and do not reflect Groww.