The stock of Asian Paints, one of the leading paint makers in the country, rallied nearly 32% in the past year. Thanks to the re-opening of the economy from Covid related restrictions, pick-up in real estate demand, the release of pent-up demand, and lower crude oil prices (in the first two quarters of 2021) have helped the company. Raw materials of paints are derived from crude oil. 
The rising crude oil prices due to the Ukraine-Russia conflict and concerns over inflation (with Fed rate hike), and the possibility of crude-oil supply constraints have dragged the performance of Asian Paints. In the past six months, the stock of Asian Paints was down 6% (since January this year, it's down 11%). 
So why does the stock of Asian Paints attract investors' attention? The stock is known for its resilience and steady returns over a long period. 
But that's not all. Let's understand Asian Paints better.  
About Asian Paints
Asian Paints is considered a market leader in the Indian paint industry with operations spread across 15 countries. It has 26 manufacturing plants globally (including plants in India). 
While Asian Paints derives 70-80% of revenue from paint manufacturing, the company is also into chemicals, wall covering, waterproofing, adhesives, sanitisers and kitchen and bath fittings.
Asian Paints commands nearly 50% market share in the domestic paint market. And slightly over 60% market share in decorative paints business segment (mainstay business) in the country. Its product range and extensive distribution network are strong points for its market dominance. 
Its size in the scale of operations, brand positioning, pricing and the company's fundamentals plays a crucial role in attracting investors from various categories.
Why do investors like Asian Paints?
Asian Paints' promoters and promoter groups hold about 53% of the stake in the company as per the recent shareholding pattern (December 2021). Individuals with shareholding up to Rs 2 lakh (retail investors) hold up to 12%, and institutions hold 28% of the company's stake and others hold about 7%. 
The shareholding pattern of Asian Paints had been on similar lines for an extended period.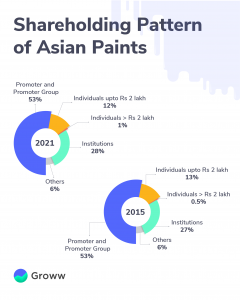 Here is why Asian Paints hold investors' attention. 
Market position
Asian Paints is considered a market leader in the paint industry in India, commanding 50% of the market share. Here are a few points that support this: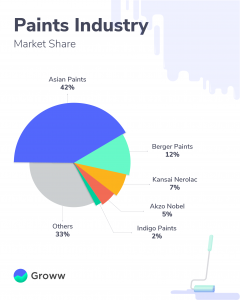 Distribution network
Asian Paints has one of the largest dealer networks with over 70,000 dealers with over 6 lakh retailers compared to its peers in India. For instance, Berger Paints, a close competitor for Asian Paints, has a distribution network of around 25,000 dealers. Further, additional investments in technology and distribution channels helped Asian Paints speedy distribution of paints to its dealers.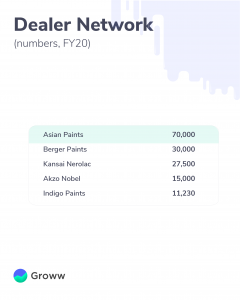 Product pricing
Asian Paints has invested in technology that helps achieve operational efficiency. According to multiple reports, this has allowed Asian Paints to keep the price hike (whenever required) to dealers bare minimum, unlike competitors. The distribution network and pricing advantage have helped Asian Paints penetrate the Indian markets better than its peers. 
Range of products 
Asian Paints derives nearly 84% of its revenue from the decorative paint business segment. The remaining revenue of around 20% comes from international business, industrial paints, and home improvement business segments.
Decorative paints
Under the decorative paints segment, the company offers a premium range of products such as Royale Aspira, Royale Health Shield, and Royale Atmos. It also has economy range of paints. 
Asian Paints' economy range (including putty, distempers, and primer) helped it to maintain its topline during the 2020 lockdown. After the lockdown was lifted, sales of other categories picked up, especially anti-bacterial protection products such as Royale Health Shield have started improving. 
In the recent December quarter of FY22, the company reported 33% volume growth in the decorative business (domestic), while in the September quarter of FY22, the volume growth was 11%.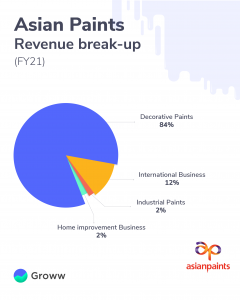 Industrial paints
The industrial paints segment consists mainly of powder and protective coatings, industrial coatings, and resin manufacturing. These cater to primarily automobiles and coatings for industrials such as metal components, railings etc.
During Covid-induced economic slowdown, industrial paints faced sluggish demand. But the decorative segment was able to cushion the blow on revenue. 
With the recovery witnessed in the auto industry and other industries, the industrial paint segment across paint makers could see improvement as well. 
The recent December quarter of FY22 show some positive signs already, where the company registered double-digit volume growth.
Financials
Asian Paints reported annual average revenue growth of 8% (CAGR) between FY21 and FY17. And its profit during the same period grew around 13%. During this period, the company's borrowings had been stable. The company maintains its debt-to-equity ratio at less than 1 time. It is an indication that the balance sheet of the company is healthy. 
In the December quarter of FY22, Asian Paints' revenue rose 25% y-o-y. Profit fell 18% y-o-y during the same period.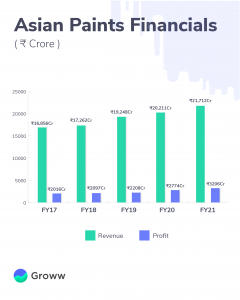 Concerns with the stock
Crude oil impact:
The raw materials for paint companies are crude oil derivatives such as zinc oxide, titanium dioxide, solvents such as turpentine and other additives. An increase/decrease in crude oil prices directly impacts the cost of raw materials for paint companies. 
Raw materials costs account for about 50% of its revenue (nearly 55-58% of its total expenses). So, any increase in this, affects the operating profits and puts pressure on the margin. 
Recently, the company has taken a price hike (of 15-18%) across its product segments to compensate for the increase in raw material costs. According to the management, the hike's impact can be realised in the next quarter. 
Valuation:
As of March 2022, it is trading at a valuation of nearly 100 times its trailing 12-month earnings. Berger Paints is trading at 91 times. It indicates higher growth expectations from Asian Paints. Therefore, investors could be better off if they exercised caution while investing in Asian Paints, considering the upside and downside risks. 
Prospects
According to media reports, India is the world's third-largest consumer of paints (by volume) and is expected to grow in the coming years. There are a few reasons for the same. 
A strong push from the Government under the scheme of housing for all could help in increased demand for paints. 

The shortening of the repainting cycle helps the paint industry. From 8-10 years, the repainting demand has come down to 3-4 years. 

Rapid urbanisation, and expansion of paint companies to tire II and tier III cities are other factors that are positives for paint demand and paint companies. 
To read the RA disclaimer, please click here.
Research Analyst: Bavadharini KS