One of India's leading IT players, Tata Consultancy Services (TCS), announced its share buyback plan in January. The record date for the same is fixed on February 23, 2022. This is for identifying the eligible shareholders whose shares will be bought back by the company. TCS has approved buybacks for its stocks three times since 2017.
The company announced that it would be buying back up to 4 crore full-paid up equity shares or 1.1% of its equity with a face value of Rs 1 each at a price of Rs 4,500 per share. The buyback plan will cost the company nearly Rs 18,000 crore. The company is offering to buyback its shares from existing shareholders at a premium of nearly Rs 770 per share. 
As per the SEBI share buyback norms, 15% of the company's offer size is reserved for small shareholders with up to Rs 2 lakh as on record date (February 23, 2022). As a result, a minor shareholder can participate in the buyback by putting no more than 44 shares on the table.
How to know you are eligible for the TCS buyback
The record date for the TCS buyback is February 23. This means that if you had TCS shares in your demat account as on record date, you will be eligible for the buyback. However, there are more conditions you need to consider before applying.
Entitlement Ratio: The entitlement ratio for the TCS buyback is 1 equity share for every 7 shares of TCS held by you.
Case 1: This means that if you hold at least 7 shares, 1 share will definitely be accepted by TCS for the buyback; and this will go on in multiples of 7. 
Case 2: If you hold 14 shares, at least 2 will definitely be accepted by TCS. 
Case 3: Say you offer 3 shares for the buyback and you hold 14 shares, 2 shares will be accepted by TCS. The decision on the one extra share will be decided upon when TCS announces the buyback results.
Case 4: If you hold less than 7 shares and you offer some or all of them for the buyback, there will not be any guarantee that your shares will be accepted. You will get to know the results once TCS announces them.
If you offer more shares for the buyback than you are entitled to, in case of case 3 and 4, they may or may not be accepted by TCS. These extra shares will be blocked for sell transactions till TCS buyback results are announced. 
Buyback results are usually announced in 7 to 12 working days after the last day of the buyback window.
How to apply for TCS buyback on Groww
You can now apply for the TCS buyback on Groww. Do note that this feature is only available on the Groww website for now and not on the mobile site and the app.
Step 1: You can search for the TCS buyback in the search option on the Groww website.

Alternatively, an option to apply is also available in our Help and Support section.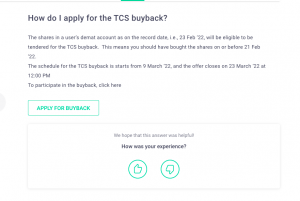 Step 2: After you land on the TCS buyback screen, enter the number of shares you are eligible for and click on sell.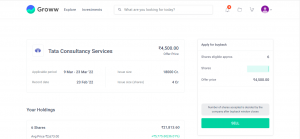 Step 3: The next screen will give you a detailed snapshot of your TCS buyback application.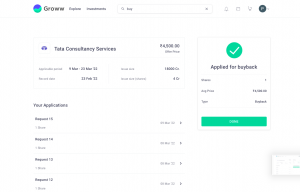 You may have to complete your e-DIS verification before you sell. As per a SEBI rule, you can only sell your stocks if your holdings have been verified.
TCS at a Glance
TCS is a multinational technology and IT services company with a market cap of Rs 13.24 lakh crore. And its revenue has grown at 8.41% CAGR over the last five years compared to the industry-wide revenue growth of 8.75%.
However, TCS has the highest Return on Equity and Return on Assets amongst its peers at 37.74 and 25.93, respectively. It also has the highest net profit margin at 19.38. The company also boasts of the highest Return on Capital Employed (ROCE) at 56.33 in the large-cap sector, indicating that more profit is being generated for every buck used as capital.
In Q3 FY22, TCS reported a 12% YoY increase in its PAT at Rs 9,769 crore while its revenue from operations increased by 16% YoY to Rs 48,885 crore. The company is currently sitting on a total debt of Rs 7,795 crore, while its total liabilities are mounting to Rs 42,884 crore. The company has been battling high attrition rates like its peers and announced an interim dividend of Rs 7 per share.
Advantages of TCS Buyback
The buybacks are part of TCS's long-term principal allotment policy of returning excess cash, back to its shareholders. And reducing the number of shares traded in the open market.

Buybacks generally indicate that the company has set aside an emergency corpus and has surplus cash, wherein the business's possibility of an economic downturn is less.

Boosts the investor's confidence in the company since it adds value to their capital.

Excellent opportunity for TCS shareholders who want to make short-term gains.

Buyback reduces the number of shares being traded in the market; this may drive the demand up, increasing the stock price.

With fewer shares being traded in the market, the company's Earnings Per Share (EPS) may rise.
Disadvantages of TCS Buyback
Due to the company's gigantic size and market capitalization, the buyback may have a marginal effect. It may not provide an uptick to the stock, already one of India's most expensively valued IT stocks.

While the buyback may lead to short-term profit, investors might miss out on the long-term gains with TCS projecting strong growth in an environment where the demand for tech and IT services is at an all-time high.

An upswing in the EPS may make the share prices artificially inflated for a small period of time.

The funds being used for the buyback could have been used for other investments. It may have been productive and profitable.
Valuation view 
TCS trades at 43.27 times its earnings (PE) against the industry average of 37.96. Its P/B ratio is 16.11 against 9.15%. While the stock of TCS is considered expensive by many experts, it has a dividend yield of 1%. It is one of the highest in the industry. Promoters hold the company's majority shares with ~15% FII holding and have pledged 0.34% of its promoters' shares.
The company is the most significant player in India's IT services and consultancy segment. And is the second-most valued company in the country after Reliance Industries.
*All figures as of February 21, 2022
To read the RA disclaimer, please click here.
Research Analyst: Bavadharini KS