Mutual funds investment these days are made easy. There are multiple platforms, including Groww, where you can directly invest in mutual funds. However, these digital platforms (direct and brokerage) have come up only in recent years. Some would have invested in mutual funds through individual fund houses' websites. So for them, it is essential to stay updated on portfolio returns.
So if you are one such investor, you can check all your funds' performance through a consolidated account statement. She is popularly known as CAS. Note that, it is available for all investors.
To help investors handle mutual fund information quickly, the Securities & Exchange Board of India (SEBI) amended for all mutual fund investors to obtain a CAS.
What is it?
As the name suggests, the mutual fund consolidated account statement consists of all the mutual fund holdings of the person he might have invested over a given period of time. In addition, the document provides information about all your mutual fund investments, including their NAVs, market value, and returns.
The whole purpose of consolidated account statement mutual fund is to keep the investor informed about the performance of the mutual fund in which they have invested their money.
How To Generate CAS Online?
You can generate your CAS via CDSL, NSDL, AMFI, or even CAMS. For explanation purposes, CAMS is considered as an example.
Go to www.camsonline.com
Step 1: Click on Investor Services from the menu bar. And select Mailback Services from the menu on the left.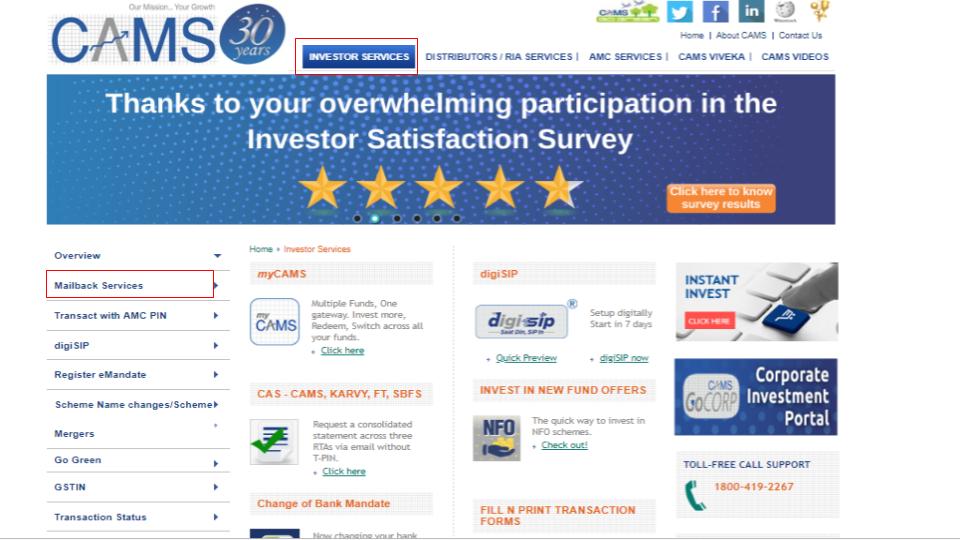 Step 2: Click on Consolidated Account Statement 'CAMS+Karvy+FTAMIL+SBFS'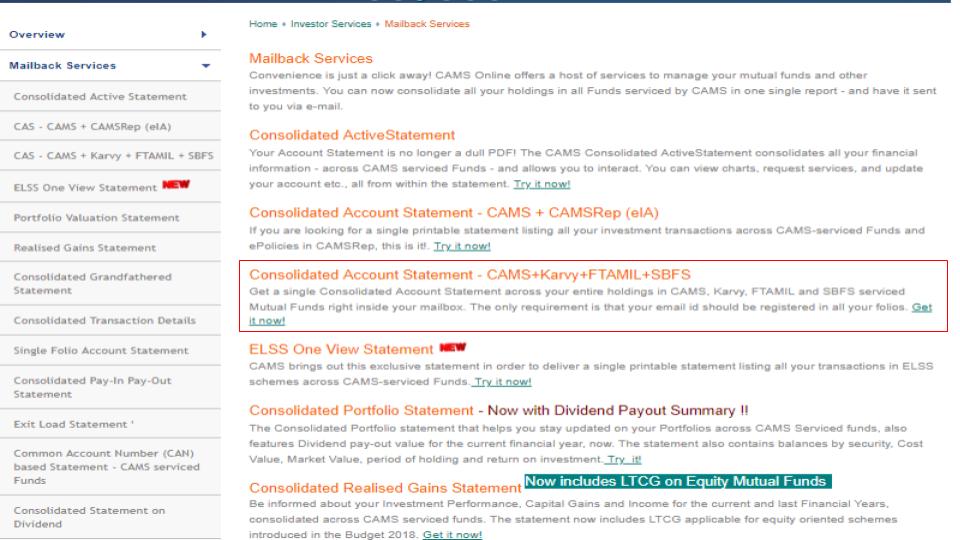 Step 3: Provide details regarding registered email and password (CAMS will send this password). Also, specify the statement time and the period for which you want to know the nature of your holdings. After that, click on Submit.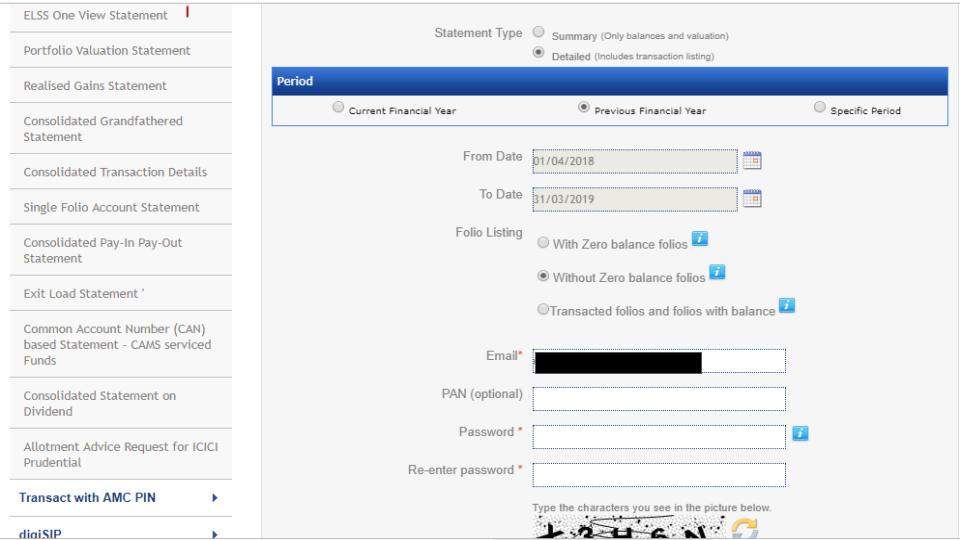 You will get the CAS statement from CAMS on your registered email ID by clicking on Submit. To open and view your statement use the password you provided.
You can also download CAS free of cost from other platforms, including Karvy, Franklin Templeton, and Sundaram.
What Are The Benefits Of CAS?
Here are a few good reasons why you should have your consolidated account statement with you:-
1. Helps In Fund's Performance Review
You can use CAS to review your mutual fund portfolio to check if your investments are in profit. And you could decide whether you should stay invested in a particular fund.
2. Reduces Paperwork
CAMS consolidated account statement is a one-stop shop for all your financial investment data. In addition, it helps in reducing paperwork as you can monitor your portfolio under one report.
3. Helps You Understand Your Tax Liability
CAS provides detailed information about your transactions which can be used to identify your tax liability. CAS can be used to avail tax deductions along with tax-saving investment proof.
Disadvantages of A Consolidated Account Statement
The main disadvantage of using consolidated statements rather than individual company reports is that they can be very time-consuming to prepare.
In addition, because each firm maintains its accounting records, it takes more time to compile all of the data into a report that accurately reflects its financial situation.
Another disadvantage of using consolidated statements is that they do not provide as much information as individual company reports. They only show one line item at a time, limiting their usefulness when comparing companies' performance or analysing trends in a particular industry or sector.
While CAS is a one-stop place to view your entire portfolio, it doesn't provide information about the fund houses. The CAS also doesn't contain any details on the company's performance. What are the companies where fund houses invest?
What Details Does CAS Show?
It can contain basic information, including name, email, date of birth, contact number and bank account details.
Apart from basic information, it also contains details such as holding units, unique client codes and the International Securities Identification Number of all securities in your portfolio.
A CAS consists of all information regarding the switching or merging of funds using financial purchases and transactions.
You can also see details of dividends or bonus payments that funds have given. It also includes specifics regarding reinvestment or a New Fund Offer.
CAS also shows details of the investment mode (lump sum or Systematic Investment Plan) along with closing and opening share unit portfolio balances.
Take note
While CAS is a one-stop place to view your entire portfolio, it doesn't provide information about the fund houses.
The consolidated account statement CAMS doesn't contain any details on the company's performance. That are the companies where fund houses invest. Because the purpose of these statements is to give you a complete picture of your financial situation, take time to review them. From income and expenses to breakdowns of loans, investments and retirement accounts, your cashflow statement will help you get a firm grip on your current financial situation.
Happy Investing!