In the absence of direct mutual fund platforms, the majority of mutual fund investors invested through distributors or advisors or any other third party channels. While doing so, you end up investing in the 'regular' plan of a particular fund. Regular mutual funds have a higher expense ratio which has a tendency to diminish your return on investment.
With an increase in digital outreach and a surge in fintech platforms, it has become easier for investors to participate in markets and mutual fund investments.
About Direct Plans
Direct plans of mutual funds are those that are either sold directly through the mutual fund company. Online platforms like Groww also provide direct mutual funds and provide a gateway to connect you directly to the AMC. All plans on our platform are direct plans.
Read on to find out more on how to convert your regular mutual funds to direct mutual funds on Groww.
How to Switch Regular Plan to Direct Plan
1. Go to your Dashboard and select the regular fund you want to switch.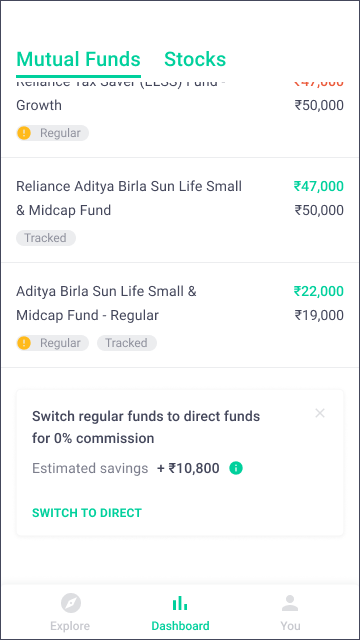 2. Tap on the fund you want to 'Switch to Direct'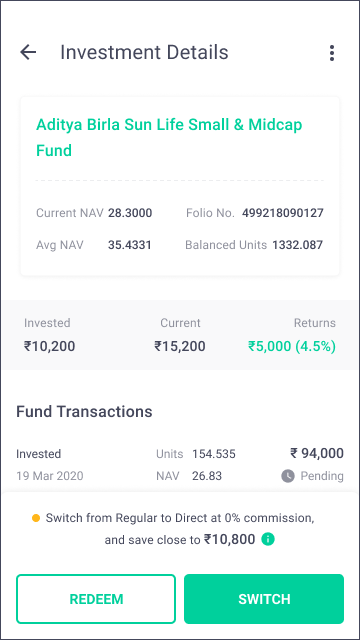 3. Click on 'Switch' and click on 'Select Direct Fund'.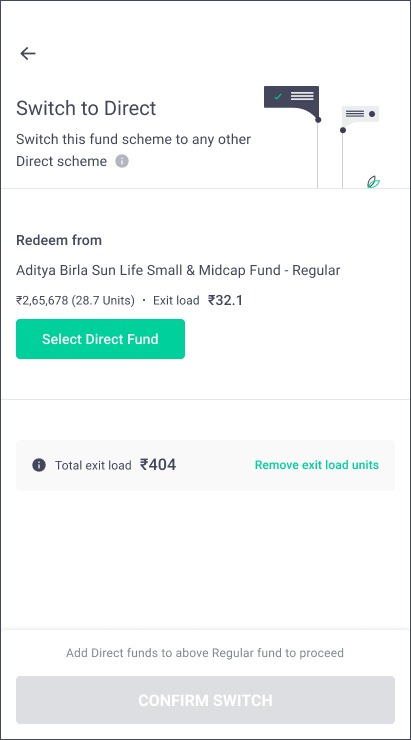 4. The next screen will list down the funds you can switch to. Please note that you can either switch to the direct plan of the same mutual fund or any other direct mutual fund of the same AMC. You can use the search bar to look for more funds.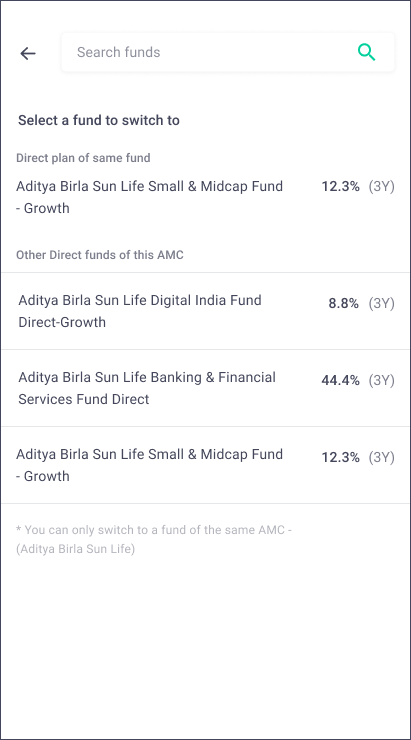 5. Select the fund, check the details and 'Confirm Switch' on the next screen.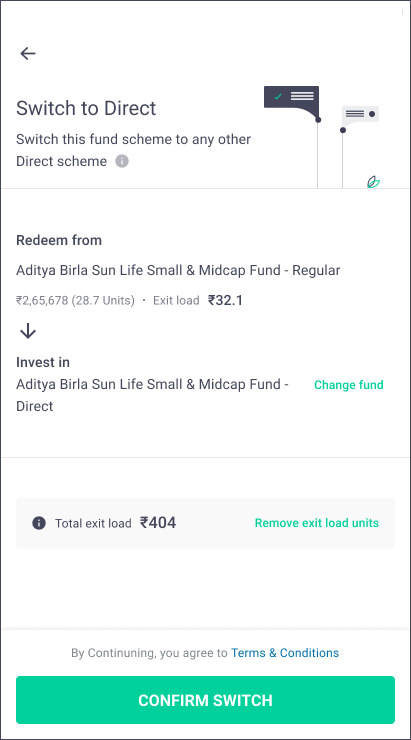 6. In the next step, the app will ask you for confirmation on switching and show a few disclaimers you need to take care of. Click on 'OK, Switch Now' to confirm.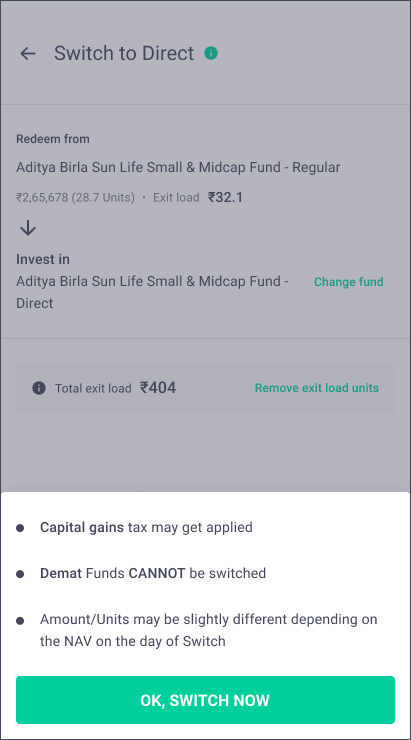 7. At the end of these steps, you will get a confirmation that your 'Switch to Direct' has been successful.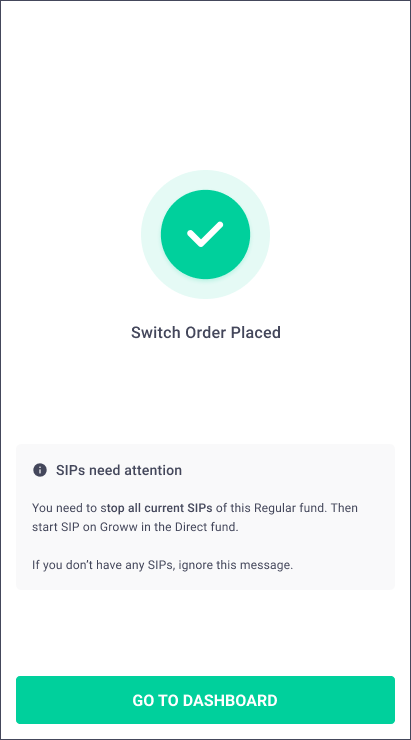 How Does This Benefit You?
Before the advent of online investment platforms, most of us were dependent on advisors, distributors and other third-party channels for our mutual fund investments. While investing in mutual funds through these channels, you end up investing in the 'regular' plans of mutual fund schemes that charge a higher expense ratio than 'direct' plans of the same schemes. While investing in direct funds, which is essentially investing on your own, does require a bit of research from your end, but the expense ratio is lesser.
FAQs
What are regular mutual funds?
Funds that are purchased and sold via financial intermediaries are referred to as regular mutual funds. In a regular plan, the mutual fund company pays a commission to the intermediary. This is then recovered as an expense from the plan. In mutual funds speak, the expense ratio is higher for a regular plan.
2. What are direct mutual funds?
As the name suggests, in direct plans, investors can buy the fund directly from the AMCs or online platforms bypassing financial intermediaries. Since there are no third-party agents involved, there are no commissions and brokerage. Hence the expense ratio of a direct mutual fund is lower. Thus, the return is higher due to a lower expense ratio.
3. Difference between the expense ratios of direct mutual fund and regular mutual fund.
As the fund houses do not require paying any commission to the distributors selling direct plans, the operating expenses of such plans are lower as compared to regular plans. Basis the fund category, the operating expenses of direct plans is up to 1% lower than their regular counterpart, which translates to lower expense ratio for direct plans.
4.Are there any switching charges?
There are no switching charges as such but exit load and capital gains tax might be applicable.