If you are someone who is keen on pursuing a career in stock markets and constantly looks for courses on various online platforms then the NISM course could be the one for you. It is among the best options available out there to kickstart your finance career. 
We are going to discuss everything about the NISM certification in this blog. Keep on reading! 
What is NISM Certification? 
The National Institute Of Securities Market (NISM Certification) is the educational arm of SEBI (Securities Exchange Board of India). It is a public trust that was founded in 2006 by SEBI, conducting a wide range of courses. These include currency derivatives certification, investment advisor, merchant banking certification and so on.
It provides market players with credentials. The institute has six schools and educates people on the professionalism and standardization of the securities markets.
NISM certification is open to all individuals with any educational background including professionals, employees and students.
The NISM has the following certifications in their programs which add to their educational qualifications and skillsets.
You Might also be interested in – How to Build a Career in Stock Market?
Eligibility for NISM Certification
NISM conducts certification examinations for various Securities Market Participants and Intermediaries as mandated by the Securities and Exchange Board of India (SEBI). 
However, anyone who is keen on learning about the Indian Securities Markets may also take the exam. 
There is no eligibility requirement with regards to age or no pre-requisite educational qualification needed to take the NISM exam.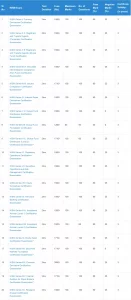 How to Register for NISM Certification Exam? 
NISM conducts Certification Examinations across more than 150 cities in India using the network of its Test Administrators. To appear for NISM Certification Examinations, you need to follow the following process:
Create an NISM account by registering online at

https://certifications.nism.ac.in/.

You will have to provide your personal details & ID Proof.

Activate your account by clicking on the activation link sent to your registered email id. Your account will be verified within 72 hours.
Post account verification, login to NISM Certification Portal using registered email ID and password and select "Enrollment" -> "Enroll For Examination".
You can now select the required exam, preferred city, test center, date of exam & exam slot and then proceed for online payment. Post payment, you will receive your admit card.
Visit the selected Test Center along with the Aadhar card and an identity proof (PAN Card, Aadhar Card, Passport or Driving License)
Why Take The NISM Certification Exam? 
If you are wondering why you should take the NISM Certification exam, here are some of the reasons that you should consider: 
The exams and the institution are backed by SEBI. As a result, they are well-known in financial institutions across the country.

The NISM credentials will look great on your CV. Having these qualifications boosts your chances of landing a job in the finance industry.

The study materials provided by NISM are comprehensive. It assists applicants in preparing for and passing the exam without the use of any additional resources.

These courses are less expensive than other financial professional courses. A NISM certification course costs between Rs 1500 and Rs 3000.

There are no restrictions on anyone. You can take the test regardless of your academic background. Your curiosity and enthusiasm for this intriguing topic of finance are all that is required.
FAQs on NISM Certification Exams
Who can take the NISM certification? 
Anyone who is keen on learning about the Indian Securities Markets can take the exam. There is no eligibility requirement with regards to age as well as educational qualification to take the NISM exam.
What is the validity period of a candidate's enrollment? 
The validity period of the Candidate's enrolment for an examination shall be 180 days from the time of enrolment.
How to prepare for the test? 
Once a candidate enrols for a particular exam and pays the fee, the candidate would be able to download the soft copy of the study material. While the NISM certification examination is largely based on the study material provided, NISM does not guarantee that all questions in the examination will be from the study material. Candidates are advised to check the latest circulars and changes in the regulations, if any, that have been covered in any examinations.
Can a candidate choose to reschedule the chosen exam date and time? 
Yes, if you wish to modify the exam slot, NISM Online Certification System would allow for one modification request, if made at least 15 days prior to the exam date.