It is December already. Doesn't it seem like 2018 passed way too soon?
And again, it's time to bake your plum cake, take out your woolen clothes and most importantly, plan your income tax as the HR in your organization will soon ask you to seek your original documents as a proof of tax saving.
In this blog, we seek to discuss what the salaried class should do to save tax.
As a first step, it is essential to understand your salary break up in detail. This process shall help you find out how you can save taxes.
Let us start with your payslip –
Basic Salary
This is the fixed component of the salary and is the base as your other components are dependent on this.
1.House Rent Allowance (HRA)
Individuals who live in a rented house/apartment can claim HRA to lower tax outgo.
HRA can be wholly or partially exempted from tax. Please refer to the computation as prescribed by the Income-tax department
2. Leave Travel Allowance
Salaried individuals can get their travel within India exempted from tax.
This allowance is applicable for only short distances and can be availed once every year. Salaried individuals can take only his/her spouse, children, and parents on this trip.
The exemption is allowed on producing original bills of expense.
3.Employee Provident Fund (EPF)
The EPF is a social security initiative wherein both the employer and employee contribute 12 % basic and dearness allowance every month towards employee's pension and provident fund.
The government decides the interest on this saving. Currently, 8-9% is the annual interest that is offered in EPF. The investment matures at the time of retirement, and the employee is paid a lump sum amount.
The interest earned maturity value, is exempted from tax. EPF contribution annually by the employee provides tax relief under section 80C of the IT Act.
4.Standard Deduction
Re-introduced in the 2018 budget, this deduction has replaced the previously used conveyance allowance and medical allowance.
An employee can claim a flat Rs. 40,000 deduction from the total income, instead of stating the bifurcation between travel and health as done previously.
5.Professional Tax
Professional tax is a tax levied by a state and is Rs. 2500 currently. It is debited by the employer and deposited with the state government. Professional tax is allowed as a deduction from your income.
Thus, your cost to company (gross salary) is different from your tax home salary (in-hand salary).
CTC includes the following
Monthly salary
EPF and gratuity
Non-monetary benefits (such as cab, insurance, telephone, fuel)
Your in-hand salary will include
Gross salary received each month.
(Minus) exemptions such as LTA
(Minus) income tax (after all tax saving deduction), professional tax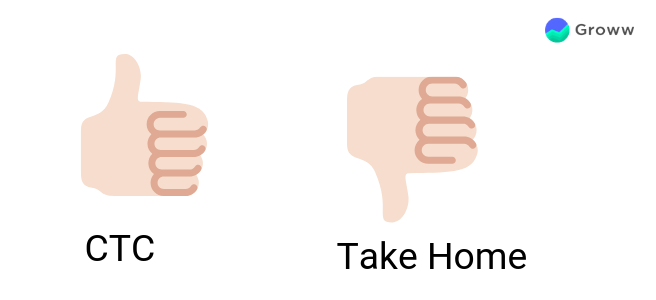 6. Leave Encashment Accounting
Every employer has their leave encashment policy.
While some employers allow for carrying forward the yearly balance, others pay the employees every fiscal/calendar year. The amount of money received for the number of leaves not availed for is called leave encashment.
Leave encashment is taxable as salary but with certain conditions
Fully exempted for central and state government employees
For others, the following exemption is allowed
Ten months average salary preceding retirement or resignation (average salary is only basic and dearness allowance)
Leave encashment received (with a limit of Rs 3 lakhs)
An amount equal to salary for the leave earned (where leave earned should not exceed 30 days for every year of service)
Have a Girl Child? Sukanya Samriddhi Yojana Is the Best Tax Saving Option
The taxable amount is thus the total leave encashment received minus the exemption amount shown above. The taxable amount is then added to salary and is taxed as per the tax slab.
Other exemptions
1.The Exemption Under Section 89(1)
If you have received a portion of your salary in arrears or advance, you are allowed tax relief under Section 89(1).
2.Exemption from the Receipt Upon Opting for Voluntary Retirement
If you receive any compensation on voluntary retirement or separation, the same is exempted from tax.
This provision is detailed in Section 10(10C). However, the exemption is subjected to the pre-requisite that the receipts comply with rule 2BA and the maximum compensation received does not exceed Rs. 5,00,000.
3.Pension
Pension received is considered as salary and thus is taxable.
4. Gratuity
Gratuity is a retirement benefit that is provided by an employer.
An employee is entitled to gratuity upon completing five years of service in that company. However, the amount is paid upon retirement or resignation.
Tax treatment of gratuity is complex and is dependent on the employer's coverage under the Payment of Gratuity Act. Thus, you should coordinate with your HR for further information on this.
Now coming to tax computation and tax saving
Total Chargeable Income
Your net income doesn't only include your salary.
You can earn from rent (if you have any other property), you can gain from capital gain by selling stocks and mutual funds, or may be interested in deposits.
Thus, you need to add all these to get the chargeable income on which tax needs to be paid.
Deductions
The lower your taxable income; lower is your tax liability. There are multiple provisions by which you can lower your taxable income.
For example, under section 80'C' you can save Rs 1.5 lakhs annually. Some of the instruments in 80C are EPF, PPF, five years fixed deposit, Equity Linked Savings Scheme, Insurance policies, etc.
Additionally, you can save taxes if you have a home loan, education loan, medical insurance, children tuition fees and many more.
So, it is advisable to put the best use of these deductions every year before paying taxes.
Also, a part of total income tax is paid regularly when your employer debits the income tax. This tax is called TDS, or the Tax Deducted at Source.
TDS is the portion that is deducted by your employer every month on your behalf and is deposited with the Income Tax Department.
For a salaried employee, TDS accounts for the significant portion of the yearly tax. Your employer will provide a form 16 (TDS certificate) that details the tax deducted.
Based on this, you are entitled to make the remaining payment while filing returns.
The slab at which you will be charged taxes are is detailed as under
| | | | |
| --- | --- | --- | --- |
| Income Slab | Individuals (below 60) | Individuals (80>60) | Super Senior Citizen (>80) |
| Upto Rs. 2,50,000 |  Nil | Nil | Nil |
| 2,50,001-3,00,000 | 5% | Nil | Nil |
| 3,00,001-5,00,000 | 5% | 5% | Nil |
| 5,00,001 – 10,00,000 | 10% | 20% | 20% |
| 10,00,001 and above | 10% | 30% | 30% |
Conclusion
These are some of the basic ways in which a salaried individual can save tax. It is your duty to make sure that you are aware of these allowances and use them to your benefit.
Happy Investing!
Disclaimer: The views expressed in this post are that of the author and not those of Groww