What Is an STP?
STP or Systematic Transfer Plan is a process of transferring money from one fund to another.
Usually, the money is first invested in a debt fund, after which, it is transferred to equity funds. It is apt for investors who do not want to take up an additional burden of timing the market.
How Can You Set Up an STP with Groww?
You have to follow the 3 steps below to set up an STP/SWP with Groww: 
Step1: Invest in the Source fund

The source fund is the debt fund that you will initially invest in.
After you have invested in the source fund, the money will periodically be transferred to the equity fund, which is also known as the destination fund. The destination fund will have to be from the same mutual fund company.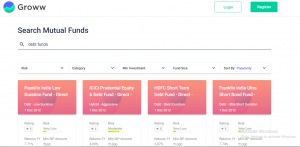 1.You have to first go to the Groww app/website and type 'debt fund' on the mutual fund explorer. After which, you can choose a suitable fund from the many options.
Step 2: Send Us a Request
1. Once you have generated the folio number for your fund  (within 3 working days),  you can send us a request at support@groww.in, with the destination funds you want to invest in (equity funds).
Make sure that the destination fund is part of the same mutual fund company, as the source fund.
For example: If you have chosen HDFC Short Term Fund as your source fund, your destination fund must be an HDFC fund, like HDFC Small Cap Fund  or HDFC Growth Opportunities Fund
2. You will also have to specify the amount you want to set up the STP for, and the frequency(monthly/ weekly) of transfer.

Step 3: Track Your Investments
Once your request is approved and the STP is set up, you will be able to track them on your Groww dashboard within 3 working days. (As shown below)
Note: The minimum amount for the first STP installment is Rs.5000
And Voila! Your STP has been set up.
Happy Investing!