Mutual funds are an investment vehicle that provides investors with a way to diversify their portfolios and increase their returns. A mutual fund is any company that pools money from investors and uses it to buy stocks or bonds on their behalf. The prices of these investments fluctuate daily, so the mutual fund needs to sell them periodically and re-invest the proceeds into a new set of securities. However, there are certain aspects of mutual funds that can sometimes be confusing to investors. One such concept is rounding off.
Rounding off is meant to provide a more accurate representation of the market value of assets in a fund. It also helps reduce volatility in the market by smoothing out price fluctuations over time, which makes it easier for investors to make their decisions.
In the mutual fund industry, there is a practice called 'rounding-off'. This refers to the process of converting the daily NAV of a mutual fund into a monthly NAV by rounding off.
The concept of rounding off in mutual funds is necessary because there could be days when no transactions take place in the market and hence, there is no change in the price of securities held by the fund. In such cases, there will be no change in the NAV of a mutual fund but it would be incorrect to show an unchanged NAV for that day.
This can lead to investors misunderstanding how much money they have invested in a particular scheme. As such, to avoid this confusion and ensure transparency in reporting, mutual funds round off their daily NAV into monthly values with effect from April 1st, 2011.
How are Mutual Funds Bought and Sold?
A mutual fund is basically a pool of money accumulated from more than one investor for the purpose of investment in different asset classes.
They can be bought through investment platforms or even the AMC directly.
Mutual funds, unlike direct stocks, are bought and sold on the basis of units. Let me explain this to you based on an example.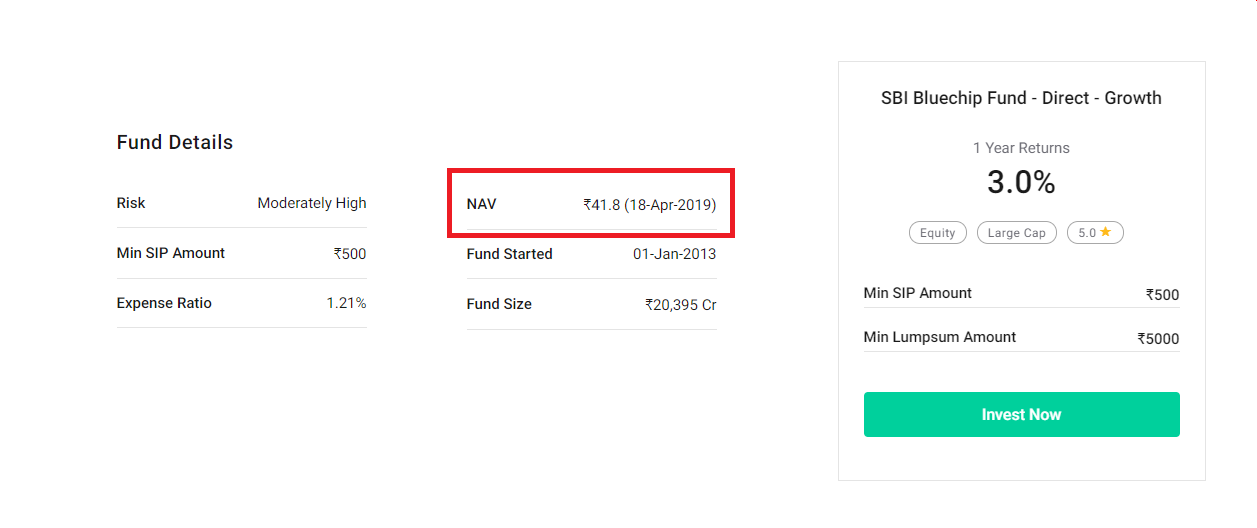 Let's say you invest Rs. 5000 in SBI Bluechip Fund. The NAV of which is Rs. 41. 8. The calculation is as follows:
5000/ 41.8 = 119.61
This means you own 119.61 units of that mutual fund. At this time when you look at your dashboard, you will see that the investment amount will be Rs. 4,999.6.
So where did the Rs. 0.4 go?
When you multiply Rs. 119.61*41.8 = 4,999.6, the 4 paisa remains with the fund itself.
Similarly, many times, you may even get a few paisas extra depending on the NAV of that day.
What is Rounding-off?
The concept of 'rounding-off' in mutual funds has been around for a long time. It is a practice that allows investors to avoid the complexities and costs associated with fractional shares.
Rounding off refers to the process by which a mutual fund company rounds up or down its NAV per unit based on market values at the end of each day. This process helps ensure that all units are valued at Re 1 irrespective of whether they cost more or less than Re 1 at any given point in time. This makes sure that units continue to be traded at a consistent rate so that investors can trade them without having to worry about fluctuations in their value over time.
In India, it is very common for investors to buy shares in mutual funds in fractions – for example, an investor may want to buy 100 units of a fund but only has enough money to purchase 95 units. When this happens, the broker will round up or down depending on whether the purchase was below or above 100 units respectively.
Rounding off is important because it makes things easier for investors – instead of having to keep track of fractional shares and adjusting their holdings accordingly, investors can just buy whole shares as usual and have their broker take care of everything else.
Importance of Rounding-off
Rounding-off is an important concept in Mutual Funds in India. It is the practice of rounding off the number of units of a mutual fund held by investors. This is done to avoid fractional units.
Rounding-off is done by mutual funds because they do not want their investors to have fractional units as they cannot be traded in the secondary market and they would have no value.
This practice helps investors because it ensures that they do not have to hold on to any fractional units which may otherwise be difficult for them to sell or buy due to their small size and lack of liquidity.
Conclusion
If you're looking to invest in mutual fund schemes, it is important to understand the concept of rounding off.
Rounding-off ensures that investors get their investments back in full if they want to withdraw them before a certain date. It also prevents losses for investors who want to stay invested for a long period of time and earn dividends on those investments.