Tata Consumer Products has been making a buzz for a while with its merger announcements. The company has been trying to up its game in the FMCG (fast-moving consumer goods) industry for the past few years. The stock has given over 144% returns to its investors since January 2020. And in the past month, the stock has been up 21%. 
According to many experts, Tata Consumer Products is going in the right direction and is likely to become a key player in the FMCG market. The recent announcement of Tata Coffee's consumer business merger with Tata Consumer Products is a step towards consolidating its FMCG businesses. Besides this, there are multiple points to support the company's ambition. 
While the competition in Indian FMCG is high, with players like HUL in the market, how is Tata Consumer different? 
Brand recognition, consolidation of business segments, and distribution are key factors that distinguish Tata Consumer Products from others. But is it enough for the company to carve a solid market share in the FMCG space? Here are both the positives and negatives of the stock and its outlook.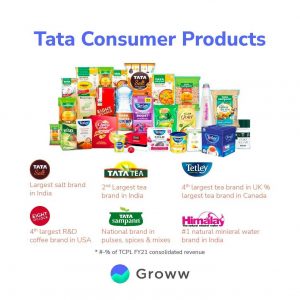 Overview of Tata Consumer Products
Tata Consumer Products is a well-diversified consumer goods company offering various products in the food & beverages segment (F&B). These include Tata Tea, Tetley, Tata Salt, Sampann (pulses and spices), snacks, coffee, water and ready to drink (RTD) or ready to eat (RTE). It also has a retail segment, which comprises premium cafes in partnership with Starbucks in India. It is one of the major players in the FMCG market in India. 
The company operates in the domestic market (India) and international markets, including the US, UK, and Canada. It has a brand presence in over 40 countries.
International beverages (tea and coffee) contribute to about 31% of the company's branded business revenue as of 3QFY22. India's food and beverage business bring up about 69% during the same period. 
Let's understand the company better before investing. 
Key strong points for Tata Consumer
While Tata Consumer Products is one of the major players in the FMCG market, particularly in F&B, the competition is stiff in this space. Here is how the company stands apart in the industry. 
1. Consolidation synergy benefits
Tata Consumer Products has been consolidating its existing consumer operations under one umbrella to build a strong consumer business in the FMCG space. 
For instance, the company consolidated its consumer business (salt, pulses, and spices) of Tata Chemicals into Tata Consumer Products. The scheme of mergers finally became effective at the beginning of 2020. 

Similarly, to augment its market, Tata Consumer acquired a 100% stake in NourishCo Beverages in May last year. The products transferred from NourishCo include Gluco Plus and other ready to drink products. 

Between 2020 and 2021, other notable acquisitions or product transfers include Kottaram Agro Foods, under the brand name Tata Soulfull. The company also acquired the Tata Q brand for ready-to-eat packaged food. 
Thus, in the past two years, Tata Consumer Products has been aggressively expanding in all categories of FMCG, particularly in F&B segments. 
The recent announcement of the merger of Tata Coffee with Tata Consumer Products is in line with the company's plan of reorganisation for operational efficiencies. So, the plan is to demerge the plantation business of Tata Coffee and the remaining business of extraction and branded coffee business will be merged into Tata Consumer. According to various analysts, it is likely to add to its earnings by 3-5%. 
2. Leading player in Tea and Salt
The core business for Tata Consumer Products is primarily driven by tea and salt. With the integration of Tata Chemicals' consumer business in 2020, the combined entity is likely to gain a better market position and distribution network. Further, consumers' rise in branded consumption is expected to benefit the company. Here is how: 
According to multiple reports, 60% of the market share in India is in unbranded tea consumption. For the two leading players in the industry – Tata Tea and HUL, this gives a lot of room for expansion. Considering Tata Tea's presence across the tea segment – economy, mid-income, and premium classes, it could be easier for the company to penetrate the market when compared to HUL or other regional players. 
Further, the outbreak of covid has accelerated customers' preferences for healthy eating and wellness. This shift can be seen in tea categories like green tea and speciality tea. Tata tea includes brands catering to health and wellness segment customers. The company has also introduced a range of herbal teas and teas for immunity building like Tata Teal Tulsi, Tetley Immune, Tata Tea Care, and Tea Veda to cater to health-focused customers. Last year, the company launched Tata Tea 1868, a luxury tea product attracting HNIs customers. These points to the company's expanding tea market penetration in India. 
Tata Consumer Products' Salt is a dominant player in the salt market in India. Though there is competition, Tata Salt holds a leading position as many industry experts. This is thanks to its presence across all consumer segments – economy (Tata salt and i-shakti), mid-income (Tata Salt Plus, Tata Lite) and premium (rock salt and black salt). And there is still scope for expansion in tier II and tier III cities where loose and unbranded salts are still prevalent. Further, Tata Lite and Tata Salt Plus help cater to the needs of health-conscious consumers, which are increasing in numbers. This helps in capturing that market for the company. 
While other players like Aashirvaad and Pantanjali are slowly picking, Tata Salt is likely to be able to maintain its market share and possibly expand as well. This is mainly thanks to its extensive and expanding distribution network.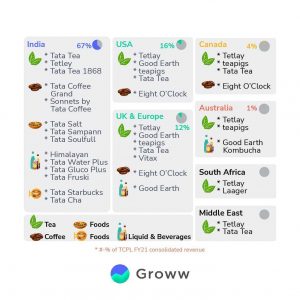 3. New and other products
Pulses and spices

: There are many regional and local players in this market. However, Tata Sampann (brand for pulses and spices) is among a few branded players. While branded pulses have not picked up on a large scale, the scope for growth in this segment is high. Consumer awareness of adulteration, value-addition, hygiene, and quality has risen. This was amplified with the outbreak of the virus in 2020. As per experts in the media, the branded pulses market is expected to grow by 3-4% in the next 2-3 years. 

It is similar with spices, too, like elachi, pepper, and cardamom. But the spices industry in India is highly fragmented, with various regional players dominating each part of the country. For instance, Everest is among the leading player (for spices) in the West and North-West regions. Similarly, MDH in the North and Aachi in the South. Each of these players is strongly positioned in the market in their respective regions. But Tata Consumers, with their pan-India reach and vast distribution network, is slowly making in-roads in the spice market in India. 
Ready to eat:

Ready-to-eat (RTE) and ready-to-drink (RTD) are popular segments that the company aims to dominate. This segment includes your noodles, glucose drink, cornflakes, oat flakes (for health-conscious customers) and other fruit juices.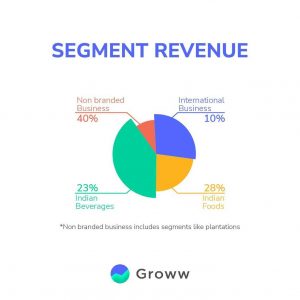 How is Tata Consumer different?
Now that you have understood the company's main factors, let's understand how it differs from competitors. What is it that the company is doing different that could enable its growth? The company is diversified into various business segments, and there are a few points strongly suggest its prospects.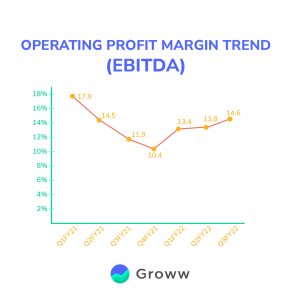 International business:

The company operates internationally, particularly in beverages like tea and coffee. It has made a stable business that is now providing decent returns. The company offers products via Tetley, Teapigs, Good Earth and Eight O'Clock. The variety of products helps the company to sustain itself in the market. These include black and non-black tea, herbal and fruit flavoured tea and coffee pods.

Distribution:

The company has been making conscious efforts to streamline and widen its distribution network with each consolidation of operations. One such initiative is the direct reach to the consumers and expanding its rural distribution. As of FY21, the company's 6.5 lakh outlets billed directly, 1500 direct distributions and about 2000 rural distributors. The company also leverage e-commerce for increasing its reach in the market. In FY21, 5.2% of the total sales were contributed by digital platforms.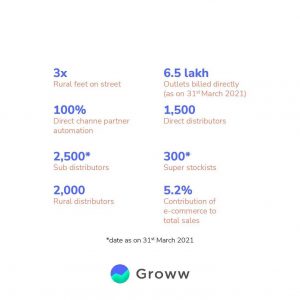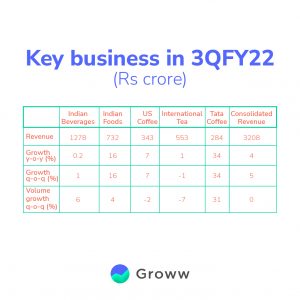 What should investors note?
Before you as an investor consider the stock of Tata Consumer Products, keep the following points in mind: 
While the company is financially sound and has set the strategy (consolidation) for the future, the synergy benefits that the company expects may not be immediate. It is likely to start giving out returns in the next 3-4 quarters.

The company operates in a highly competitive space. Therefore, distribution is key in retaining or increasing market share. There is a possibility that the company, in select segments, may find it difficult to expand. For instance, in the case of spices or coffee, where the dominance of regional players is high.

The competition is likely to intensify, with players like ITC and Adani stepping up their FMCG play. Additionally, existing players like HUL are to be considered. 

Factors such as a rise in inflation (where the company cannot pass on the price increase) and a spell of bad weather (for its tea and coffee plantations) could also impact its business operations.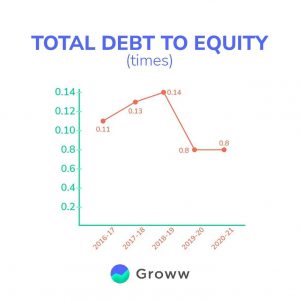 Investors should take note of the valuation of the company. At Rs 2,140, HUL trades at around 57 times its earnings (as of April 5, 2022). But at Rs 804, Tata Consumer Products is trading at 92 times. While it is not the only factor to be considered before investing, it is still an important metric to understand. 
To read the RA disclaimer, please click here
Research Analyst: Bavadharini KS