After the blockbuster year of 2017, asking this question became nearly irrelevant. But with the past few months and rising signs of volatility have forced retail investors to re-think if they should invest in equity mutual funds.
And the answer is straightforward –
Yes, you should invest, "Kyunki Mutual Fund Sahi Hai"
You may wonder kya sahi hai given the fact that the NAV of nearly all the funds is declining. This reminds me of the follow-on campaign which says Patience Jaroori Hai.
Now you may have an idea about why we still ask you to invest in equity fund?
Just because 2017 was a phenomenal year, it doesn't mean that 2018 will be amazing as well!
Think of it this way, imagine you're in college, just because in the first semester your question papers were relatively easy, it does not mean that even in the second semester the papers will be easy.
In fact, NOBODY knows what kind of questions will be asked. And just because the questions were hard, it does not mean that you have to quit the course!
Mutual funds are similar, nobody can predict the market, but it is always advised to remain invested
Sir Donald Bradman – the famous Australian cricketer never scored centuries in all his matches, yet his average was nearly 100.
What does this signify?
Circumstances or the market in this case will not be rosy all the time, but the trick to financial success is to stay in the game, even when you feel like you will lose!
In this article, we seek to discuss why you should invest in equity mutual funds? But before that let us quickly touch upon some background about the mutual fund as many of you misinterpret the fact that mutual funds are also meant for trading.
What is a Mutual Fund?
In simple words, a mutual fund is an investment vehicle that pools money from investors and invests in multiple asset classes such as stocks, bonds, etc.
A fund manager manages the fund, and he/she seeks to stick to the prescribed objective of the fund.
What are Equity Mutual Funds?
Equity mutual funds invest only in stocks.
MF here can be considered as an alternative investment vehicle to standalone equities. One compelling reason to invest in equity mutual funds is that you don't have to spend a significant amount. Even a small sum of Rs.500 can get you exposure to equity.
Should you invest in an Equity Mutual Fund?
Yes, you should. Following are the key reasons why you should consider investing in equity mutual funds.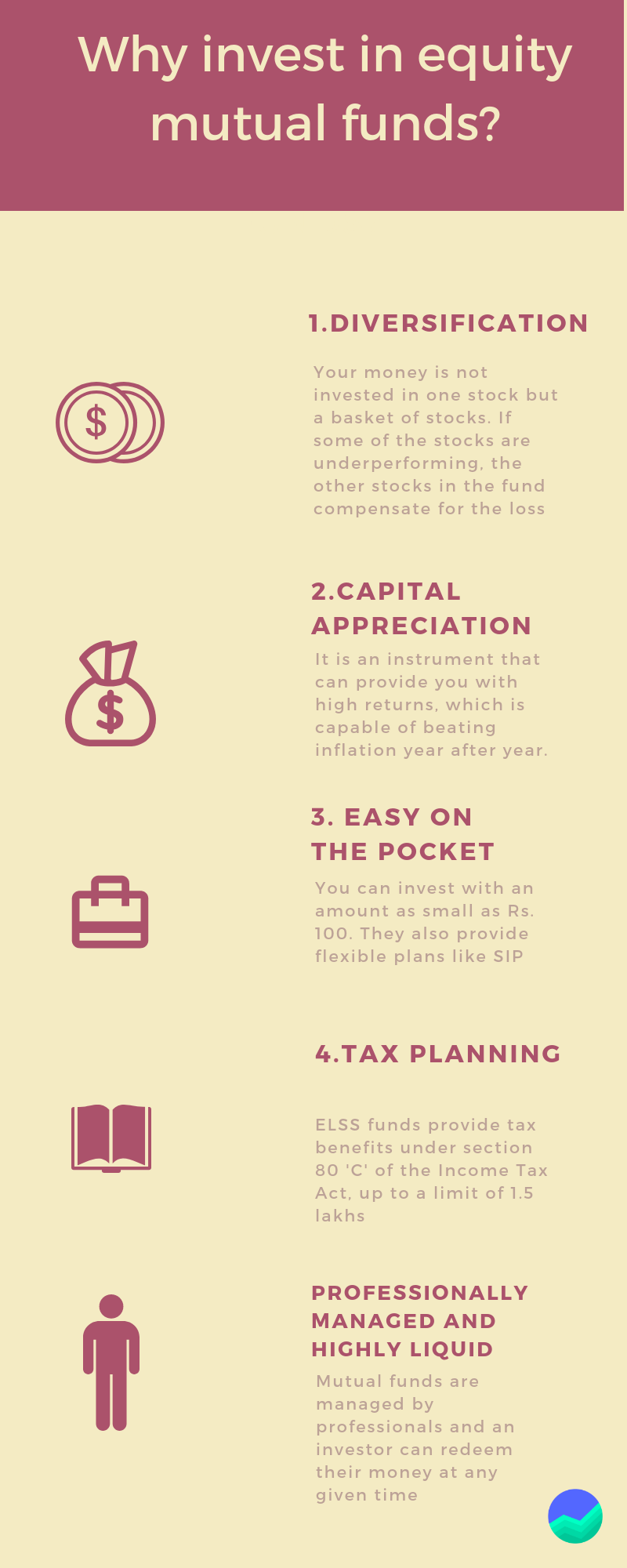 1. Diversification
Mutual funds provide diversification.
This means your money is not invested in one stock but in a basket of stocks. If some of the stocks are underperforming, the other stocks in the fund compensate for the losses.
Hence, you can minimize your overall risk. Please note that diversification doesn't eliminate risk in mutual funds, and some degree of risk is inevitable given the volatility in the market.
2. Capital appreciation
One of the main benefits of investing in equity funds is to get capital appreciation.
It is an instrument that can provide you with high returns, which is capable of beating inflation year after year.
Also, you can also accumulate inflation-beating returns. If there is an increase in stock prices, it would reflect appreciation in the invested money. One can collect a good amount of wealth over a period.
3. Easy on the pocket
Not everyone can afford to invest in MRF Ltd – a share that is priced at nearly Rs 70,000 a stock.
But one can always invest in equity mutual funds for as low as Rs. 100. And this fund in turn can invest in MRF Ltd. Thus, equity funds are easy on the pocket and also provide flexible plans like Systematic Investment Plan, etc.
4. Tax planning
Some equity mutual funds such as Equity Linked Savings Schemes (ELSS), provide tax benefits under section 80C of the Income Tax Act, up to a maximum of Rs 1.5 lakhs annually.
This scheme has a lock-in of 3 years which is the lowest when compared with any other avenues such as five years fixed deposit, Public Provident Fund, NPS, etc.
5. Professionally managed and high liquidity
You may have good qualifications but spending time monitoring your portfolio remains difficult, given your primary work.
Thus, you need someone who can manage money on your behalf.
Mutual funds provide this benefit. Mutual funds are professionally managed funds, whereby the fund managers seek to work in the best interest of investors while abiding by the fund objective and investment philosophy.
These fund managers dedicate their entire time to managing the fund and thus, they can take the right decisions depending on the market movement as they tend to monitor the portfolio and market continuously.
Also, mutual funds come with high liquidity where redemption can be done anytime.
Thus, whenever you need money, you can redeem your investments (except for ELSS funds, where there is a lock-in period of three years). The entire process of redemption and amount crediting to your bank account takes anything between 1-3 days.
Thus, we see enough reasons why you should invest in equity mutual funds.
So, should you invest in Mutual Funds?
Yes, very much if you seek to earn better returns than a fixed deposit and wish to reach your financial goals faster. But, then does this mean that an equity fund is suitable for any investor?
Let us touch upon who should invest in the mutual funds equity market.
Conclusion
Your decision to invest in equity funds should be guided by your investment objective, your investment horizon, and your risk-taking ability.
Typically, an investor who is looking to invest for more than five years should look to invest in equity funds. Equity funds are not very suitable for relatively short-term, owing to volatility in the market.
Happy Investing!
Disclaimer: The views expressed in this post are that of the author and not those of Groww