If you are a stock market enthusiast, the likelihood of you not knowing who Rakesh Jhunjhunwala is as slim as a Bollywood buff not knowing who Sharukh Khan is. And, if you don't know who he is, I am sure after this blog you would go binge surfing about this market maverick. 
Rakesh Jhunjhunwala, a sexagenarian, is a Chartered Accountant by qualification and is one of the most notable investors in the Indian capital market. Jhunjhunwala, often regarded as the Big Bull or the Warren Buffett of India, has made a fortune in the capital market since he started investing in 1985. From humble beginnings with just Rs 5000 Rakesh Jhunjhunwala's first investment, he has amassed insane wealth with his smart investing strategies. But what's the secret sauce of his successful investment recipe? Was he just in the right place at the right time? Or is it an outcome of persistence and prudence? Let's absorb some stock marketing investing gyan from the guru himself and take a sneak peek at the current stocks in his portfolio! Read on! 
Buy Right, Sit Tight 
Jhunjhunwala's stock selection strategy is influenced by the strategy of George Soros and Marc Faber. Jhunjhunwala has often said – trend is the friend and he swears by the philosophy of "buying right and sitting tight". Basing his decisions on fundamentals than market noise or shortsightedness is what has sailed him through. 
If you are a stock market entrant, keep the long term perspective in place. A trader mindset will keep you hooked on to shortsighted buys and sells which may or may not work in your favor. As an investor, you should base your bet on the business model of the company. In simple terms, you should invest in a business if the revenue model has growth potential and is sustainable to the changing environment. Additionally, give due weight to the management capability and integrity of the business as well. 
Knowledge Is Your Biggest Asset
Rakesh Jhunjhunwala made knowledge his greatest ally. He is smart and well versed with the functions of the market. 
Even when the price of his share drops, he keeps his wits about him once he is sure of the stock he has picked for his portfolio.  There is no shortcut to success. Period. The stock market may seem like a fancy place where you can start minting money but the truth is if you enter with half baked knowledge you are in for a bitter surprise. So take the long, trusted, diligent route of researching thoroughly. Educate yourself about the workings of the stock market. Read as much as you can, there is no dearth of resources to quell your queries. However, don't be overwhelmed with the amount of information there is so much so that you forego investing altogether, or worst still, keep waiting for the right time. Having knowledge of the industry and company is the key to become a successful investor.
In words of Jhunjhunwala – the market is about money, but at the same time, it is about knowledge and getting right in terms of the decision. Thus, a good amount of research goes behind stock picking which you should do diligently. 
Be Fearless Yet Prudent 
Investing is an attitude and you need a certain amount of courage to remain steadfast. For investors, making a decision at the right time is crucial. Once you believe you have backed a stock based on fundamentals, stay invested. Don't let market ups and downs deter you. At the same time while being fearless with your choices is a must  Jhunjhunwala says – an investor should not be afraid of accepting a mistake and should never have an emotional attachment with his/her picks. 
If an investor has made a mistake or even if the bet is successful and the target price of the stock has been reached, an investor should never shy away from selling off the scrip. Investment is all about numbers, which are characterized by the investment price, target price, and stop loss. So know what to do when and then own your decision. 
Patience Is The Key To Success 
Patience is a virtue every stock market investor must possess. Jhunjhunwala didn't become a money magnet in a day. It took years of research, diligence and having his skin in the game to reach where he is now. It ultimately boils down to this; If, as an investor, you believe in the stock (i.e., the company's business and management), you should stay invested through the various highs and lows of the company. If you do not believe in the ethos of a business, its better you do not invest, even if the world around you is investing. If your rationale behind the investment is sound and logical, you will make a profit sooner or later. 
Jhunjhunwala's portfolio corrected as much as 25-30% multiple times, but he has always used this correction as an opportunity to buy-in. Jhunjhunwala never engages in panic selling owing to portfolio correction, and that is what patience is. 
The Portfolio Of Jhunjhunwala 
 While there are many notable names in Rakesh Jhunjhunwala's portfolio, 2019 ( mentioned below)  let's discuss one of his favorite stocks; the Titan Company. Please note, these are only the stocks we are publically aware of. There may be more stocks in his portfolio that are not disclosed to the public.
| | |
| --- | --- |
| Stock Name  | Holding Percent  |
| Titan Company Ltd | 6.51% |
| Escorts Ltd | 8.16% |
| Crisil Ltd | 5.48% |
| Lupin Ltd | 1.56% |
| Federal Bank Ltd | 3.11% |
| Delta Corp Ltd | 7.38% |
| NCC Ltd | 10.38% |
| VIP Industries Ltd | 5.31% |
| Rallis India Ltd | 9.76% |
| Jubilant Life Sciences Ltd | 3.45% |
A Little About The Titan Company
Earlier known as Titan Industries Ltd, Titan Company Ltd is an Indian consumer goods company that is a joint venture between the Tata Group and the Tamil Nadu Industrial Development Corporation. 
The company commenced operations in 1984 under the brand Titan Watches and subsequently diversified into jewelry (with Brand Tanishq), eyewear (with brand Titan Eyeplus), the fragrances segment (with brand Skinn) and helmets (with brand Fastrack). Today, Titan Company is the largest consumer company of the Tata Group. 
The stock of Titan Company has soared significantly over the years and added to the fortunes of Jhunjhunwala.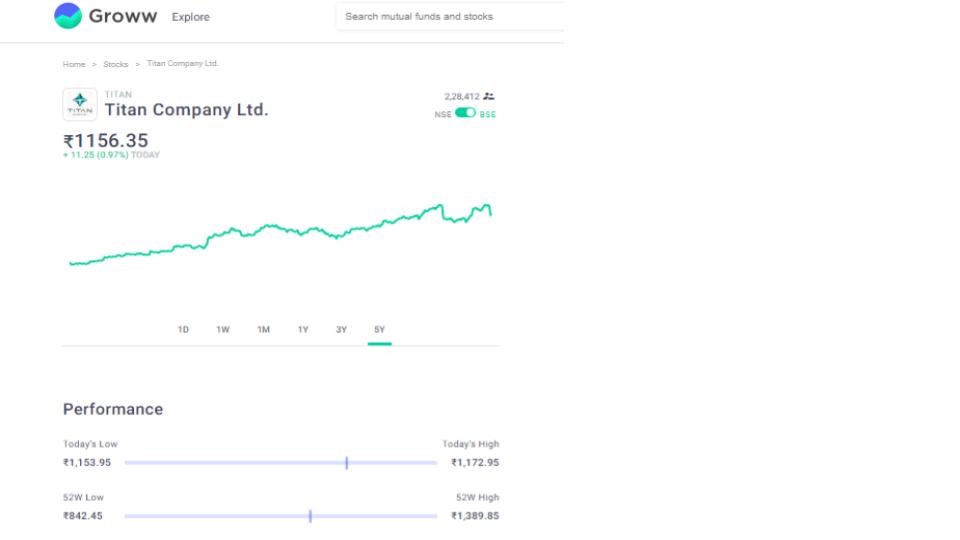 Conclusion
A very simple conclusion can be drawn from Jhunjhunwala's philosophy; back the fundamentally sound company and be patient and persistent in your approach. Like Titan, many companies went on to be multi-baggers and rewarded investors who remained invested. So keep a long term perspective and enjoy the journey!
Read More: How To Identify Multibagger Stocks In India
Happy Investing!
Disclaimer: The views expressed in this post are that of the author and not those of Groww