As a parent, you would always want to secure the future of your child.
Right from the time when you become a parent, your life revolves around the well being of the child only. Be it education, financial security, or any other aspect of personality development; a parent always tries to do the best for his/her child.
In this blog, we seek to discuss five ways you can build a corpus of Rs.1 crore for securing the future of your child.
Before you adopt different approaches of accumulating wealth, we believe you should first compute the total cost of different facilities you intend to provide  your child.
For example, you would want to fund the education of your child, and with the education cost rising day by day, it is crucial you have a sufficient corpus from day one, so that by the time your child attains the age of higher education, you have the corpus ready.
Similarly, you need to budget the cost of your child's marriage, etc.
Once you have finalized on the amount and how much you need to save, you need to finalize on the different avenues.
To start with, if you are banking on 'Kaun Banega Crorepati' to make a crore, you can grab a book of general knowledge and remain updated with current affairs to make the fortune come your way.
Also, if you think you are as lucky as Anthony from the movie 'Malamal Weekly', forget it. Only a handful in millions are lucky enough to win a crore from a lottery!
Does that mean it would be difficult to make a corpus of one crore for your child?
Not really.
So what is the best way?
1.Real Estate
Talk of Indians and real estate is their first love! (We're serious)
You would see your parents talking about property and how it is the best investment instrument. And you would most likely want to continue the legacy.
If you want to give your child a property that would be valued at Rs. 1 crore when he/she is 21 years, you should purchase land that is worth Rs. 25-30 lakhs.
How Did We Arrive at the 25-30 Lakhs Range?
We have considered the appreciation of 8-10% value every year (in line with the past long-term trend).
One of the benefits of this method is that there will be no tax that will be levied. You can always give the land as a gift to your child and gifts are exempt from tax.
2.Investing in Gold
Another favorite way of accumulating wealth is by investing in gold. Indian investors tend to start building a cache of gold jewelry for their daughter's wedding right from the birth of their girl child.
With a 7-8% annual increment in the price of gold, you will have to invest nearly Rs.30000 every month to accumulate a corpus of Rs 1 crore in fifteen years.
There is an alternative in the market. Today, you don't have to buy physical gold. You can buy gold funds or even gold ETF's!
Important Advice Here
Do not buy jewelry of 30K as jewelry comes with a hefty making charge and the real value of gold thus diminishes. Instead, you can purchase gold bonds or invest in the gold exchange-traded fund.
Once you have paper gold accumulated for the value of Rs.1 crore, you may get it converted to physical gold as per your need or even just redeem the value for your child's education or marriage.
In this case, there will be no tax transaction as the transfer by way of gift to your children is exempted from tax.
3. Fixed Deposits
We all know that Indians adore FDs!
Under this category, there are multiple options available to an investor.
The possibilities are – bank fixed deposit, bank recurring deposit, tax saver fixed deposits, public provident fund, tax-free bonds, national savings certificate, Kisan Vikas Patrika, etc. In each of these investment instruments, you earn a fixed interest rate that is typically in the range of 6-10%.
In most of these options (except PPF, tax-free bonds) the interest earned is taxable.
Let us assume that you get somewhere around 8% average return. Under this circumstance, you will have to invest a little lesser than Rs 30,000 per month to achieve one crore in 15 years.
If your income is taxable at 30%, your effective returns are around 6%, and thus you need to invest a little above Rs.35,000 per month for 15 years.
4.Insurance
One of the insurance plans that provide you maturity benefit is endowment plan.
If you invest Rs 32,000, you are likely to achieve a corpus of Rs.1 crore upon maturity. This amount is computed assuming 6-7% returns that are generally offered in insurance plans.
Do not forget that insurance plans are meant for risk coverage and are not a viable investment option.
While 6.5% is very less, remember that subscribing to an insurance policy provides you tax benefits under section 80C of the Income Tax Act.
5. Investing in Mutual Funds
This option is by far the best for investment and is one of the fastest growing avenues for investment in the country.
Given the time frame is 15 years, an investor can easily choose to skip the traditional investment avenues and switch to mutual funds, particularly equity mutual funds.
Also, 15 years is a long-term horizon and business tends to go through a complete cycle in this horizon. Thus, it makes sense to invest in small-cap funds that offer high returns.
While small-cap funds come with a high degree of risk, they tend to compensate for the risk level by providing high returns if an investor remains invested for a long-term horizon such as 15 years.
Assuming average returns of 18%, you need to invest Rs 12,656 per month for accumulating a corpus of Rs 1 crore in 15 years.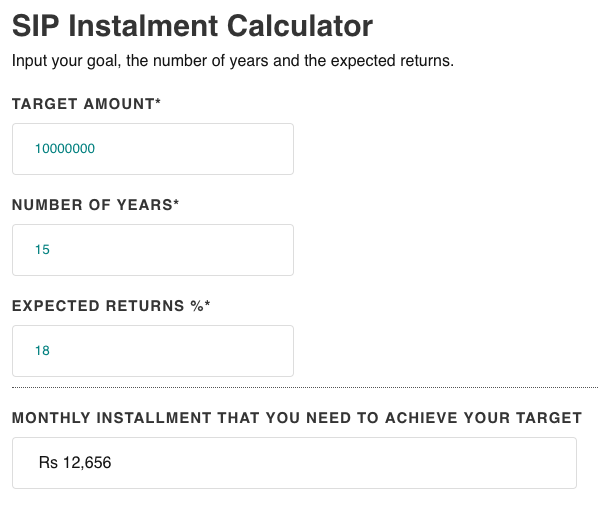 Small Cap Mutual Funds
Small-cap funds invest in small-sized companies and tend to provide high returns. Given these are small-companies they also bear the highest risk among equity funds.
Following are few small-cap funds you can consider investing in 2019 –

Objective
The fund seeks to provide long-term capital appreciation by investing predominantly in small companies.
Minimum SIP amount: ₹500
Fund Snapshot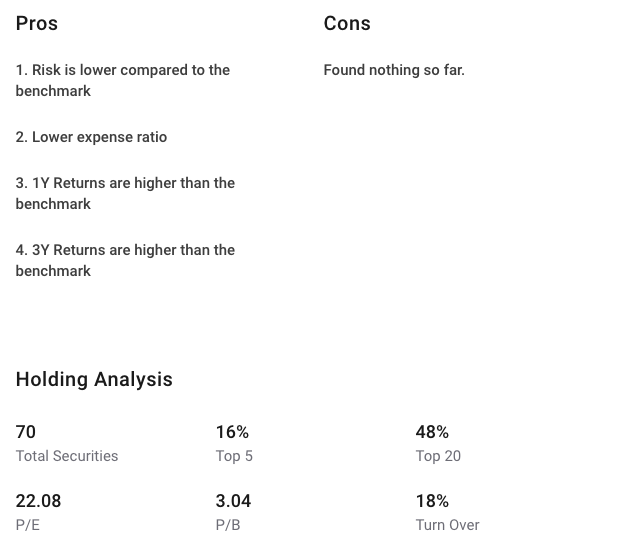 Objective
The fund seeks to generate long-term capital appreciation by investing predominantly in equity and equity related instruments of small cap companies.
Minimum SIP amount: ₹100
Fund Snapshot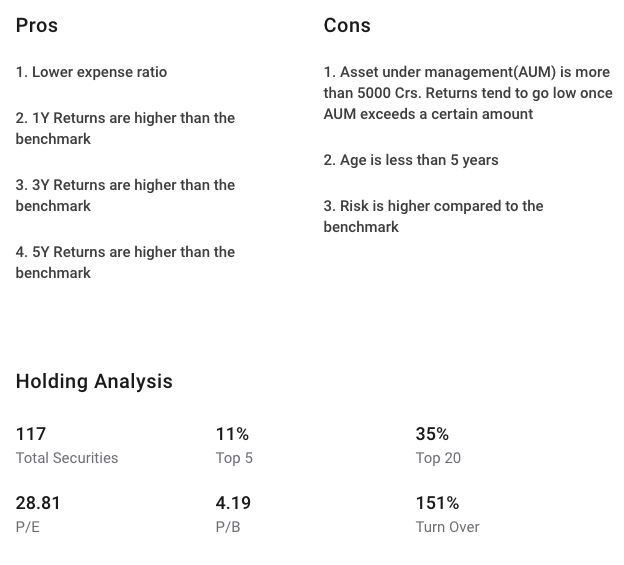 Objective
The fund seeks to provide investors with opportunities for long-term wealth creation with the liquidity of an open-ended scheme by investing predominantly in a well-diversified basket of equity stocks of small-cap companies.
Minimum SIP amount: ₹500
Fund Snapshot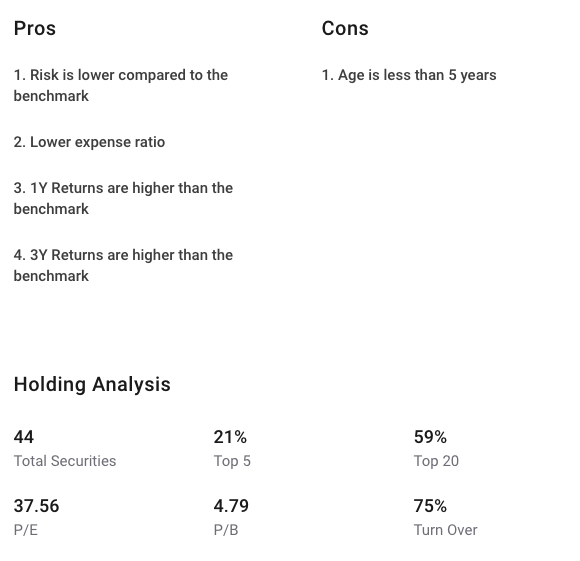 So, what are you waiting for? Choose what suits you the best and start your investments today.
Happy Investing!
Disclaimer: The views expressed in this post are that of the author and not those of Groww