Do you know what Indian Oil, Bharat Petroleum and Hindustan Petroleum have in common? They are all downstream oil companies in India. They are also the only downstream companies that are listed, as of March 21, 2022. 
Downstream companies sell crude oil products: petrol and diesel are two of them that we can associate more with.
The other common factor between these companies is that they are all majorly controlled by the Government of India. They are all also Maharatna PSUs.
Indian Oil retains the highest market share amongst the three.
Comparing companies within the same industry becomes easier because of the availability of industry-specific common parameters. 
Here's a detailed comparison of the three biggest oil marketing companies (OMCs) in India.
Ownership Pattern
Over 50% stake in all the three OMCs is owned by the Central Government under the Ministry of Petroleum and Natural Gas. Highest investment by foreign portfolio investors can be seen in HPCL whereas BPCL has attracted the highest interest from mutual fund houses amongst its peers. Among the three corporations, the highest public investment can be seen in IOCL.

Product Portfolios
The product portfolios of all the three companies are more or less the same.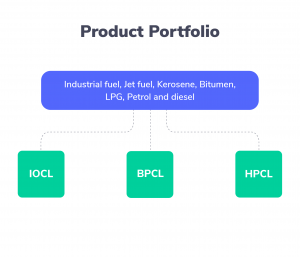 IOCL
Natural gas

Petrol and diesel

Jet fuel

Industrial fuel

Kerosene

Bitumen

Petrochemicals

Crude oil

Lubricants

Greases. 
IOCL operates 1,059 CNG stations in the country in addition to a gas pipeline network of 1,100+ kilometers. The corporation has a group refining capacity of 80.55 MMTPA and operates an oil pipeline network of 15,000+ kilometers.
BPCL on the other hand produces and sells: 
LPG

Automotive LPG

Petrochemicals like benzene, toluene, naphtha, aviation fuel, diesel, petrol, kerosene, fuel oil.

The company also produces bitumen, sulfur, and lube oil base stock.
HPCL's product list comprises fuel oil, naphtha, sulfur, lubricants and greases, gasoline, diesel, polyethylene, polypropylene, and sulfur.
Number of petrol pumps
IOCL has the highest number of petrol pumps in the country. However, it has entered into an agreement with Malaysia's Petronas and may sell some of their petrol pumps. BPCL and HPCL are neck-to-neck with almost a similar number of petrol pumps in the country. 
| | |
| --- | --- |
| Company | Number of Petrol Pumps |
| IOCL | 32,303 |
| BPCL | 18,766 |
| HPCL | 18,776 |
Throughput
Refinery throughput is the total crude oil that is used as the raw material and is fed into producing petrochemical products.
In FY 2020-21, IOCL reported the highest throughput at 76 MMTPA, followed by BPCL at 26,4 MMTPA and HPCL at 16.42 MMTPA.
In the same period, IPCL had the highest market sales at over 81 MMTPA with BPCL and HPCL nearly at the same spot 38.7 MMTPA and 36.6 MMTPA respectively.
Crude Oil Throughput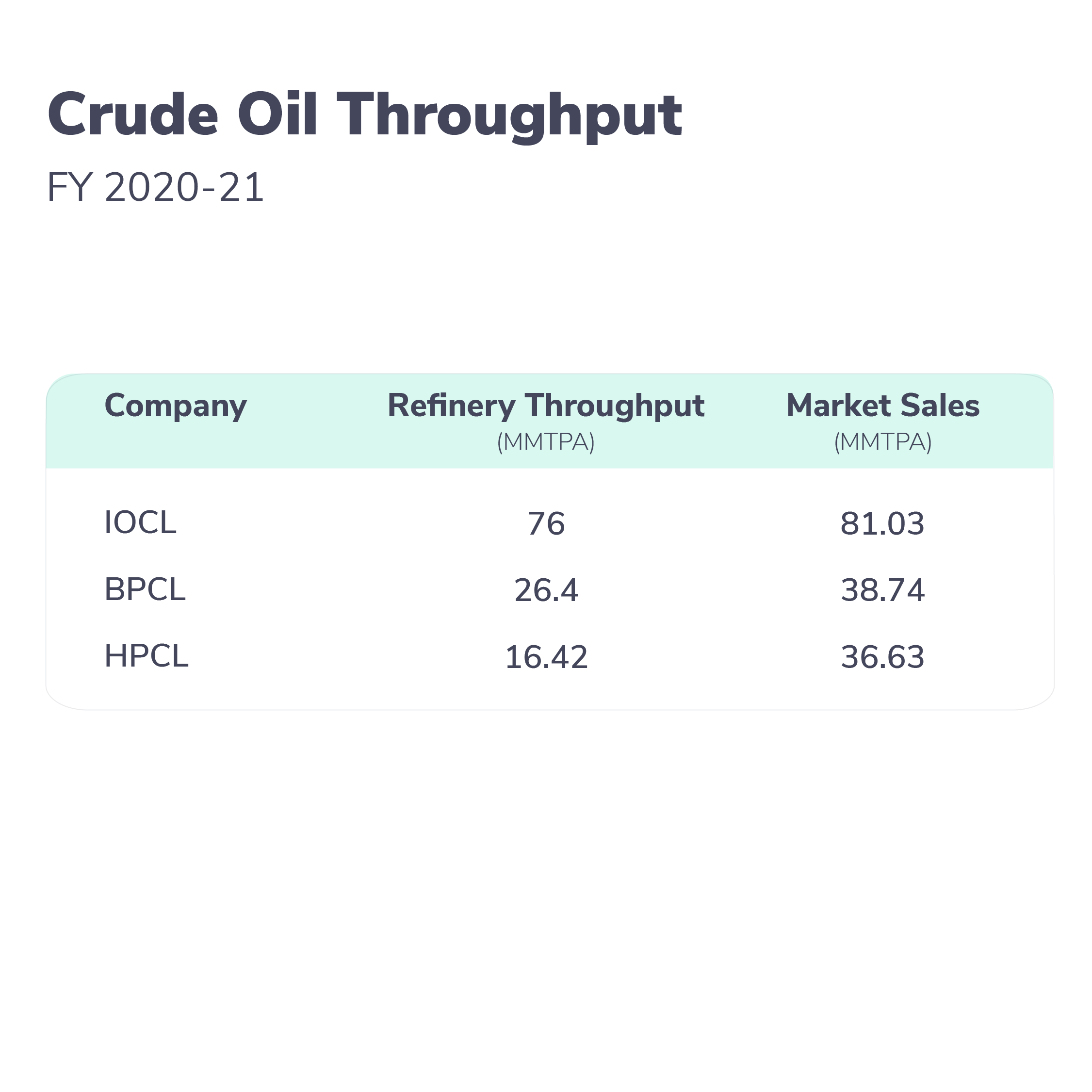 Revenue breakup
IOCL generated most of its revenue from the sale of petroleum products which amounted to Rs 4,93,127 crore for FY 20-21. It has the highest market share which may explain the highest revenue amongst its listed peers. Sale of petrochemicals fetched IPCL another Rs 19,169 crore in revenue in the same year.
On the other hand, BPCL reported that they generated a revenue of Rs 3,04,197 crore from their downstream petroleum business while exploration & production of hydrocarbons helped bring in Rs 68 crore in FY 20-21.
HPCL reported downstream petroleum revenue at Rs 2,70,333 crore while other businesses helped them make another Rs 244 crore in FY 20-21.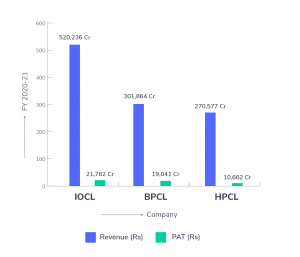 Given the size and scale of IOCL, it boasts of higher revenue, income, and PAT than its two counterparts. While IOCL clocked a PAT of Rs 21,762 crore in FY 20-21, BPCL ranked second at Rs 19,041 crore with HPCL taking the third spot at Rs 10,662 crore.
However, the interesting bit to note here is how despite having a stark difference in their revenue and total income, IOCL and BPCL are neck-to-neck in terms of PAT. It is even more fascinating to note how BPCL boasts of the highest EPS amongst its peers at Rs 96.44 per share. While HPCL takes the third spot at Rs 70.57 per share, IOCL ranks third at an EPS of Rs 23.57.
Gross Refining Margin
An important aspect to consider when pitting OMCs against each other is Gross Refining Margin or GRM. GRM is what a company earns by converting one barrel of crude into fuel.
For the financial year 2020-21, IOCL reported the highest GRM at $5.64/barrel followed by BPCL and HPCL.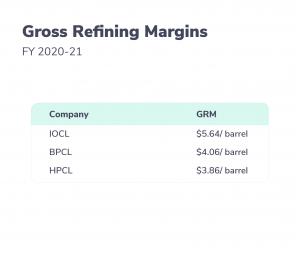 Ratios
The oil and gas industry is highly capital-intensive, the debt-to-equity ratios of all three companies are slightly on the higher side. That being said, BPCL has the lowest debt-to-equity ratio amongst its two peers, followed by IOCL and HPCL.

About the companies
Indian Oil Corporation Limited (IOCL)
IOCL is a public-sector enterprise with the Government of India holding a majority stake in the company. IOCL is India's largest Government-owned oil company with its products and services catalog including exploration and production of petrochemicals, crude oil, and natural gas. 
Deals in extracting oil, refining it, transporting it via pipelines, and marketing petrochemical products.

Operates 11 of the 23 refineries in India and has a combined refining capacity of 80.7 million tonnes in a year.

Operates in Sri Lanka, Mauritius, and the Middle East via its subsidiaries.
Bharat Petroleum Corporation Limited (BPCL)
BPCL is another Government-owned oil corporation. Incorporated in 1952, the company was started in British India in 1891 as Rangoon Oil and Exploration company to explore the presence of oil in North Eastern India. 
One of the oldest oil corporations in the country

Operates two refineries, each located in Mumbai and Kochi. 

BPCL's subsidiary Indraprastha Gas Limited (IGL) distributes gas in Delhi-NCR while Petronet LNG imports and distributes LNG in the country.
Hindustan Petroleum Corporation Limited (HPCL)
A subsidiary of the Government-owned Oil and Natural Gas Corporation (ONGC).

Operates two refineries in India, each in Mumbai and Visakhapatnam.

Owns nearly 17% stake in Mangalore Refinery and Petrochemicals Limited (MRPL).

Working on setting up another refinery in Rajasthan's Barmer. HPCL also owns and operates India's largest lubricant factory and produces 40% of the country's total lubricants.
The takeaway
IOCL is the largest OMC in terms of size, volume, and the amount of crude oil it handles. However, the market may be ascribing higher valuations to HPCL and BPCL, the other 2 largest Oil Marketing Companies in the country, as of March 2022. All three are government-controlled and are heavy contributors to the growth and development of the nation through their far-reaching network of petrol pumps and gas stations across the length and breadth of the country. Please consult your financial advisor and assess your risk profile before taking stock positions in the market.
To read the RA disclaimer, please click here.
Research Analyst: Bavadharini KS