One of the most common sources of ID proof that we use is the Aadhar card. This, therefore, makes us highly susceptible to losing it. So if you are reading this post because you want to know how to get a duplicate Aadhar card online then you have come to the right place. We will be discussing a variety of different ways that you can use to get a duplicate Aadhar card.
How to Get Duplicate Aadhar Card Online with Aadhar Number
Step 1: Go to the official UIDAI government website(https://uidai.gov.in/). There under the " My Aadhaar" Tab, select the option, "Retrieve Lost or Forgotten EID/UID"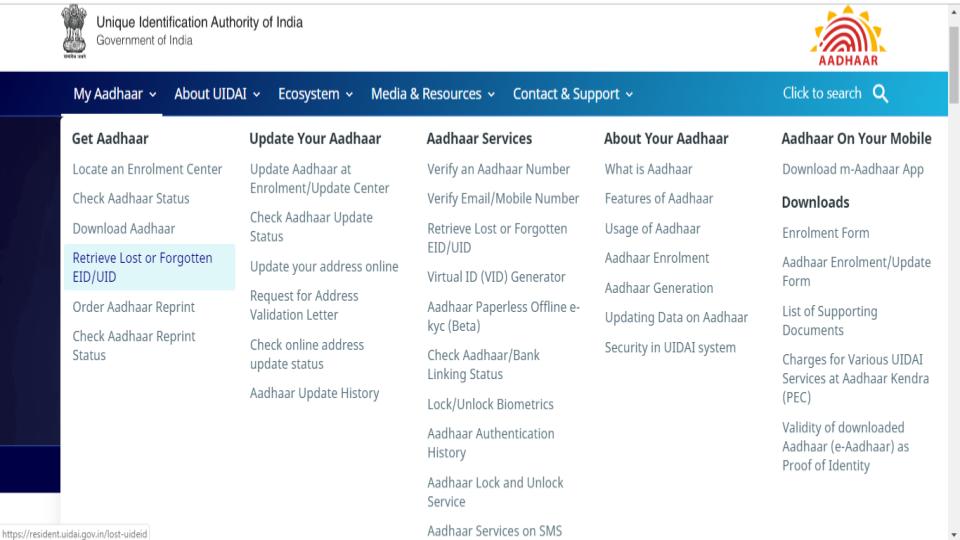 Step 2: Once you select the option you would be directed to a new window where you have to enter your personal details like name, mobile number, etc. You are also required to select whether you want to retrieve your Aadhaar Number or Enrollment Number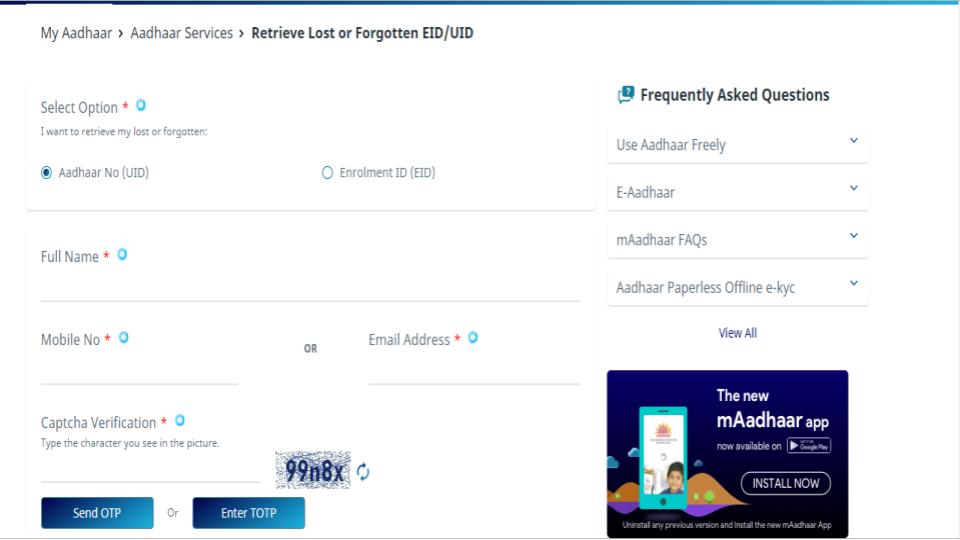 Step 3: Once you have filled up the details and captcha. Click on send OTP. An OTP will be sent to your registered mobile address or email address ( as chosen by you ). Enter the OTP to proceed
Step 4: Upon verification of OTP by UIDAI, you will be sent your Aadhar Number/Enrolment number on your registered mobile number or email ID.
Step 5: Upon receiving the Aadhar enrollment number click on " Download Aadhar" and you will be redirected to the next page.
Step 6: Here you will be required to fill in details of your enrollment ID /Aadhar number, your name and Pincode, or your address.
Step 7: Once again select the option of  " Send OTP" and an OTP will be sent to your registered mobile number. As soon as you enter the OTP, you would be able to download a duplicate copy of your e-Aadhar.
How to Get Duplicate Copy Of Aadhaar card Offline
Step 1: Go to the nearest Aadhaar registration center, you will be able to find the address on Google and fill up the Aadhaar Correction Form. Carry all the required original documents with proof of identity, age and address, and their photocopies.
Step 2: If you know your Aadhaar number then you can ask the representative for a duplicate Aadhaar card on spot.
Step 3: If you do not know your Aadhaar number the executive will verify your biometrics like fingerprint and initiate the process.
Step 4: The Aadhaar card will be sent to your home address after the request is processed successfully.
Disclaimer: The views expressed in this post are that of the author and not those of Groww